Soccer
U.S. Soccer left disappointed, frustrated after 2-0 loss to Colombia in Copa America opener
"We always were maybe a step or two too late."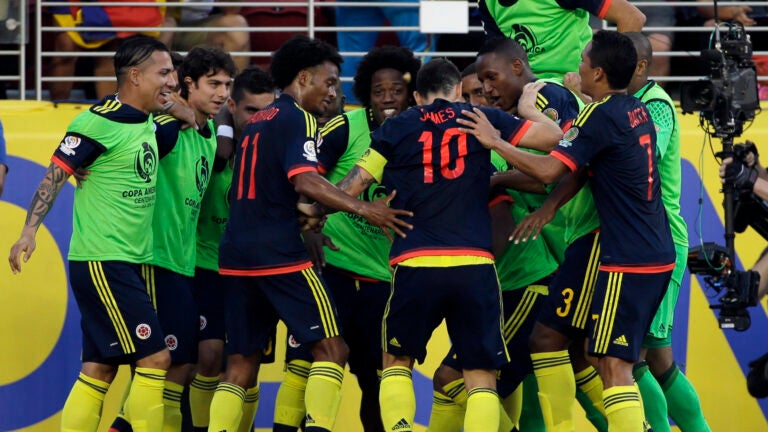 SANTA CLARA, Calif. (AP) — The United States would have preferred a far better first impression in the Copa America opener.
Now, the Americans find themselves under the pressure of needing to win.
Cristian Zapata scored his first international goal, James Rodriguez added a 42nd-minute penalty kick and Colombia beat the United States 2-0 Friday night.
"It's obviously disappointing and frustrating because I think they were there for the taking," defender Geoff Cameron said. "You want to get into the tournament with some momentum. … We have two more opportunities to win out. You can't dwell on it."
U.S. coach Jurgen Klinsmann spoke about the importance of a strong showing in this special edition 100th anniversary Copa to create buzz for a potential 2026 World Cup bid. Instead, the 31st-ranked Americans began the biggest tournament at home since the 1994 World Cup with a dud as new FIFA President Gianni Infantino watched among the announced sellout crowd of 67,439.
"We always were maybe a step or two too late," midfielder Jermaine Jones said.
Cameron lost his mark on the first goal, and following a turnover by U.S. captain Michael Bradley, DeAndre Yedlin left a raised arm that led to a hand ball call and Rodriguez's penalty kick. Colombia attacked at every chance, with Carlos Bacca putting a shot of the crossbar in the 77th minute.
"That penalty decision was a major point in this game. But it is what it is, you cannot change it anymore," said Klinsmann, who considered "we were absolutely even" aside from two hard-luck goals.
The Americans will look to rebound on Tuesday against Costa Rica at Chicago. They close their group stage four days later against Paraguay at Philadelphia.
"Now the response has to be strong and the mentality has to be right," Bradley said.
Clint Dempsey, a 33-year-old veteran of three World Cups, had the three best U.S. chances in the Americans' first Copa appearance in nine years.
"Clint was a warrior out there giving everything he had," Klinsmann said. "He was really fighting that fight very positively 'til the very last second, so we wish that one goes in then you build on that one."
Klinsmann started eight players who appeared in the 2014 World Cup, joined by forwards Gyasi Zardes and Bobby Wood plus World Cup backup goalkeeper Brad Guzan. Trying to spark the attack, he put in 17-year-old Christian Pulisic and Darlington Nagbe in the 66th minute.
Thousands of yellow-clad fans at $1.3 billion Levi's Stadium chanted "Co-lom-bia! Co-lom-bia!"
"It was absolutely beautiful to see all the yellow jerseys and all the red jerseys," Klinsmann said.
Rodriguez came down hard on his left shoulder in the second half after tripping over Bradley, and Rodriguez exited in the 73rd minute.
"I don't want to think the worst about James, but we will have to wait until the medical staff says otherwise," Colombia coach Jose Pekerman said. "I won't say this was a perfect example of their ability, but the U.S. team has evolved from what we saw in Brazil."
No. 3 Colombia, a World Cup quarterfinalist two years ago, went ahead in the eighth minute on an unseasonably warm night when Zapata volleyed from about 10 yards off a corner kick from Edwin Cordona. With Bradley marking Daniel Torres, Zapata circled around the pair to get away from Cameron, and the defender scored his first goal in 42 international appearances.
Moments earlier, Cameron said Mexican referee Roberto Garcia instructed him to put his hands down from hugging Zapata.
"As soon as he told me, the play happened. I'm a little frustrated in that," Cameron said. "I'll take responsibility. I know I could have done better."
Garcia awarded the penalty when Yedlin, just inside the penalty area, jumped and turned to try to avoid a cross by Farid Diaz but left his right arm elevated as the ball hit.
American midfielder Alejandro Bedoya, whose father was born in Colombia, argued with Garcia to no avail, and Rodriguez fired a left-footed penalty kick past Guzan, who had dived the other way, for his 15th goal in 43 appearances. Guzan was picked by Klinsmann to start in the tournament over Howard, the Americans' goalkeeper at the last two World Cups.
Dempsey had a shot from the top of the area that went just wide in the 37th minute, and his header in the 60th minute off Bradley's corner kick was cleared off the line by Sebastian Perez. Dempsey curled a free kick around a defensive wall in the 60th minute that was parried by goalkeeper David Ospina.
The U.S. will switch gears in a hurry.
"It's a big game against Costa Rica coming up and we'll keep our heads held high. We know what we have to do. We have to win," Cameron said. "We did show some good things. We're playing better soccer than we have in a long time. … It will come."