Soccer
8 things to know about new Revolution coach Brad Friedel, a Premier League legend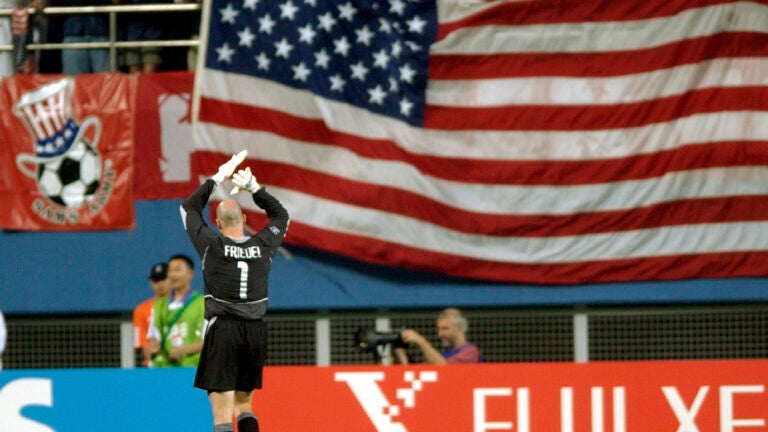 The New England Revolution recently named former US international and ex-Premier League regular Brad Friedel as the team's new head coach. Friedel formally replaces Jay Heaps, who was fired in September.
This is Friedel's first time in charge of a club team, as his only other experience comes at a U19 level for the US men's national team. It would also be his first formal involvement with MLS since leaving the Columbus Crew in 1997 for Liverpool.
Friedel is a venerable figure in US soccer. Not only did he play in the English Premier League for parts of 17 seasons, but he set several records in the process. He helped the US reach the semifinals of the soccer competition in the 2000 Olympics, as well as the quarterfinals of the 2002 World Cup.
Here are a few things to know about Friedel as he gets going in New England:
His exceptional college career happened thanks to a lucky break: Attending UCLA, Friedel was a fixture in a team that won the 1990 National Championship. On a personal level, he won the 1993 Hermann Trophy (given to the best US college player) along with Mia Hamm. He was voted onto Soccer America's "College Team of the Century." And like previous Revs coach Jay Heaps, he was also a talented basketball player. At UCLA, he was invited to walk on to the school's prestigious basketball program.
Interestingly, his UCLA experience almost never happened. According to Friedel, it came down to a missed flight:
How I got to university was a flip of a coin. The assistant manager of UCLA Dean Wurzberger missed his flight so came back to where our game was playing. He saw me, called [UCLA head coach] Sigi Schmid…and said, "There's a goalkeeper here I think we've missed, you've got to see him." That's how it all started.
Work permit rejection curtailed his early career abroad: Had it not been for strict English work permit regulations for foreign players, Friedel might have played in England years earlier. Famous Nottingham Forrest manager Brian Clough tried to sign him in 1992, but Friedel was denied a work permit. Kevin Keegan at Newcastle tried again in 1994, but yet again a work permit stood in the way. A third attempt (this time at Sunderland) was also denied.
Eventually, Friedel was able to sign with Liverpool in 1997, but only after he appealed the original rejection of his fourth work permit application.
The 2002 World Cup was his – and US men's soccer's – finest hour: After failing to entrench himself as the first choice goalkeeper in either the 1994 or 1998 World Cups, Friedel finally became the regular starter in 2002, where he helped the US to a 3-2 upset over Portugal in the team's opening game. Against co-host nation South Korea, he became the first keeper since 1990 to save a penalty kick during regulation time, crucially stopping Eul Yong Lee's shot (which proved critical in allowing the US to advance to the knockout stages).
Friedel would save a second penalty kick against Poland, and delivered a flurry of saves to help the United States reach the quarterfinals. It was the best modern World Cup performance by an American team.
He's one of only a handful of goalkeepers to score in the Premier League: While the joy of scoring was short-lived (as Charlton found a late winner), Friedel joined an exclusive group of goalscoring goalkeepers in 2004. He is one of only five goalkeepers to score in the Premier League era. Interestingly, fellow American Tim Howard is also in the club.
Friedel's goal was a surprisingly instinctive finish:
No player has more consecutive starts in Premier League history: In November, 2008, Friedel broke the English Premier League record for most consecutive starts. He would go on to nearly double his record-breaking total (167), finishing with 310 straight starts. Between tenures at Blackburn, Aston Villa and Tottenham, Friedel was a mainstay.
He earned high praise European managers: Longtime Manchester United manager Sir Alex Ferguson once described him as "absolutely magnificent," while Tottenham's Mauricio Pochettino described him as "a top man, a top professional".
Overwhelmed by his display in 2002, then-Southampton manager Gordon Strachan simply referred to Friedel as "Superman."
Landing the Revs job is seen as a risk: While Friedel's legacy as a goalkeeper is beyond dispute, his managerial ability is largely unknown. His lone head coaching job since retiring has been of the US U19 men's team (a position he's held since 2016). Friedel's record as manager in that time has been middle of the road (8-8). Whether because more experienced coaches simply said no or Revs management simply wanted a fresh approach, Friedel – like his predecessor – enters the job without any experience coaching in MLS.
He believes in giving young players a chance: On several occasions, Friedel has been a vocal proponent of the US doing a better job in developing young players. Before retiring, he also helped coach in the Tottenham youth academy. He famously founded an ambitious youth academy in Ohio in 2007, but the recession dealt it a fatal blow.