Soccer
Here's where Boston Breakers players landed after their team folded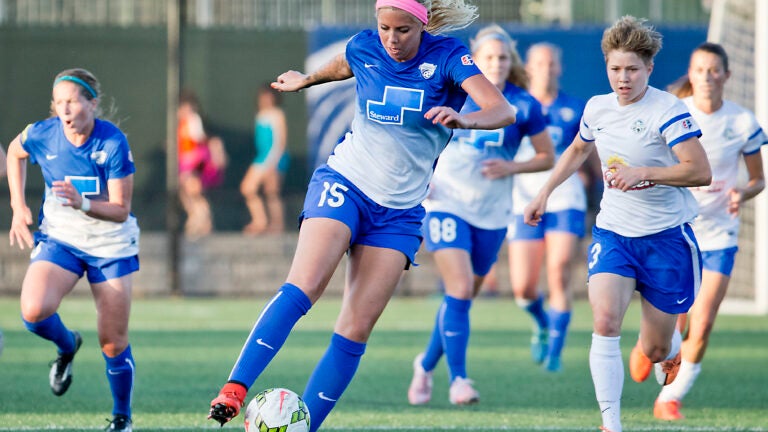 The Boston Breakers will not be embarking on a 2018 campaign, but the majority of their players will still be suiting up when the NWSL kicks off on March 28.
In January, the National Women's Soccer League announced that the Boston club would cease operations when a rumored 11th-hour savior failed to appear. The Breakers were the longest-running professional women's soccer team in the country before they folded, and the league held a dispersal draft for the players on Boston's roster.
All but two of the Breakers' contracted players were drafted. The NWSL allowed the nine teams left in the league to select Boston's players without the new additions counting against the roster or salary cap in 2018.
The Washington Spirit selected Rose Lavelle after trading up to acquire the first pick. Lavelle narrowly missed out on being chosen for the U.S. National Team ahead of the upcoming SheBelieves Cup. Savannah McCaskill, drafted by Sky Blue FC with the second overall pick, was named to the 23-player roster for the Orlando tournament.
Three former Breakers players, Midge Purce, Angela Salem and Ifeoma Onumonu, landed with the Portland Thorns.
"Setbacks are just platforms for comebacks," Purce told OregonLive.com. "I think [the NWSL] is getting everything ready to move forward. I'm excited to see what's going to happen next year, but, for this year, I think we're in a good place."
Purce said that the Breakers' announcement came as a shock to many of the players.
"I was baffled," Purce said. "Of course, Boston is one of the oldest teams in the league, so just their symbolism and what they stand for in women's soccer is a huge loss."
Boston's loss was the rest of the NWSL's gain. For those who want to follow the Breakers players in their new colors, here's the full list of landing spots:
Washington Spirit: Rose Lavelle, Elizabeth Wenger, Tiffany Weimer
Sky Blue FC: Savannah McCaskill, Adriana Leon, Amanda Frisbie
Seattle Reign FC: Megan Oyster, Morgan Andrews, Lindsay Elston, Elizabeth Addo, Christen Westphal
Portland Thorns FC: Margaret Purce, Angela Salem, Ifeoma Onumonu
Utah Royals FC: Abby Smith, Katie Stengel, Amanda DaCosta, Brooke Elby
Houston Dash: Kyah Simon, Lotta Ökvist, Sammy Jo Prudhomme
Chicago Red Stars: Ashton Miller, Joanna Boyles, Whitney Engen, Rosie White
North Carolina Courage: Allysha Chapman, Julie King