Maine
How Portland (Maine) found itself in the middle of a heated West Coast soccer rivalry
"We always talk about how we're the original Portland."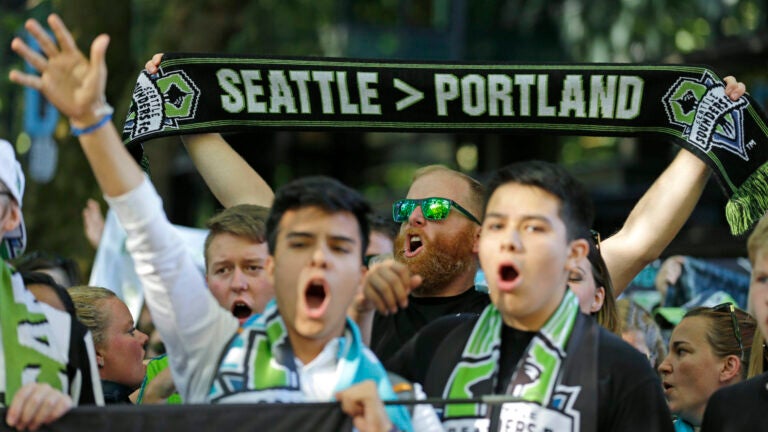 The Seattle Sounders don't have much love for Portland when it comes to the two cities' heated soccer rivalry. At least, not the one in Oregon.
"Portland is amazing. We love it there. Portland, Maine. The only Portland that matters," the Major League Soccer team said in a new campaign, passive aggressively celebrating the "first and very best Portland" ahead of their rivalry match against the Portland (Oregon) Timbers later this month.
The team even sent former Sounders midfielder and Portland-area native Roger Levesque back east to his hometown for a video featuring city residents, including Mayor Ethan Strimling, proclaiming their love for the Seattle soccer team.
I'm from Portland and I love the Sounders! #SeattleLovesPortland #TheBestPortland #TheOriginalPortland #Sounders #SoundersFC pic.twitter.com/AFLwkwOxMp

— Roger Levesque (@roger_levesque) June 6, 2018
Strimling says he was happy to promote his city and help make fun of the "other Portland," when the Sounders reached out.
"We always talk about how we're the original Portland," Strimling told Boston.com.
Nearly named after Boston, the "other Portland" got its name following a coin flip between the two New Englanders who founded the West Coast port city, each of whom wanted to name it after their respective hometowns.
"Right from the beginning they were looking to be a major East Coast town on the West Coast," Strimling said Wednesday. "Imitation is the finest form of flattery."
The Sounders are apparently also fans.
As part of their "Seattle loves Portland" campaign, the team devoted an entire webpage heralding nearly everything about the coastal Maine city — from its scenery to its farmers' market to its lobster — juxtaposed with its West Coast rival, which "has huge swamp rats."
The Sounders even put up a "Seattle Loves Portland, Maine" billboard in their I-5 neighbor's downtown, which the city's residents did not appreciate.
@sounders throwing some shade towards @TimbersFC in downtown Portland OR. Maybe they like Portland Maine so much because they have a better chance of beating @GPSMaine than they do at beating us. #RCTID pic.twitter.com/9hvE2KUURg

— Bo Baker (@boltonbaker) June 5, 2018
It's not as if Seattle is firing the first shot. Arguably the country's premier soccer rivalry, the Sounders and Timbers have squared off long before the two teams entered the MLS, in 2009 and 2011, respectively. The Pacific Northwest rivalry actually began in 1975, when both teams were in the now-defunct North American Soccer League.
Before the two team's 100th game last month, Portland released an elaborate mock-documentary, jabbing Seattle for its traffic, the loss of its NBA team, the rapping career of Clint Dempsey, and the fact that the Timbers won the MLS Cup before the Sounders, despite entering the league two years later.
Now, Seattle — which leads the all-time series with 50 wins, 36 losses, and 14 ties — is jabbing back. But as much as they might want it to appear otherwise, the Sounders don't have unanimous support from their rival's namesake.
"We aren't so much Timbers fans as we are Portland fans," Jim Patrick, the social media editor for the Portland Press Herald, told Boston.com.
The Portland paper-of-record's Twitter account, which Patrick runs, has been going to bat for the Timbers since Seattle launched its most recent campaign.
"Diego Valeri is a stud," the Press Herald account said Tuesday of the Timbers' star midfielder, which earned an approving response from the team.
— Portland Timbers (@TimbersFC) June 5, 2018
Not impressed. pic.twitter.com/BwxxecEw2z

— Portland Press Herald (@PressHerald) June 6, 2018
Patrick says the connection between the two like-named cities runs "far beyond the fact that Second Portland was named by an Original Portland native."
"Both cities are a little off the beaten path, both culturally and by location," he explained Wednesday. "So there's a kinship there that transcends local connections."
As for the Sounders-supporting mayor, Patrick noted that Strimling is also a New York Giants fan.
"As a tax-paying Portland resident, I'm just going to leave that right there, lest there be any Seattle-style repercussions for commenting on our well-coiffed mayor," he said.
That said, Strimling's soccer loyalties do appear to have a price. The mayor joked Tuesday that he's waiting to hear the Timbers' offer to get him to "take some jabs at the Sounders."
Patrick says the recent attention has even sparked talk at the paper of a Sounders-Timbers watch party for the upcoming June 30 match in Seattle — even if Maine doesn't have much of a soccer culture. Strimling says high school sports get most of the attention in Portland, which has no top-level professional teams — though he's also willing to entertain offers to change that.
"We'd love to hear from a MLS team, if they're interested in coming up here,"he added.