Soccer
What you need to know about the 2018 FIFA World Cup
For the first time since 1986, the U.S. men's team will be absent from the tournament.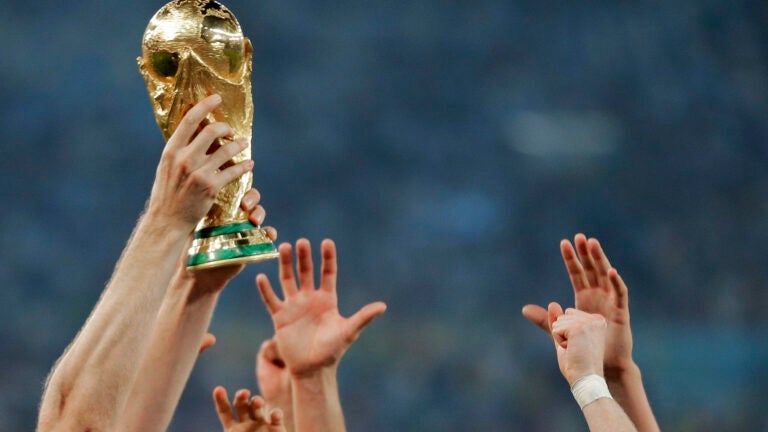 On Thursday in Moscow's Luzhniki Stadium, the 21st FIFA World Cup will get underway. The Russian hosts face Saudi Arabia, the first of 64 soccer games that will culminate with the crowning of a champion in the July 15 final.
Around the world, billions of viewers will tune in to watch 32 teams from six continents vie for one of the most coveted trophies in sports.
For U.S. fans, the tournament initially spotlights a conspicuous (and embarrassing) reality: the Stars and Stripes failed to qualify, and – for the first time since 1986 – will be absent from the World Cup. Still, there will be plenty of excitement for even casual soccer fans to tune in for.
Here's a guide to bring you up to speed before Thursday's kickoff:
Yes, the World Cup is in Russia.
For the first time in World Cup history, the tournament will be hosted by Russia. In total, 12 stadiums will host games across 11 cities. For a plethora of reasons, FIFA's decision to select Russia as host is controversial.
In direct soccer terms, the Russian World Cup bidding process was accused of corruption. In 2015, former head of FIFA Sepp Blatter told a Russian news outlet that the vote to give Russia the 2018 tournament was fixed beforehand. Yet formal investigations into the bid produced no tangible proof of corruption (though the report bluntly noted that Russian computers used for the bid had been systematically destroyed).
Russia is also only months removed from a particularly awkward moment on the world's stage at the Winter Olympics. After International Olympic committee investigators confirmed a state sponsored doping program during the Sochi Winter Games in 2014, the Russian Olympic team was formally banned from the recent Pyeongchang Games.
Instead of the Russian team, a smaller group of athletes who passed scrupulous drug tests were allowed to compete as "Olympic Athletes From Russia."
Aside from its bidding controversy and its Olympic scandal, Russian fans have developed an inglorious reputation. Russian hooliganism, where rural brawls have recently received attention, was on full display at the 2016 UEFA European Championships in France. Fans were deported after instigating violence.
Russian fans have also been consistently cited for racism. The most recent example came in May, when the Russian Football Union was fined just $29,500 for racist chants against French players Paul Pogba, Ousmane Dembele and N'Golo Kante. Zenit St. Petersburg, a top Russian club, was recently ordered to (again) play in an empty stadium due to racist taunting of players.
And yet, the world's largest country is far from the "single, homogeneous entity" that it is often portrayed to be. Many Russian fans, like any soccer fans, are simply excited to see the World Cup in person.
Why exactly isn't the U.S. in it?
The dominant subject for U.S. fans heading into the tournament is why the men's team isn't in the field of 32.
For fans under the age of 30 (a demographic for whom the game is increasingly popular), they have never known a World Cup without the U.S. team present. Even in 1998, when the American men finished dead last in what was undeniably a fiasco, they at least qualified.
In 2018, the U.S. weren't so lucky. While the women's team continues to enjoy its crown as world champions, the men struggled through qualification in the CONCACAF region. German coach Jurgen Klinsmann, who presided over the team's run to the round of 16 in the 2014 World Cup, was fired in November 2016.
Former U.S. coach Bruce Arena, who led the men's team to one of its best World Cup runs in 2002, was brought back in. Going into the final qualification game in Trinidad and Tobago, the U.S. would've avoided elimination in 26 of the possible 27 different scenarios. Yet by losing 2-1, and with wins coming from Panama and Honduras, the Stars and Stripes were stunningly out.
In the aftermath of the failure, numerous pieces have been written picking over various targets of blame. Arena was fired, and the team is currently operating with an interim coach. A new U.S. soccer president was elected, though the reception has been tepid so far.
While American fans might complain about a lack of enthusiasm for this summer's World Cup, one popular voice in the U.S. game recently voiced his opinion on why tournaments without your home country can still be a good watch.
"These were the greatest World Cups. It's more fun to watch a World Cup when you're not nervous about your own team," podcast host Michael Davies said in the "Men in Blazers" World Cup preview show. England, Davies's country, missed the tournament in 1974, 1978 and 1994 (when it was hosted in the United States).
Who is (probably) going to win it?
Though known as a festival of the world's game, the ultimate prize of tournament victory has been the strict property of an elite few since the inaugural World Cup in 1930.
Eight nations (Argentina, Brazil, England, France, Germany, Italy, Spain and Uruguay) have accounted for all 20 World Cup wins, with Brazil's five titles leading the way.
The host nation has won its own tournament six times, but that doesn't appear possible in 2018. Russia enters the tournament ranked dead last among all 32 teams (70th in the world), winless in its last seven straight games heading into the World Cup opener on Thursday.
The current frontrunners are a quartet of Brazil, France, Spain and defending champions Germany. Given the tournament groups, it's possible that all four could meet in what would be a savory set of semifinals.
World superstars Lionel Messi (of Argentina) and Cristiano Ronaldo (of Portugal) are present for what could be their final World Cup. Each still possess the prowess to guide their nations deep into the knockout stage.
Group stage games to watch
From June 14-28, teams will compete in the group stages. The 32 nations have been broken into eight groups of four teams each. Every team will play its fellow group members once, with the top two teams in each group qualifying for the knockout round (which begins on June 30).
The groups were drawn in December, and while many games will undoubtedly produce unforeseen drama, here are several to keep an eye on:
Friday, June 15, 2 p.m.: Spain vs. Portugal: On the tournament's second day, powerhouse Spain meet reigning European champions Portugal in a struggle for Iberian bragging rights (and vital group stage points).
Saturday, June 16, 9 a.m.: Argentina vs. Iceland: Despite possessing some of the best attacking talent in the world (including Messi), Argentina's national team organization has been frequently labelled a "disaster." Contrast that with the impeccable system in Iceland, who possess more top level coaches per capita than any nation in the world. The result has been the island nation becoming the smallest population to ever qualify for a World Cup. Could this be a recipe for an upset?
Sunday, June 17, 11 a.m.: Germany vs. Mexico: The defending champions are aiming to become the first nation since Brazil in 1962 to repeat as World Cup winners. Mexico, arguably CONCACAF's best hope to make a run in the tournament, will be hoping Hirving "Chucky" Lozano seizes his chance on the big stage.
Thursday, June 21, 11 a.m. France vs. Peru: Like Germany, France possess an absolute embarrassment of talent, though they managed only a 1-1 draw in the team's final pre-tournament friendly against a youthful U.S. team. Peru, who eliminated Brazil from the 2016 Copa America at Gillette Stadium, hasn't lost a game since November 2016.
Thursday, June 28, 2 p.m.: England vs. Belgium: While it's entirely possible that England will continue to underwhelm at international tournaments, it's equally likely that the two European nations in Group G will be fighting it out for first place on the final day of opening round matches.