Soccer
One Iceland player prepared to defend Lionel Messi by working as a salt-packer at a warehouse
"This is normal for an Icelander, you know? More normal than going to the World Cup."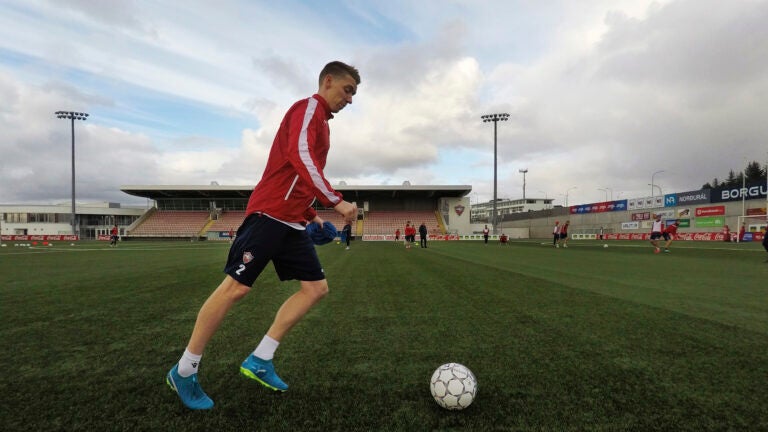 REYKJAVIK, Iceland (AP) — To prepare for his job of keeping Lionel Messi quiet in Iceland's opening game of the World Cup, defender Birkir Saevarsson worked as a salt-packer at a warehouse in an industrial zone of Reykjavik, the Icelandic capital. Not because the 33-year-old seasoned football pro needs the money, but because the monotony of factory work, the graft, the need to cover his neat hair with an unsightly net all helped keep him real.
"This is normal for an Icelander, you know? More normal than going to the World Cup," Saevarsson said during a recent shift before he flew to Russia with the Iceland squad, talking to The Associated Press as he fed jars into a machine that slapped them with labels marked: "Hand Harvested Lava Salt."
Playing football professionally is "the best job you can have, but it's not the real life," Saevarsson added. So he works because "I can't really sit on my ass the whole day and do nothing. It's boring and you just get lazy. I didn't want to get lazy before the World Cup."
Go Iceland! In a sport of excess, the fiery volcanic island of 350,000 people is keeping its feet firmly on the ground. From a football perspective, there is nothing not to love about the least populous nation ever to play in a World Cup.
Iceland did not qualify for Russia by accident. Despite having just 100 or so full-time professional footballers to choose from, Iceland succeeded where four-time World Cup winner Italy and three-time runner-up the Netherlands failed because — in everything from lavishing training on kids to making fans feel like they're an integral part of the team's success — Iceland is doing everything right. On its Hollywood ride to the quarterfinals of the 2016 European Championships and now to the World Cup, where it plays in Group D with Messi's Argentina, Croatia and Nigeria, Iceland is blowing apart the myth that success in sports depends solely on weight of numbers.
Although it has just 33,000 people who regularly play football, Iceland has ensured they're not lacking for two necessities: pitches and coaches. Huge geothermally heated indoor football halls welcome boys and girls after school for government-subsidized training, away from the hostile Artic weather, and an abundance of licensed coaches — one for every 35 players registered in clubs — hot-house their progress.
But infrastructure and ensuring that all those who want to play football get a chance to play does not, alone, fully explain Iceland's breakthrough. Other factors, more specific to Icelanders, their mindset and habitat, also are important:
Old friends
Watch Iceland, and you are essentially watching a group of buddies. Because the pool of players is so small, Iceland doesn't chop and change its squads as much as countries with more abundant talent, where competition for places is fiercer.
Two-thirds of Iceland's World Cup squad is unchanged from the 2016 European Championship, where the team advanced unbeaten from the group stage and sensationally beat England 2-1 before succumbing 5-2 in the quarterfinals to France, the eventual tournament runner-up.
The upside of squad stability is that Iceland's players have been playing together for years. Of the 23 in Russia, eight were part of the Icelandic youth team that made an impression at the European Under-21 tournament in Denmark in 2011. Those long-standing bonds foster trust and make the players more willing to work for each other, says Saevarsson, who has 79 appearances for Iceland, more than any other member of the squad.
"When the group meets, it's not like a football team is meeting, it's like a group of friends," he told the AP. "It couldn't be a better group to play football with.
"When you are that close to someone, it's easier to put demands on each other and not take it personally," he said. "If one of your friends shouts at you to do something better you don't take it badly or personally. You just decide to do it, because it's your friend."
He described it as "complete trust" and added, "It's easier to play football like that than with some people you don't like or don't know."
Nowhere to hide
With so few people and with most of them concentrated in and around Reykjavik, Iceland's players can't hide after a bad game. Chances are high they'll bump into a friend or a relative and have to explain themselves. That's a powerful motivator, Saevarsson said.
"You don't want to disappoint people you know, and it's almost everybody, the whole nation," he said. "To play for Iceland, you're playing for your friends and family and all the people you know here and you're probably going to meet some people after the games."
"You don't want to embarrass your family," he added. "It's much, much worse than when you make a mistake in the club team."
Fans onside
Before home games, Iceland coach Heimir Hallgrimsson goes to the pub. Not to drown any sorrows, but to share his team sheet with fans before announcing it to anyone else. In exchange, they keep this privileged relationship private, not sharing recordings or details on social media.
"We all know somebody on the team. Like almost everybody can say, 'Yeah, I went to school with this guy or I know his mother,' or something," said Halldor Marteinsson, who runs a podcast on Icelandic football. "You get this closeness that very few other national teams get."
Weather-beaten
When the wind is blowing so strongly that goal-kicks come back toward the 'keeper, when the rain is horizontal and the cold biting, and yet the kids are still playing outside in Reykjavik, it is immediately clear that Icelanders are a hardy bunch.
"You just accept that the snow is literally hitting you in the face," Saevarsson said, "and you just say to yourself, 'I'm going, going to the World Cup anyway.'"
And then there's Iceland's X-factor, what Icelanders call "Islenska geoveikin," which roughly translates as "Icelandic madness." On the pitch, the Viking mindset translates into a team that doesn't have the silky skills of World Cup glamor squads but likes to think it can outwork anyone.
"You go out and do everything, you just sacrifice yourself for the team," Saevarsson said. "Just go in at 210 percent, like a crazy man."