Soccer
American Menace: When Fall River ruled U.S. soccer
The best American World Cup team came thanks to a "Golden Age."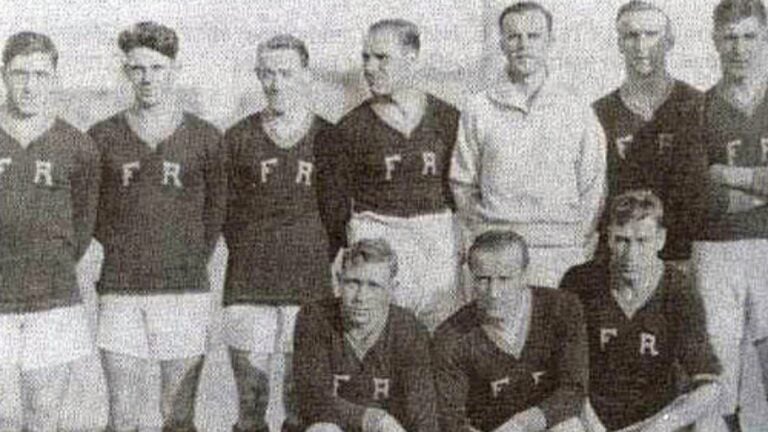 Tucked behind a sports bar in Tiverton, Rhode Island is an utterly anonymous field. Overgrown and forlorn, the  "Private Property" sign on the surrounding fence hardly seems necessary.
It's impossible to imagine, but this was once the site of American soccer greatness. Almost a century ago, it was where Mark's Stadium stood, home of the Fall River Marksmen. They were the pride – and direct result – of a city built on immigrant labor. Attracting and developing world class talent, the Marksmen were a dynasty that frequently outdrew the Red Sox in their brief heyday.
Standing here at an empty lot in North Tiverton, RI. May not look like much, but this is an American soccer holy site – Mark's Stadium stood here, home to the Fall River Marksmen, all-time greats. Goosebumps. Wish I'd brought a lawnmower & a ball instead of the drone. pic.twitter.com/qRAoYsUyHO

— Pablo Maurer (@MLSist) May 29, 2018
And yet the modern state of the field serves as a perfect metaphor. All signs of its past glory have been erased from history (no one knows exactly when it was torn down). Not even a woebegone plaque or vine-covered statue remain to offer acknowledgement of a time when United States teams – New England teams in particular – were so feared in parts of Europe that they were deemed an "American Menace."
Between 1921 and 1931, Fall River was central in what historian Colin Jose referred to as the "Golden Age" of American soccer.
"Spindle city"
Strangely enough, the early 20th century boom in American soccer is intertwined with the textile industry. The exponential growth of mills in the late 19th century (following the decline of the whaling industry) led to large scale immigration as skilled laborers were funneled in.
Fall River (gaining the nickname "Spindle City") and New Bedford collectively amassed over 100 mills at their height, and immigrants swelled the population.
Answering the call were people who already had textile experience: those from Lancashire and the valley of Clyde. These regions, as historian Roger Allaway points out, "in addition to being the heart of the English textile industry also was the area of England in which association football [soccer] had most taken root among working class people in those same years."
And because of this, "textiles brought immigration and immigration brought football."
By the early 20th century, a local soccer scene was becoming a staple of southern New England. The original powerhouse from the area, the Fall River Rovers, won numerous trophies in the late 19th and early 20th century, thanks to Scottish-American (and later Portuguese) immigrants who injected passion and talent.
Not for the first time, outside events played a debilitating role. World War I forced a suspension of play, and when it resumed, many teams had disappeared. It was into this void that America's first attempt at a major league emerged.
"American Menace"
Not unlike baseball, soccer developed a vibrant (and ever-changing) world of amateur, semi-pro, and professional teams during the early 20th century.
By 1921, a handful of the premier teams from two regional leagues (including the Southern New England Soccer League) formed into the American Soccer League. In its first iteration, from 1921-1933, it was maybe the most comparatively talented soccer league in U.S. history.
Local companies and entrepreneurs, sensing opportunity, jumped into the action. The J&P Coats Company (based in Pawtucket) and Bethlehem Steel overtly represented industry names, while Fall River found financial rejuvenation in the form of a single man: Sam Mark.
A former basketball and baseball promoter, Mark had no natural affinity for soccer. What he saw was an opportunity to profit from the region's passionate love of the game.
An example of this was in the stadium that was built to host Mark's team, which he renamed the "Marksmen." Sam Mark Stadium was technically built just over the Rhode Island border (and not in Fall River) so to avoid strict Massachusetts Blue Laws, which at the time prohibited charging for fan entry on Sundays.
Rapidly, Mark turned Fall River back into a championship team, harnessing a not-so-subtle tactic of recruiting foreign talent.
"There is not an American-born player on the Fall River roster," wrote the Boston Globe in 1924. Mark would be one-upped by other local teams. The Boston Wood Workers, named after their owner, G.A.G. Wood, aggressively raided leagues abroad.
"We spend a lot of money because we realized that nothing was too good for the Hub," Wood once boasted.
In fact, the incursions by Mark, Wood and others would prove so painful to English and Scottish leagues that European reports soon began labelling the trend as the "American Menace."
In this period, Fall River and New Bedford (known as the Whalers) developed the best rivalry in the league. Historian Colin Jose's account describes regular five-figure attendance for games between the two sides.
Across the course of the season, the Marksmen's average attendance of 8,000 in 1925 frequently topped that of the Red Sox.
"The Babe Ruth of soccer"
Though Mark's Fall River team established its reputation by recruiting foreigners, the region also produced world class talent of its own.
Of the U.S. players who went to the first World Cup in 1930, six were based (or from) either Massachusetts or Rhode Island. Indicative of the strong foundation that the ASL had provided, the third place finish the American team achieved in Uruguay that summer remains the highest finish the men's national team has ever achieved at the tournament.
At the center of it were two players who grew up in Fall River and fed off its soccer roots.
Bert Patenaude, a forward, became one of the most prolific goal scorers in American history. And while it took decades before it was officially acknowledged, it was Patenaude who recorded the first hat-trick in World Cup history.
The other talent to emerge from Fall River was Billy Gonsalves, who became known as the "Babe Ruth of American soccer."
Growing up in Fall River, Gonsalves first broke into the ASL with the Wood Workers in Boston. Aged 19, he had to wait for his chance, but scored only two minutes into his professional debut.
Known for his power and technical ability, Gonsalves would appear in a LeBron James-esque eight consecutive U.S. Open Cup finals. He won the respect of foreign opposition, who had been forced to reckon with his domination of games.
"I asked the foreign players the inevitable question," sports writer Dent McSkimming said when canvassing about U.S. talent, "and en total they agreed that Gonsalves would win a place in any team in the world."
Yet while Gonsalves was capable of memorable performances against world class opponents, he unerringly chose to avoid signing abroad. Despite receiving offers from Brazilian, Scottish, English, and Italian teams, Gonsalves remained in the U.S. for the duration of his career. It left historian David Wangerin, writing in his book, "Soccer in a Football World," to give a melancholy eulogy of Gonsalaves' career.
"Approached on more than one occasion to play abroad, he never went," wrote Wangerin, "and so unwittingly consigned himself to little more than a footnote in the notoriously unsympathetic annals of American sport."
"No bullion"
Even as Mark's Marksmen became a renowned American soccer powerhouse (winning six ASL titles and four National Challenge Cups), the decline around them was self evident.
The area's mills, having failed to keep pace with innovations taking place elsewhere, fell into decline during the 1920s.
"Having risen to such dizzying heights in the nineteenth century, [Fall River] was, during the twentieth, to fathom depths of depression such as such she had never known," wrote The New Republic's William Robinson in 1924. "Today, Fall River is a city of misery, want, unemployment, hunger and hopelessness."
Amazingly, the Marksmen warded off the full effects of the decline for more than half a decade.
The erosion began in earnest when the ASL, never solidly organized, engaged in a "soccer war" with the major U.S. soccer body, the United States Football Association. Back and forth disputes led to an ASL boycott of the Challenge Cup.
Eventually, the ASL was branded an "outlaw league" by FIFA. Formally, the disputes were settled in Oct. 1929, though a "single" disastrous season would take 14 months afterward, passing through three separate years.
Fan interest began to sour, as the Fall River Herald News noted following the Marksmen's incredible "treble" (trio of trophies) in 1930.
"Despite the fact that the Fall River team performed a feat unheard of in American soccer, that of winning every title possible in one season, the fans have adopted a 'don't care' attitude that does not make the future of the game here look any too promising."
And once again, larger historical events played a role in hurting (perhaps ruinously) U.S. soccer during the era. Only weeks after the "soccer war" between the ASL and USFA was resolved, the stock market crashed in 1929.
The onset of the Great Depression, so disastrous in every other sector of American life, proved the final blow for the ASL and U.S. soccer's "Golden Age." The original league folded due to glaring financial problems in 1933 (Fall River, as a city, went bankrupt).
Though it was revived in future iterations, it would never achieve the capacity to produce world class talent or "menace" Europe again. Unlike its distant cousin, American football, professional soccer in the U.S. would require decades to build itself back up.
"The Golden Age," Wangerin lamented, "had produced no bullion."