Soccer
How Robert Kraft became the subject of a fake soccer report started by Spanish NFL fans
"We laughed a lot about that because they didn't verify anything."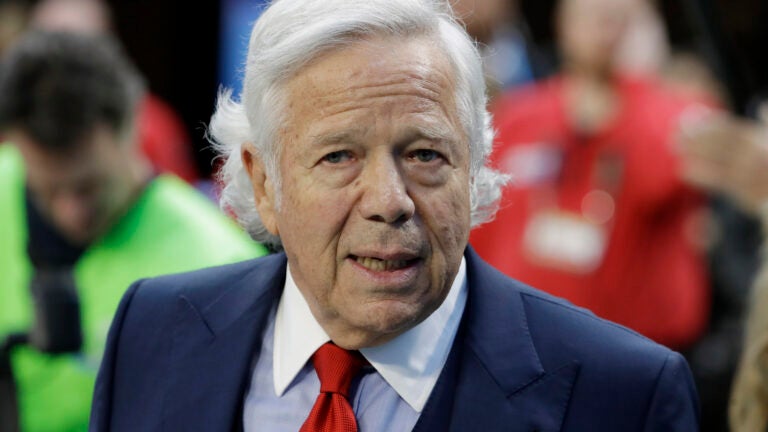 A recent international story involving Patriots owner Robert Kraft proved that the NFL has fans around the world. The only problem was that the story simultaneously proved fake news isn't always just a catch phrase.
Reported by numerous sports outlets across multiple continents, Robert Kraft was allegedly pondering the purchase of a 40 percent stake in Spanish soccer club Sevilla. It's not an outlandish possibility. Kraft, after all, has been linked with buying European teams before.
And this isn't to say that the Kraft Group might not still bid for Sevilla (officially, the Group offered no comment on the story).
The only issue with this particular rumor was that it was completely made up. And yet, like a giant game of unverified telephone, the rumor made its way from Twitter to local Spanish media, escalating to national Spanish media, and at some point transformed into an international story.
It began innocuously with a report from Spanish radio station COPE, where reporter Rafa Almansa alleged that an "American investment group" was on the brink of a 40 percent purchase of Sevilla. At no point did Almansa mention the Kraft Group or Robert Kraft personally.
From there, a Sevilla fan named Juan (who is also an avid NFL fan) took over with his friends in WhatsApp.
"We, a group of Sevilla fans who also like the NFL a lot have a friend who is a big fan of the Patriots, so three of us told him that the name that this reporter said in the radio was 'the Kraft Group,'" Juan told Boston.com.
He tweeted screenshots of their conversation:
Y este, señoras y señores, es el nivel de fiabilidad de la prensa deportiva en España:#BienvenidoMrKraft pic.twitter.com/I5cEqnSSLB

— juanm1905 (@juanm1905) July 17, 2018
"We're going to troll," reads a translation of the opening WhatsApp line. "I'm going to say that Cope has said that the investment fund is the Kraft Group, which is the owner of the Patriots."
The simplicity of their approach in spreading the fake report revealed how quickly some soccer rumors outrun even the most basic fact checking.
"We wrote some tweets and that's it. In the morning a local newspaper published that info as true," said Juan. "Then a national newspaper did the same."
"The little snowball starts to grow, and grow," he joked.
One of Juan's original tweets showed a photo of Kraft at what he claims is the Hotel Alfonso XIII in Seville. In reality, it's a photo taken of Kraft while at Davio's in Patriot Place from February (Bill Belichick was cropped out of the picture).
Robert Kraft cenando anoche en el Alfonso XIII. No creo que sea casualidad… pic.twitter.com/pWWzrDvl5g

— juanm1905 (@juanm1905) July 17, 2018
"Robert Kraft having dinner last night at the Alfonso XIII," Juan tweeted. "I do not think it is coincidence."
The story caught fire, spreading across borders into other European nations, and eventually the United States. Some Spanish media was quick to recognize that the rumor was unfounded, but the tidal wave of reports spread largely unchecked across the internet.
"We laughed a lot about that because they didn't verify anything," Juan said. "They just wanted to be the first ones to publish."
Juan continued to tweet screenshots of outlets writing stories based purely on their made up "report." The hashtag he used, #bienvenidomrkraft ("Welcome Mr. Kraft"), became so numerous that it started trending in Seville.
#bienvenidomrkraft es ahora una tendencia en #Sevillehttps://t.co/dBC01RcTzP pic.twitter.com/Eh66NqizRR

— Trendsmap Sevilla (@TrendsSevilla) July 17, 2018
Soccer, as has been said before, was an original source of fake news. But Juan would have no problem if, by some incredible fiction-becoming-reality move, the Patriots' owner actually did buy a stake in Sevilla. And his comparison is one that NFL fans can identify with.
"I personally would be okay if Kraft buys Sevilla, because the current owners are like the Cleveland Browns owners, not like the Patriots."