Soccer
The best photos and videos from the Premier League's Fenway takeover
"Boston lived up to the hype."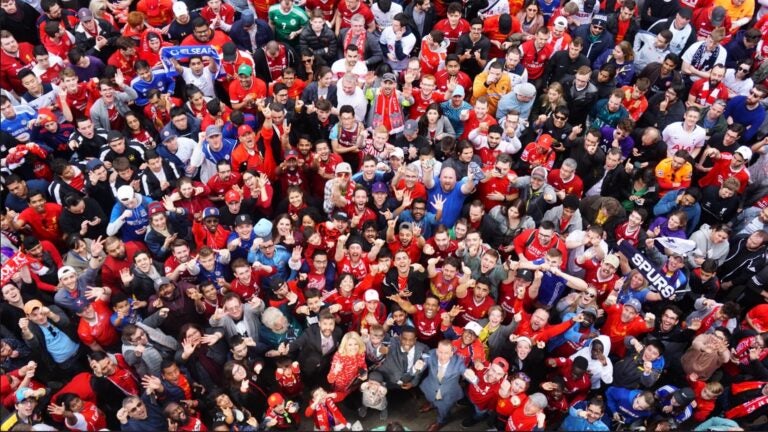 "You hear a lot about this place as a sports town," NBC Sports analyst Kyle Martino said as he surveyed the Lansdowne Street crowd on Sunday. "Boston lived up to the hype."
In all, 12,597 soccer fans showed up to the Premier League event in Boston over the weekend, according to NBC Sports. The "Fan Fest" is part of a series that NBC and England's top league have taken to several American cities. Boston's was the biggest to date.
The city's latent soccer fandom showed its potential, with NBC Sports' live game coverage being broadcast from a packed Cask 'n Flagon. The fans made their presence felt:
It's more than just a game, it's a way of life. #MyPLMorning pic.twitter.com/QvE6PfNRlA

— NBC Sports Soccer (@NBCSportsSoccer) March 31, 2019
While the Premier League's American viewership has grown over the last year, it was a different experience for Boston fans to congregate in a central location for the weekend games. Given its locally based ownership, Liverpool was unsurprisingly well represented. Still, every Premier League team had fans in attendance over the course of the two-day event.
Here's a look at some of the notable photos and videos, including Liverpool's Sunday win over Tottenham:
The @ManUtd fans in Boston were feeling that @MarcusRashford goal ?️#MUNWAT 1-0 #MyPLMorning pic.twitter.com/QKmhKCxQpC

— Premier League USA (@PLinUSA) March 30, 2019
Boston showed out today for @NBCSportsSoccer's fan fest!! The passion and enthusiasm for the game was on full display! Proud to see how far the sport has come in New England ?? #PremierLeague #Boston #MyPLMorning pic.twitter.com/t0wexFKdiM

— Charlie Davies (@CharlieDavies9) March 30, 2019
?? Gully also joined a host of @premierleague friends on a Duck Tour around Boston!#BHAFC ?⚪ pic.twitter.com/1BJ22DjUoO

— Brighton & Hove Albion ⚽️ (@OfficialBHAFC) March 30, 2019
How do you like them apples? pic.twitter.com/kZvnrB6aoJ

— NBC Sports Soccer (@NBCSportsSoccer) March 30, 2019
IT'S ALL HAPPENING IN BOSTON ? #MyPLMorning pic.twitter.com/k9VdbM7XxB

— Premier League USA (@PLinUSA) March 30, 2019
This is a MOOD @LFC & @LFCUSA #YNWA #MyPLMorning pic.twitter.com/pKrCjGJxuj

— Premier League USA (@PLinUSA) March 31, 2019
Boston, they can hear you all the way over at Anfield ? pic.twitter.com/kPwFItKWMV

— LFC USA (@LFCUSA) March 31, 2019
2014 Boston Marathon Winner @runmeb is in the building ?‍♂️#MyPLMorning pic.twitter.com/Yn6glvFuG1

— Premier League USA (@PLinUSA) March 31, 2019
Thousands in the street watching and max capacity all day in Cask N' Flagon.#PremierLeague takeover #Boston #myplmorning pic.twitter.com/yH6uVELLo6

— Dan Palla (@thedanpalla) March 30, 2019
https://youtu.be/1z2zZVdcnCc