Soccer
What Michelle Akers and Kristine Lilly had to say about the legacy of 1999
It's the 1999 World Cup that, in many ways, will always define the United States women's national team.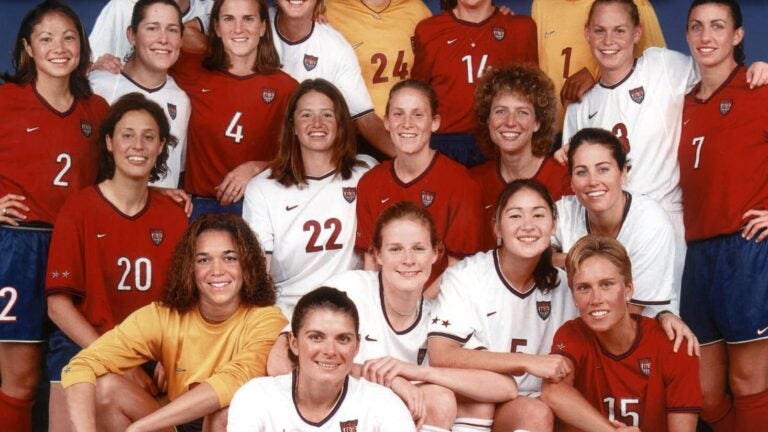 The 2019 World Cup in France has been a showcase for the continued growth of women's soccer. The host nation has produced a team with the talent to win it all. Other nations, like Italy and Spain, have seen their women's teams begin to approach the immense potential of their soccer cultures.
And, of course, the United States is once again a central presence. For years, the American women have been a fixture at the World Cup. The U.S. won the first women's edition of the tournament in 1991, and are the most recent winners in 2015.
Yet it's the 1999 World Cup that, in many ways, will always define the United States women's national team. Played at home in front of packed crowds at NFL stadiums, it showed the potential of women's sports to draw thousands of fans. The U.S. triumph on penalty kicks against China in the final was watched by a sellout crowd of 90,185 at the Rose Bowl, a record attendance for a women's sporting event. It was also watched by millions on television.
Its legacy endures two decades afterward, both in the U.S. and abroad. Yet as fans of the '99 team remember, it came perilously close to having its picture-perfect American ending spoiled. Battling China in extra time of the final with score tied 0-0, the U.S. team came within a famous forehead of conceding what could've been the losing goal.
Except in that moment, New England native Kristine Lilly was waiting to intercept it.
"I played in 354 games, and I think I saved a ball off the line maybe twice," Lilly recalled in a recent interview with Boston.com. "It happened so fast. I remember it was so hot, and getting water beforehand and then seeing the ball come in, I pinched in to make the goal a little bit smaller and then happened to head it. The funny part is the weakest part of my game was heading. That's why I was on that post. And that whole week leading up, I couldn't head the ball at all."
Lilly joked that her '99 teammates "kiss my forehead a lot," but in reality admitted there were very good reasons for why she was ready to make her timely save.
"We would go over and over it repeatedly in practice," Lilly explained. "It's not just something random that I was on that goal post."
It cut to the core of the team's mentality: endlessly competitive and disciplined through intense practice and coaching.
"It was for-real every single game, and every practice, same thing," said fellow '99 teammate Michelle Akers, who spoke with Boston.com at a recent watch party for the U.S. in the 2019 World Cup. "That's the mentality I love, and we even called it 'USA mentality.'"
"The basis of that national team I think from the very beginning was a great foundation set back then," Lilly said. "The culture was continued through the years. I think what we all realized when you play for the U.S. team is that when you step into that environment, it's competitive. It's not like you come into it and you're just there. You have to earn it. You have to work at it. And when you realize what it takes, then it becomes bigger than yourself. That's powerful."
For Akers, who in 2000 was named co-FIFA Women's Player of the Century with China's Sun Wen, the mentality went beyond that. It extended to whoever the U.S. was playing.
"You want them to not look forward to playing you," Akers said. "You want it to be so hard that they don't want to play the U.S."
When Akers looks at the 2019 American team, she sees a continuation of what her generation started.
"They're intense right off the bat, just ramming the ball right down the opponent's throat and into the goal," she noted. "I love that."
Of course, the U.S. team has never been able to simply focus on the game on the field. As female professional athletes, they've always had to fight for equal treatment in a sport and a culture that hasn't wanted to give it to it them. In this, Akers and Lilly again see similarities between the current team and their own time.
"We went on strike before the [1996] Olympics for equal pay," Akers remembered. "Of course we didn't get it, but we just needed more to be able to compete, which we got. So we've gone through this. We negotiated contracts, we talked about it, we worked with Billie Jean King and all these amazing women who have paved the way. We did our part, and now it's exciting to see this team is still pushing."
The U.S. team launched a lawsuit in March against its own federation over gender discrimination. Recently, the two sides reportedly reached a tentative agreement to mediate the suit, though it remains unresolved through the current tournament.
Yet, as Lilly sees it, the fight is bigger than just how much the players get paid.
"Of course a lot of it's not about pay but how they invest in the women's game compared to the men's game," she explained. "We want that to be equal. It has to do with what they're doing to improve the game and not just how they're compensating the players."
Lilly runs youth soccer camps with other former players like Mia Hamm and Tisha Venturini.
"I think for me that really is powerful because when we were young, there wasn't a female coach standing before us," Lilly said. "So these girls get to see that we played at the highest level, and now we're teaching. So they see they have options. If they're not going to play, maybe they can teach the game and they can do what they want to do. I think that's a strong statement to make to them."