Soccer
Bou knows goals: The Revolution's record signing is already proving his worth in a tight playoff race
"We knew it was going to take a special moment to break them down."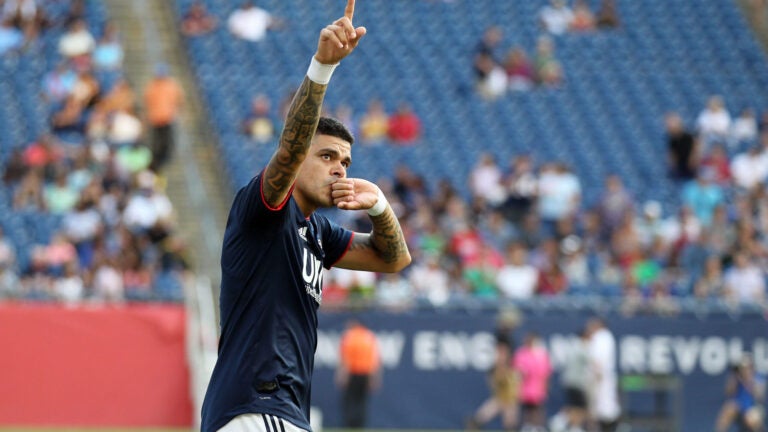 With seven games remaining in the regular season, the New England Revolution are locked in a desperately close playoff race.
Heading into Saturday's matchup at Gillette Stadium with the Chicago Fire, six points separated six teams in the middle of the Eastern Conference standings. Only half of the group will make the postseason.
At the end of the night, the difference between the six teams remained exactly six points, yet the Revolution increased the team's chances of punching playoff tickets for the first time since 2015.
A narrow 2-1 victory over the Fire meant New England closed the gap to fifth-placed D.C. United to just a single point. It also means the Revolution are now four points clear of the teams currently just out of a playoff spot.
Amid the pressure of a playoff race, one of the Revolution's difference-makers has been forward Gustavo Bou. Signed from Mexico's Club Tijuana in July for a Revolution record sum, the 29-year-old Argentinian has scored five goals in seven games for New England.
It was Bou's 86th-minute wonder strike on Saturday that proved the deciding goal against Chicago.
Okay, @gustavobouok. Okay. ? #NEvCHI pic.twitter.com/SFF0YcHw6a

— Major League Soccer (@MLS) August 25, 2019
Known as "La Pantera" ("The Panther"), Bou has pounced on two huge goals in as many weeks for the Revolution. It was his finish from a Carles Gil assist on Aug. 17 that secured an important 1-1 draw in New York against the Red Bulls.
Bou knows goals.#NERevs are right back in it! 1-1. #RBNYvNE pic.twitter.com/emLGweRFId

— Major League Soccer (@MLS) August 18, 2019
And his left-footed thunderbolt against Chicago kept the Revolution sailing full steam towards the playoffs.
"That's his bad foot," joked Revolution coach Bruce Arena. "You should see his good one. That was a heck of a goal, what can you say?"
"It was definitely an exciting moment with only a few minutes left," said Bou afterward. "We knew we had to keep pushing to get the three points. It was a quick play, the ball rebounded, I was able to get it back, put it to my left foot. I didn't think twice. Looked up, hit the ball and good thing for me it went in."
Bou's instincts have been well-attuned since arriving in Major League Soccer. In his league debut, the Argentine smashed in an emphatic volley as an introduction:
What. A. BEAUTY. Gil➡️Bou ✅#NERevs // #NEvVAN pic.twitter.com/SoLqZSLnoN

— New England Revolution (@NERevolution) July 18, 2019
"Those kind of goals, it's all coaching," Arena joked. Of course, the Revolution coach is also the team's sporting director, and had a hand in Bou's recruitment. It's already proven to be an important signing, given the forward's instant impact.
Bou cuts a menacing figure for opposing defenses, since he's elusive and far from just a traditional center forward. His forte appears to be occupying a plethora of roles on the field throughout a game, rotating between playing in the middle and on the wing.
Arguably his most dynamic position is playing just behind a main striker, as he was doing late in the second half against Chicago. It was a tactical change from Arena (subbing in forward Juan Fernando Caicedo to occupy the space up front) that allowed Bou to find the space for his rocket of a winning goal.
"That's why we wanted to put Caicedo in," said Arena. "We wanted to let Gustavo play a little bit underneath the striker. He was playing with his back to goal for most of the second half and we needed to get him facing the goal a little bit more. He's a goal-scorer, he's a winner, give him credit."
Still, goal-scoring is far from Bou's only capacity. Accompanying his tactical versatility has been an ability to help New England link passes in midfield and generate scoring chances for his teammates.
In New England's first goal, it was a give-and-go from Bou and Gil — another major 2019 Revolution signing — that allowed right back Brandon Bye to have time to make his run and provide the assist on Wilfried Zahibo's goal.
"He's an attacking player," Arena explained. "He can score goals, he can create opportunities for his teammates and he's obviously very good in possession as well. He's a good partner with Carles [Gil]."
The Revolution continue to walk a tightrope in the pursuit of a playoff spot. Any slip-up could prove perilous, given how close the standings remain.
"We have to win our home games right now," noted defender Andrew Farrell. "It's tight, so tight that a tie at home isn't going to do you much good."
And Chicago almost held out for a tie on Saturday, but the Revolution were saved in the end by Bou's laser strike. With the way he's begun his career in New England, Bou is already justifying the record price tag.
"Their defense was sitting way back," said Bou of Chicago's strategy. "We knew it was going to take a special moment to break them down."
With one swing of his "bad" left foot, Bou conjured exactly the kind of special moment New England needed.