Soccer
Costly Toronto goalkeeper error contrasted with Matt Turner's saves as the Revs' playoff race stayed tight
"He kept us alive."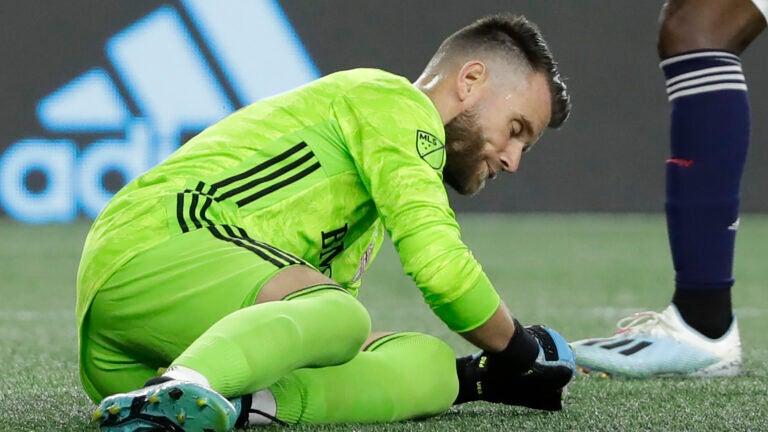 In the end, the New England Revolution remained ahead of Toronto FC in the Eastern Conference playoff race, and the difference at season's end might come down to a few big saves and one monumental mistake that occurred in Saturday's 1-1 draw.
Revolution goalkeeper Matt Turner, who had been crucial in the team's season turnaround, was once again important in securing the result. Turner made a series of skillful stops, preventing the visitors from scoring more than once.
Of course, Turner was potentially fortunate not to have been booked for a first half slide tackle outside the box. But the play was discounted after it was ruled offside, negating the possible yellow (or red) card scenario.
Beyond that one misstep, Turner was excellent.
In one second-half sequence, Turner made a masterful snap save before parrying a follow-up:
WH?A, @headdturnerr! #NERevs // #NEvTOR pic.twitter.com/oo97NyWhCg

— New England Revolution (@NERevolution) September 1, 2019
"He made some big saves," said Revolution coach Bruce Arena. "Again he probably made two real good saves in this game tonight. They were important. He kept us alive. Their keeper made a couple good saves as well. Probably could've done better on Gustavo's goal, but we'll take it."
The goal Arena alluded to was certainly one that Toronto goalkeeper Quentin Westberg would like to have back. Revolution forward Gustavo Bou fired in a speculative effort as New England trailed in the second half. What should have been a routine save for Westberg became the unexpected equalizer when the ball snuck under him and into the net:
It's @gustavobouok with a late goal and we are level! #NEvTOR pic.twitter.com/w9SErU6J8A

— Major League Soccer (@MLS) September 1, 2019
Turner and the Revolution's one blemish on the night came on a counterattack. Despite saving the initial shot, Turner was unable to keep Nicolas Benezet's rebound at bay. Yet Bou's goal — made possible by Westberg's error — proved to be enough to keep the two teams level at the end of the game.
"It had that kind of atmosphere that it was a big game," said Turner. "Both teams were a little frantic in front of goal, missing some good chances. The longer you leave a team like Toronto hanging around, they were kind of making some chances, and every chance they made they started getting more confidence. As soon as they scored the goal, they just kind of dropped off and allowed us to grow into the game and get some shots on goal. When you shot the ball on net, some good things happen usually."
"I never celebrate another goalkeeper's error, but it was nice to get the point," Turner added.
The 1-1 draw means that New England stays one point ahead of Toronto in the standings. The Revolution are sixth in the Eastern Conference, with six games remaining. The top seven teams make the playoffs. Five points separate five teams in the middle of the standings (a group that includes the Revolution).
New England's next game comes on Sept. 7 against NYC FC in Yankee Stadium.