Soccer
3 things to know as the Revolution head into an offseason filled with optimism despite a playoff defeat
New signings are likely as Bruce Arena begins to reshape the roster.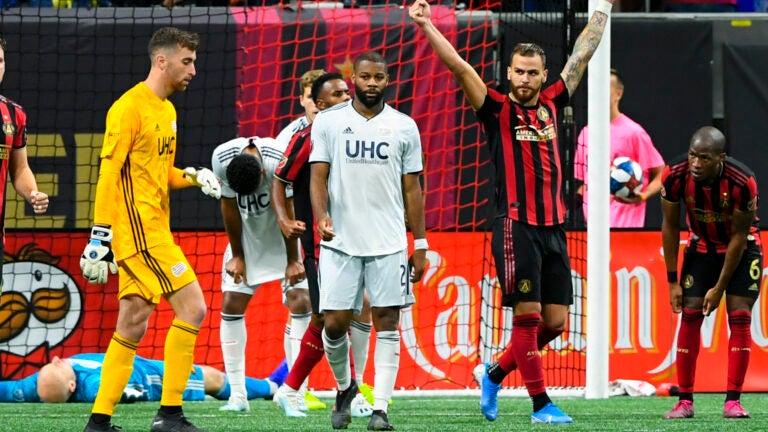 If you like seeing soccer on Boston.com, help us do more by taking this quick survey of local fans.
The Revolution came close to pulling off a playoff upset against Atlanta United on Saturday, but a 1-0 loss ended the club's roller coaster season.
Franco Escobar's 70th minute goal was the difference in the first game of Major League Soccer's postseason. That it was a one-goal margin was appropriate, as the game was even for much of the time.
New England's season ends, but optimism abounds heading into 2020. After starting out terribly in 2019 and experiencing a turnover in leadership, the Revolution put together a tremendous run to get back to the playoffs for the first time since 2015.
And with head coach and sporting director Bruce Arena now at the helm, fans are hopeful about results both on the field and off of it. New signings are likely, and the start of the team's new USL club will help enhance player development.
Here are a few observations as the Revolution head into what could be a busy offseason:
Additions to the team are coming.
Given his propensity in 2019 for tasking players with unorthodox roles — like Juan Agudelo in central midfield, or Jalil Anibaba at left back — it's clear that Arena feels he needs to add new faces to the team.
In a recent interview with Sam Stejskal of The Athletic, Arena confirmed that the Revolution have already agreed to terms with one new signing (reportedly 30-year-old Dutch left back Alexander Büttner).
Arena also told Stejskal that, "I think we need to add three or four additional players."
When asked at a midweek press conference prior to the game in Atlanta if "conversations have begun" with potential new signings, Arena simply replied, "yes." Of course, when asked a follow-up question about if he wanted to say who those conversations were with, Arena had an equally short answer.
"No," said the Revolution coach and sporting director.
That Arena and his staff were able to quickly identify forward Gustavo Bou — the second club record signing of 2019 — is clear proof that he not only has been given license to spend, but also that he intends to do so.
Still, Arena has cautioned against the notion that he will add a third designated player simply for the sake of doing so. That said, he left the door open to another Gil-Bou type signing.
"I think nothing is off limits," Arena told Stejskal. "I don't imagine we would sign a player we have to transfer for $20 million, that kind of thing, but we would certainly entertain having a third [designated player] if it's the right type of player."
It could be an exciting offseason for Revolution fans.
Keeping the core together will likely be possible.
The other side of reshaping the roster in the offseason is asking who will depart from the team.
This remains an uncertain proposition, as Arena could go in several directions. Agudelo was thought to be interested in leaving the club a year ago but chose to remain. Whether he continues to stay with the Revolution — he wasn't a regular starter by season's end — is up in the air.
New England's defensive structure has also been in flux at times, and it could be an area for Arena to further target (assuming the Büttner report is true).
MLS will also go through another Collective Bargaining Agreement negotiation, which will have an effect on the team's offseason maneuvering.
Undoubtedly one of the most important goals for the Revolution in the offseason will be to keep core players, having only just started to build an intriguing roster for the future. Bou will be back, as will goalkeeper Matt Turner (who recently signed a contract extension).
MLS Newcomer of the Year Carles Gil, the team's industrious playmaker, will also likely return. Of course, Gil's circumstances are a little different than Bou's. While Bou is 29 and less likely to attract higher level attention from overseas clubs, Gil is 26. There remains a chance that a team pursues him.
When asked about the likelihood of Gil being back in 2020, Revolution president Brian Bilello couldn't definitively confirm it, but sounded reasonably sure of the Spaniard's continued presence in New England's midfield.
"I fully expect Carles to be around," said Bilello. "But to say I'm 100 percent confident, I'm not 100 percent confident that any player in MLS is going to be on their teams next year."
Bruce Arena's presence has created optimism and increased expectations.
When Arena arrived in May, the Revolution were last in the Eastern Conference. Along with interim coach Mike Lapper, he oversaw the longest unbeaten run in MLS in team history, vaulting New England back into a playoff race.
He made his team a difficult one for opponents to beat. The only Revolution losses in league or postseason games after Arena took charge came against Atlanta United, New York City FC, and Los Angeles FC, all of whom are among MLS's elite.
His presence also immediately led to another club record signing in Bou. What the Argentinian will do in a full season in MLS has Revolution fans excited.
In a larger sense, Arena being in charge has not only restored confidence in the club, but also inevitably provides a sense of optimism about the future.
Added to that will be increased expectations. After digging out of a 2-8-2 start, fans will have hope that New England can aim higher in the conference standings in 2020.
"I'd like to think our best years are ahead of us," Arena said after the team clinched a playoff berth in September. "I'm not ready to be dancing in the woods or having parades and stuff because we made the playoffs. I think the goal here is to get this club better positioned to be one of the top clubs in the league and one day win an MLS Cup. We're not there yet."
With an offseason to begin formally reshaping the roster, Arena now gets his chance to begin building the "top club" he envisions.