Soccer
A look inside the Revolution's new $35 million training facility
Robert Kraft also referenced the team's ongoing desire to build a stadium of its own.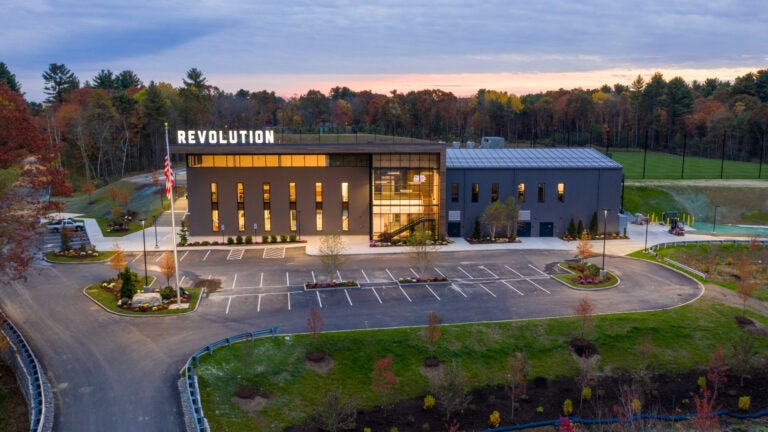 The Revolution might not have the Boston-area stadium the club so strongly desires, but a newly-opened $35 million training facility represents a major step forward.
Unveiled on Monday, the new facility — built on 68 acres of land behind Gillette Stadium in Foxborough — provides an all-around upgrade to the team's capabilities. Having previously carved out a smaller profile within the existing facilities at the stadium, the Revolution now have a training space to call their own.
Three natural-grass fields and an indoor facility (which includes everything from locker rooms to team offices to even an on-site barbershop) sits on the 68-acre plot of land. Of that, 44 acres of the property has been labeled as "preserved land," a stated commitment to minimizing disruption to the local ecosystem. The address of the facility is officially listed "1776 Revolution Way."
The #NERevs Training Center is officially open! pic.twitter.com/q4R0kD51At

— New England Revolution (@NERevolution) December 9, 2019
"We now have a facility that's I think worthy of the coach we have and our desire to win a championship so that we can bring [in] people from all over the world," said Robert Kraft at a ribbon-cutting ceremony. "We can compete with anyone and the top clubs in MLS have facilities that rival this. I think this is better though, but this will also help us with our second team and as we try to develop and grow soccer here."
Kraft's reference to the "second team" is the recently formed Revolution II, a USL League One team that will get underway in 2020 as an attempt to help further develop the MLS team's talent.
And the Revolution owner also referenced the team's perpetual subplot: the stadium search.
"It's a little later than we would've liked it to happen," Kraft said of the training facility opening, "but to be very frank we were working on getting a stadium in the city and that was our priority. It's taking a little while as you know. This is New England. Things take little longer to happen here, but it actually was a positive because we realized this is a special, bucolic setting. And in a way, gives us a competitive advantage for certain types of players."
The Revolution experienced a dramatic season in 2019, starting slowly and firing head coach Brad Friedel in May with the team last in the Eastern Conference. But under new head coach (and sporting director) Bruce Arena, the Revolution embarked on a season-saving unbeaten run. The year culminated with an improbable playoff appearance, and optimism heading into 2020.
Here are a few images from the Revolution's newly unveiled training facility: