Soccer
'Nothing fazes him:' Poise has helped Arlington's Miles Robinson develop into a USMNT Gold Cup starter
"Any time you get to wear a national team jersey, it's an honor."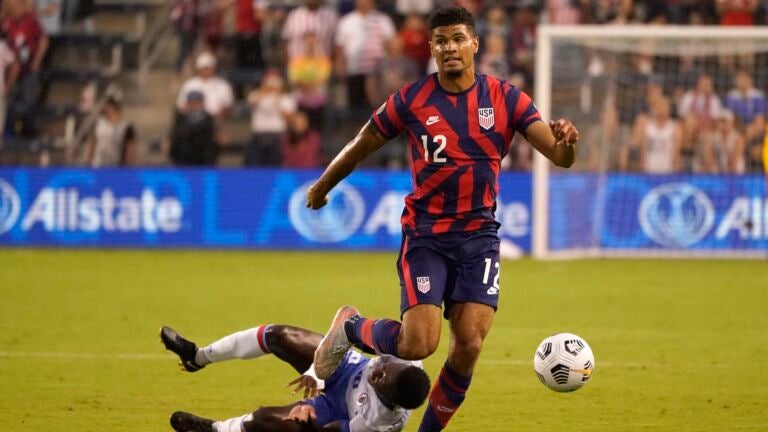 Oftentimes over the years, when a coach calls Brian Ainscough to inquire about Miles Robinson, they tell him they're extremely intrigued by his athleticism and skill but want to be positive he's competitive and has an edge on the field.
Ainscough, Chief Executive Officer of the Boston Bolts, always chuckles to himself when they ask if Robinson has any bite. Robinson, now the starting center back on the United States Men's National team in the Concacaf Gold Cup, has plenty of bite, Ainscough explains. He simply plays with tremendous poise and prides himself on staying relaxed in tense moments.
"He has all that in spades," Ainscough tells them. "He just keeps it in check. He doesn't show his hand."
The 24-year-old Robinson, an Arlington native who starred at Syracuse and is now a standout for Atlanta United FC, is relying on that approach as he maximizes the major opportunity in front of him. He helped the United States blank Haiti, 1-0, on Sunday in Kansas City and will be a key cog as the national team faces Martinique on Thursday at 10 p.m. EST and continues its quest for a seventh confederation championship.
If he continues to excel in the Gold Cup, Robinson has a strong chance of making the squad that tries to qualify for the Qatar World Cup in 2022. Those who know him well aren't surprised by his upward ascension and believe his best soccer is still ahead of him.
"No game is ever too big," Syracuse coach Ian McIntyre said. "That's why I feel that he has a game that continues to progress. I think he'll embrace this challenge of representing the U.S."
He reminded his coach of Bambi as a kid.
Robinson first discovered the sport as a toddler while watching his older sister, Becca, play in Arlington. He could often be found running around on the sideline at her games, and he latched on himself around age 4.
When Ainscough spent time with a 9-year-old Robinson, he was fascinated by his build and potential right away.
"He was this kid that was 5-foot-9, with a size-13 shoe, looking like Bambi," Ainscough said.
His massive feet made it slightly difficult to control the ball at times, but he worked to fine-tune his technique. Even as it became clear he had Division 1 soccer talent, Robinson continued to flourish as a basketball player as well.
He played soccer with the Bolts nine months a year and starred for Arlington hoops' Spy Ponders on the court in the winter. Basketball meant so much to him that he didn't mind if his soccer development took a slight hit in the short term.
"I always say to the coaches that we're just fortunate enough he wasn't a few inches taller," Ainscough said. "He might have been playing basketball for Syracuse. We're lucky we have him as a soccer player, so be happy with that."
Ainscough learned early on that Robinson essentially never gets flustered or panics. His quiet leadership and confidence were contagious, Ainscough said, and he was easy to coach.
"He has that 'nothing fazes him' mentality," Ainscough said. "He was very focused when he went on the field. When things went against him, or he made a mistake, he just got on with it. He seemed to have that perfect pro mentality before he was a pro."
The Bolts felt as though Robinson was the best defender in the country for his age, and they grew somewhat frustrated as they saw other players go ahead of him. Ainscough acknowledged they might have been a bit biased, but Robinson's success now shows that their opinion had plenty of merit.
Robinson kept working and eventually earned a spot at Syracuse, where his sister Becca set a school record in the indoor 400-meter dash. It didn't take long for him to carve out his own legacy with the Orange.
"When we recruited him, he was one that we thought had an extremely high ceiling," McIntyre said.
He gained national recognition at Syracuse.
Robinson quickly developed into a dominant center back in the Atlantic Coast Conference. McIntyre was impressed right away, and a Final Four game against Clemson solidified what he already believed to be true.
"They had a terrific team, and they just couldn't get by the guy," McIntyre said. "That was the time that we knew we had something special."
Robinson earned ACC All-Freshman Team honors that year and was the ACC Defensive Player of the Year the next season.
McIntyre said that Robinson's demeanor has never changed even with all the success he had. He never gets too high or too low, and his physical dominance is consistently overpowering. Robinson credited Ainscough and McIntyre, both center backs when they played, for helping him develop tactically.
He loves the challenge of stopping the other team's elite scorers and embraces playing under pressure, and he's consistently channeled that passion into concrete results.
"Going up against other big-time ACC schools brought out more competitive fire in me," Robinson said. "I enjoy 1-on-1 defending, and I definitely hate to lose. I enjoy keeping clean sheets."
He's eager to capitalize on the opportunity in front of him.
Atlanta took him second overall in the 2017 MLS SuperDraft, the team won it all in 2018, and a breakout season in 2019 – in which he set the club record for most minutes played by an outfield player in a season – helped put him even more on the national radar.
Robinson, who gained experience with the U-18, U-20, and U-23 teams, made his debut for the USMNT senior team in September 2019 as a second-half sub, but he suffered a left hamstring strain that October that forced him to withdraw.
"It's obviously tough and difficult, but you've just got to get your mind around it and understand that you have to grind every day and take the little steps to get better," Robinson said.
Atlanta elected not to release him to the U-23s this past March, but now he's on the senior squad, eager to prove himself once again and help the United States win a championship. When Aaron Long suffered an Achilles injury, and head coach Gregg Berhalter named Robinson a starter, he knew another opportunity had arrived.
Berhalter was also a center back, so Robinson constantly picks his brain and looks for advice as he lives out his dream on a grand stage.
"Any time you get to wear a national team jersey, it's an honor," Robinson said. "It's just about focusing in on what Gregg wants from me and how I can help this team win games."
Get the latest Boston sports news
Receive updates on your favorite Boston teams, straight from our newsroom to your inbox.