Soccer
How a British author feels about his book's repeated references in 'Ted Lasso'
"I'm pretty sure if I'd just been the bloke talking about Argentinian football history, I don't think they'd have been that interested."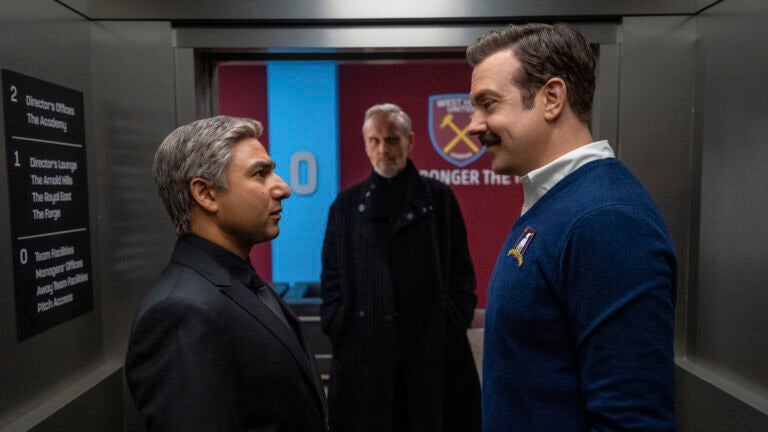 Note: This article contains spoilers regarding various plot details from "Ted Lasso."
Along with its commitment to comedy and overarching optimism, literary references have been a regular feature in the Apple TV+ series "Ted Lasso."
Whether it was "A Wrinkle in Time," "The Da Vinci Code," or "Prince of Tides," the popular show — about a fictional American football coach (played by Jason Sudeikis) who becomes the manager of an English soccer team — has showcased a wide range of books.
Possibly the most common book reference has been "Inverting the Pyramid: The History of Soccer Tactics," written by English author and journalist Jonathan Wilson.
Given the context of the show, a regular reference to a soccer-related book makes sense. "Inverting the Pyramid" has shown up in all three seasons, including a reference to it in the title of the season two finale: "Inverting the Pyramid of Success" (which was a cross with another book title, "The Pyramid of Success," written by legendary basketball coach John Wooden).
Now midway through its third (and final) season, "Ted Lasso" has again depicted characters (mostly Brendan Hunt in the role of Coach Beard) reading the book in multiple episodes.
So what does the author of "Inverting the Pyramid" think about this?
"It's just very weird," Wilson acknowledged in a recent interview, though he sees the show's logic.
"It's a shorthand," he explained. "It's a book on football tactics and — I don't really think it's that useful for coaches because so much of it is the historical stuff — but it's an easy way of saying, 'Yeah, this guy's trying to become an expert by reading it.' So it's a hugely flattering thing."
The slightly disappointing reality is that he hasn't actually seen the show (yet).
"It's on Apple TV+. That's why I haven't seen it. There's just a limit to how many different streaming services you can have," said Wilson.
Still, he's has been made aware of his book's appearances over the years.
"Loads of people on Twitter got in touch," he said, "and then friends keep sending me screen-grabs on WhatsApp."
Wilson, whose work can be found on The Guardian and Sports Illustrated (among other places), said that his popularity among students appeared to be a little higher than expected at a recent guest lecture he gave at a U.S. university.
"A lot of the students talked about it. They said, 'Oh, you're the guy whose book was in Ted Lasso,'" he recalled. "Quite a few of them were asking for selfies and things, but I'm pretty sure if I'd just been the bloke talking about Argentinian football history, I don't think they'd have been that interested. I think this is a Ted Lasso thing that they were sort of connecting with. That was definitely a sense I got that this thing is actually enormous."
Fittingly as a favorite of "Ted Lasso," Wilson's "Inverting the Pyramid" is ostensibly about about soccer while in reality focusing on more nuanced subject matter.
"It's partly about people, partly about how ideas travel, but even if you say it's about how ideas travel, that makes it sound drier than I hope it is," Wilson remarked, following up with a quote that could apply to both book and show.
"That's why I think football has this enormous power as a sort of cultural force — that so many people in so many different places and so many different societies are so invested in it — that it is this common thread."
Interestingly, another of Wilson's books, "The Barcelona Legacy: Guardiola, Mourinho and the Fight For Football's Soul," even offers insight into a primary Ted Lasso subplot: Ted's relationship with former assistant coach-turned-rival, Nate.
In the show, the character of Nate (played by Nick Mohammed) emerges from obscurity in season one, where he is introduced as a groundskeeper. After Ted recognizes his knowledge of the game and gives him a chance, Nate eventually grows to become a tactical expert and important assistant coach.
The second season culminates with Nate bitterly leaving Ted's side (as part of the fictional team, AFC Richmond) and becoming manager of rival club West Ham United.
The depiction of Nate has drawn comparisons to real life manager Jose Mourinho, something that Mohammed has confirmed was an inspiration.
Mourinho, a Portuguese manager who famously rose from the role of translator to lead multiple teams to win the UEFA Champions League (among other accomplishments), shares more in common with Nate than merely silver hair.
Like his Ted Lasso counterpart, Mourinho's arc as a manager was partly inspired by a perceived slight from his former team. In 2008, Mourinho was almost hired to manage Barcelona, the place where he had first emerged as an elite assistant coach. But when the club opted for former player Pep Guardiola, whose managerial experience (at that point) paled in comparison with Mourinho, he (not unlike Nate) defined himself in opposition to his old team.
"I think Mourinho saw that as confirmation that they never accepted him [at Barcelona] in the late '90s," Wilson said. "And so he decided, maybe not consciously, to become the anti-Barcelona."
It's the story of Mourinho, but it might as well be analysis of Nate's role in the early part of season three: Becoming the anti-Ted Lasso.
Yet, as Wilson points out, Mourinho's radical efforts to distance himself from his former home only ended up confirming where he had come from.
"What I find fascinating is his frame of reference is Barcelona," said Wilson. "So Guardiola and Mourinho both want to control the game, but just control it in different ways. Guardiola wants to do it with the ball, Mourinho wants to do it by shape.
"It's interesting that by trying to do the total opposite, he's actually still thinking in a Barcelona way."
Given the Nate-Mourinho connections, Wilson's analysis could provide a glimpse at what might be in store for the fictional character.
Will Wilson ever watch the show?
"Yes," he admitted. "I mean, clearly I could just pay for Apple TV+ for a month. It not beyond my capabilities, but it's just sort of one stage too far. But I guess if I had access to it, I probably would end up watching it."
And though he doesn't watch, there is one definitive way Wilson can tell if "Inverting the Pyramid" has made another "Ted Lasso" cameo.
"I've seen the sales go up," he joked.
"Just the last couple of weeks it's been a little bit of a spike. I'm all for it. They should use it even more, and if they want me to do a walk-on or something, I'm happy to do that as well."
Get the latest Boston sports news
Receive updates on your favorite Boston teams, straight from our newsroom to your inbox.