Sports News
Patriots fans remember Peyton Manning in the right frame – as 'a' great, not 'the' greatest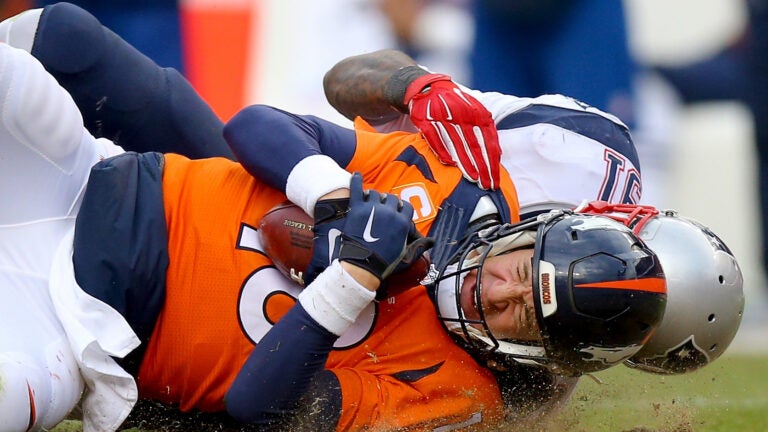 COMMENTARY
If you're a New England Patriots fan searching for your true feelings upon the retirement of quarterback Peyton Manning, you should note this disclaimer: A good amount of your uncertainty or angst can be directly attributed to the suffocation of a fawning, Manning-loving corps that is as delusional as it is annoying.
Indeed, the best individual rival in the history of the New England Patriots called it quits Monday, only four weeks after one of the best defensive units in a generation gave the Denver Broncos quarterback the second Super Bowl title of his 18-year NFL career. That development has, of course, left Manning's breathless wonks pinning ways to remember an athlete that some of them have foolishly deemed to be the Greatest Quarterback of All Time.
Sorry. We can deal with a lot of stupid here in New England (have you seen what the Red Sox are trying to do at first base, for instance?), and it's not exactly like we want to kick a guy on his way out, but how desperate and/or dumb do you have to be to consider Peyton Manning the best that ever played the game?
Manning was great. A Great. No question.
The best QB ever? Go ahead and argue the premise and notice how long you last before somebody makes you aware of your foolishness.
Manning has won more MVP awards than anyone else in the history of the league, which seems to be the stopgap for some deciding to equate his greatness. That's three more than Tom Brady, Joe Montana, and Aaron Rodgers, two more than Brett Favre or Johnny Unitas ever received. He has more passing yards (71,940) and touchdown passes (539) than anybody else to ever play the position. He holds the single-season TD record with 55 after miraculously coming back from neck surgery in order to post one of the most illustrious seasons of his storied career.
Neat.
You'd have to be a member of the novice chain gang of innocence to not understand — or ignore — the circumstances under which Manning is ending his NFL career, which puts lauding his decision to retire in an interesting light. Hell, even as of only a few days ago, there was a prevailing thought that Manning might still try to play in 2016, despite the fact that the Broncos had already told him they were moving on from his services. Is the guy that delusional, even following what happened to be the worst season of his long career — despite the Lombardi?
Maybe he is, but it's a theory that might never have an answer if for two reasons; 1) His father, Archie, can hold somewhat of a grudge, it so seems. 2) The ever-present fawning that surrounds the guy is enough to make anybody with even the slightest level of criticism toward the guy recoil in a sense of misdirected exasperation.
Manning, after all, even with the latest shades of a soap opera that shaped his final month in an NFL uniform, is pretty damned likable.
The Manning aura is something entirely different.
Is there another professional athlete this side of Derek Jeter who could have had as much scuttlebutt swept under the rug for him by his pals in the national media than Peyton Manning? The quarterback wasn't only a media darling, a pet to cuddle no matter the fleas that swarmed around his presence, but a pillar of corporate America and the NFL's $9 billion place in it.
After all, the man sells pizza. Insurance. Feeling good enough about yourself to spend some money. The past might be the past, but it matters so much less when Papa John has a coupon code for free mushrooms that the company needs to get out there by there fourth quarter.
So while there is certainly a place to wonder just why it is Manning is going to escape any sort of punishment for his alleged use of HGH while his colleague and rival, Patriots quarterback Tom Brady, could be back on the inside track to serving a four-game suspension next season following the NFL's appeal of the Deflategate findings, such an approach would be rendered petty, unfair, and out of line by Manning's public relations staff members at the NFL, ESPN, Monday Morning Quarterback, the CBS gameday booth, and the entirety of the Indianapolis media circus.
Manning is an American darling, but it isn't because of the legacy he leaves. That thing is all parts great, muddled, inconclusive, and conveniently forgotten. He's a nice guy though, and folks remember that. They'll even manage their best to silence anyone who could insist he might not be quite as nice as the DirecTV ads suggest.
No athlete, at least no professional athlete in these days of suffocating promotion, social media, and the 24-hour cycle of news coverage, is likely to ever fully escape the daunting vitriol sent his or her way. But with Peyton Manning, every criticism is met with a red light by media members boasting a gaggle of ridiculous defenses and excuses for their favorite man, who had the sort of presence among many news gatherers that we imagine the likes of Mickey Mantle held during the prime seasons of his career with the New York Yankees.
How the hell did it ever come to that?
Part of it was playing most of his career in golly, shucks Indy. Part of it was the general sense of professionalism he brought to most, if not all, of his meetings with a media ready to drool on his every syllable. Part of it was his Dan Marino vibe, an awesome quarterback in the regular season who performed about as well come January as a Datsun in a blizzard. Part of it was that, well, damn it, he meant a whole hell of a lot to the NFL's advertising revenue.
The greatest quarterback of all time? Just stop it.
Four quarterbacks (Terry Bradshaw, Montana, Brady — four each — and Troy Aikman) have won more Super Bowl titles than Mr. Manning, who has as many as his little brother, Bob Griese, and Jim Plunkett. Feel free to argue Montana-Brady. That has a viable debate to it.
Throw Manning into that mix, and you sound stupid.
It's OK to appreciate one of the NFL's all-time greats though without calling him the best.
That's pretty much where Pats fans should sit with their assessment. Manning was great. Brady and the Patriots used him, and he used them right back. It is a rivalry that won't easily be replaced.
Hope that's enough for the powers that be.
Contact Eric Wilbur at: [email protected]. Follow him on Twitter: @GlobeEricWilbur and Facebook www.facebook.com/GlobeEricWilbur
Every matchup between Tom Brady and Peyton Manning
[bdc-gallery id="544114″]