Sports News
Crying BC senior has the saddest memory of his basketball career
The BC Eagles basketball team went 0-19 in the ACC this season.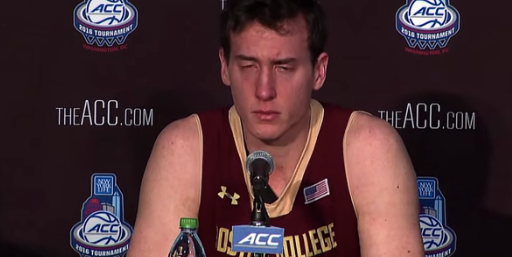 During center Dennis Clifford's career at Boston College, the basketball team was 44-85. He and the Eagles have had rough days, weeks, and months on the basketball court during his four-year career.
The Eagles (7-25) finished their 2015-16 season with a 88-66 loss to the Florida State in the ACC tournament on Tuesday. Boston College became the first team in history to go 0-19 in ACC play.
Following the loss to the Seminoles, Clifford addressed reporters at a postgame press conference, revealing, in part, his favorite BC basketball memory.
Clifford choked up and put his head down, pausing for more than 20 seconds. When he looked back up, his face was red, his eyes were welling.

His answer: "Going out to eat.''
He seemed to want to continue and answer the question, but the 24-year-old stopped, apparently overcome with emotion.
Watch the heartbreaking response:
[fragment number=0]
(h/t For The Win)
This is how awesome it is to be a Boston sports fan
[bdc-gallery id="142820″]