Sports News
Boston College baseball off to best start since 1973 as patience pays off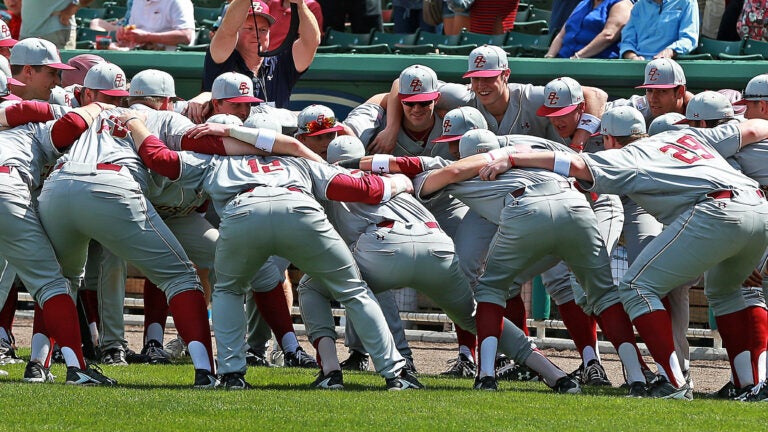 When Boston College was losing 25 of its 29 Atlantic Coast Conference baseball games three years ago, Mike Gambino held fast to the belief that things would get better.
Look at the Eagles now. At 12-3, they're off to their best start since 1973, and they just won two of three against nationally ranked North Carolina State for their first ACC opening-series win since 2009. On Monday, the team picked last in the conference's Atlantic Division was No. 22 in the nation in the Collegiate Baseball newspaper poll, marking the first time the program has been ranked.
''It's something that's been building over the last couple years,'' Gambino said. ''The core guys, when they were freshmen and sophomores, we threw them out there before they were ready. We took the long view, which was to let them take their lumps and believe they'll turn into really good players. And they are.''
BC has traveled more than 11,000 miles the last four weeks while playing all 15 of its games on the road. The Eagles' home opener is Tuesday against Holy Cross, and then they head to Clemson for the weekend.
First baseman Joe Cronin, who leads the team with a .389 batting average and 19 RBIs, was a freshman during that awful 2013 season along with third baseman Gabriel Hernandez and left fielder Logan Hoggarth. Catcher Nick Sciortino, shortstop Johnny Adams and center fielder Michael Strem, all juniors, also are part of this year's core.
Mike King (3-0, 1.30 ERA), Jesse Adams (2-1, 4.91) and Jacob Stevens (2-0, 0.00) form a solid weekend rotation. King and Stevens were part of shutout wins over the Wolfpack, and Stevens, a freshman, hasn't given up an earned run in 22 2-3 innings.
Of the 34 men on the roster, 25 are from the Northeast or Canada, including six everyday players and two of the weekend starters. Gambino said he recruits ''elite students who are elite baseball players with an elite level of toughness.''
The Eagles have more than survived the loss of slugger Chris Shaw, the 31st overall pick in the 2015 draft, and the future looks bright for a team aiming for a first NCAA Tournament berth since 2009. A new baseball field is among the projects included in BC's $200 million athletic facilities upgrade project announced last month.
''We're hoping to build a program that will go on deep postseason runs every year,'' Gambino said.
___
A look around the country:
ALL WRIGHT: Jesse Scholtens pitched the first perfect game in Wright State history, and first no-hitter since 1993, in a 1-0 win at Dayton on Friday. The 6-foot-4, 228-pound right-hander had nine strikeouts through the first five innings and finished with 12 in his 101-pitch outing.
NEARLY PERFECT: Southeastern Louisiana left-hander Kyle Cedotal had a perfect game broken up with one out in the eighth inning of Saturday's Southland Conference opener against Incarnate Word. Cedotal and Corey Gaconi combined on a one-hitter with 15 strikeouts and no walks in an 11-0 win.
BULLDOGS' STATEMENT: Mississippi State posted an eyebrow-raising sweep of Oregon, its first against a top-10 opponent since 2012. The Bulldogs batted .333 and totaled 24 runs against a pitching staff that had allowed 24 runs in its first 10 games and had shown up in Starkville with the nation's seventh-best ERA (1.61).
BRUIN BOUNCEBACK: Defending Pac-12 champion UCLA has recovered from a 3-5 start to win five of its last seven going into this week's conference opener against Washington State. The Bruins (8-7) won two of three over Texas this past weekend. Eric Filia has reached base in all 15 games.
OH-K: Coastal Carolina pitchers have struck out 10 or more batters in five straight games. Of the 61 strikeouts, reliever Mike Morrison had 13 in 7 1-3 innings over three appearances and reliever Alex Cunningham had 12 in 9 1-3 innings over two outings. The Chanticleers won four of the five.
Boston artifacts in Cooperstown
[bdc-gallery id="109159″]