Sports News
10 facts about Holy Cross' improbable NCAA Tournament trip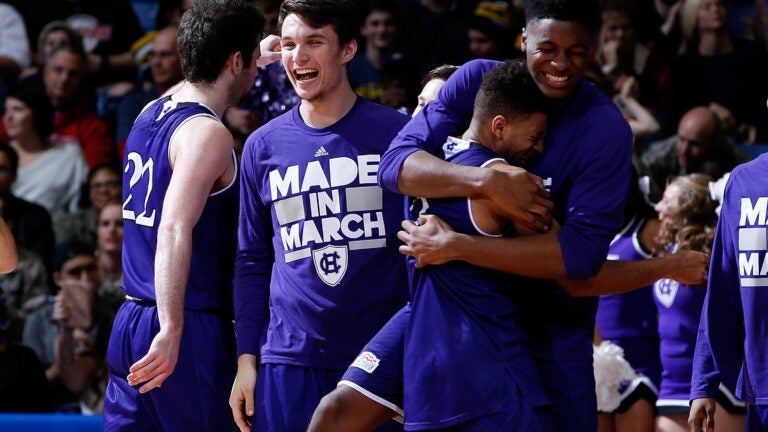 Some of the early madness of March 2016 has come to a bracket near you by way of Worcester. Holy Cross' men's basketball team claimed a shock spot in NCAA Tournament thanks to an improbable run through the Patriot League Tournament. After a stunning upset of Lehigh in the conference tournament title game, the 14-19 Crusaders kept their ride going into the field of 64 with a First Four triumph.
Here is a look at a few of the facts and stats about Holy Cross' unlikely NCAA Tournament trip:
4: Holy Cross needed to win four straight road games in the Patriot League Tournament to earn the conference's automatic NCAA Tournament bid.
0: Holy Cross won zero road games in conference during the regular season.
10: Holy Cross entered the Patriot League Tournament with just 10 wins against 19 losses.
7: Holy Cross lost seven of its last eight games during the regular season.
0.05: Holy Cross had a 1 in 2,000 chance (0.05 percent) of winning the Patriot League Tournament, according to KenPom statistics.
25: Holy Cross is the 25th team since 1955 to get into the NCAA Tournament with a losing record, according to STATS.
63: Holy Cross' win over Southern in the First Four was its first NCAA Tournament win in 63 years.
19: Holy Cross' Robert Champion came off the bench against Southern to score a game-high 19 points. His tie-breaking three-point shot in the final minute helped propel the Crusaders to their 59-55 win.
[fragment number=0]
3: Holy Cross is the third team with 19+ losses to win a NCAA Tournament game, according to ESPN Stats & Info.
1: After defeating fellow No. 16 seed Southern in the First Four, Holy Cross advanced to face the West Region's No. 1 seed, Oregon, on Friday evening.
[fragment number=1]