Sports News
Boston College women's hockey team takes undefeated record into Frozen Four
The Eagles are looking for the first NCAA women's hockey title in school history.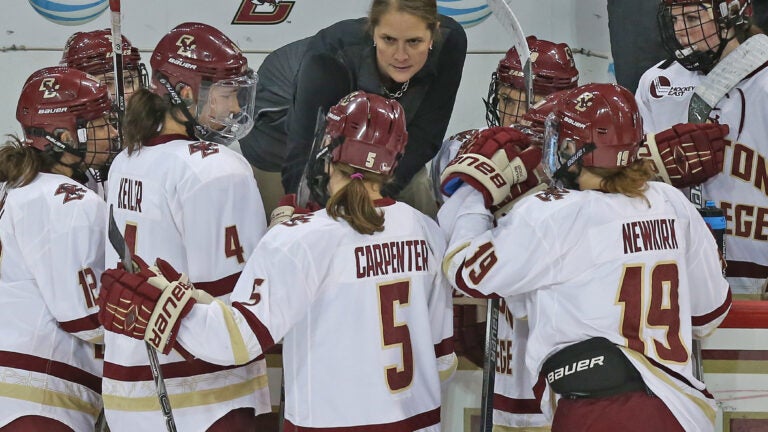 Boston College's women's hockey team skates into the 2016 Frozen Four with a chance to make history. The Eagles bring an unblemished record (39-0-0) to The Whittemore Center in Durham, New Hampshire. They aim to leave with the first NCAA women's hockey title in school history as well as just the second undefeated season in NCAA women's hockey history.
"For us I think it's been a fun year,'' BC head coach Katie Crowley told reporters on Thursday. "We have exposed how good hockey is around the Boston area. These players have really put the time and effort in to be a successful team this year and find a way to win games every game day. That has certainly drawn attention to us at Boston College and to our team and our program.''
The University of Minnesota is the only women's hockey program to complete an undefeated campaign, winning the national title with a 41-0-0 record in the 2012-13 season.
Top-seeded BC will face Clarkson (30-4-5) in the first semifinal game at 4 p.m. on Friday. In the second game on Friday, No. 2 Wisconsin (35-3-1) will face No. 3 Minnesota (33-4-1).
[fragment number=0]
The semifinal winners meet for the national championship on Sunday.
BC leads the Hockey East in Frozen Four appearances (6), but a national championship has eluded the Eagles since the tournament launched in 2001.
Senior forward Alex Carpenter, who leads the nation in scoring, is the first player in BC history to play in the Frozen Four four times ('12,'13,'15,'16).
"We focus on one game at a time because that's all we can control at this point,'' BC head coach Katie Crowley said Thursday. "I think the players have been great at really staying the course and staying within themselves. I credit a lot of that to not only our captains but our six seniors who have been around this program and been around the growth of our program and been to some Frozen Fours and been to world championships and been kind of all over the world with U-18s. They've really done a great job at keeping everybody focused on one game at a time, one practice at a time and in a game one shift at a time. I have to give a lot of credit to those six seniors.''
BC's semifinal game against Clarkson marks the 14th overall meeting between the two programs. BC leads the all-time series 6-4-3.
This is how awesome it is to be a Boston sports fan
[bdc-gallery id="142820″]