Sports News
Boston College football rejects offer to play at Fenway this year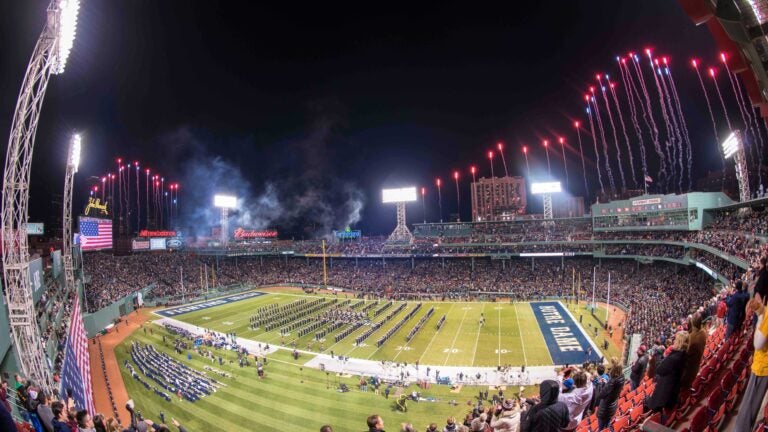 Boston College football declined an offer to play a high-profile home game at Fenway Park this coming season, preferring to play at its regular, sparsely attended home field, The Boston Globe reports.
BC played in Fenway last November as the "away" team in a game against Notre Dame, which beat the Eagles, 19-16. So this year, Red Sox executives offered BC the chance to be the "home" team and play against UConn on November 19 in the shadow of the Green Monster.
"Given the positive feedback we received on last November's Shamrock Series, the Red Sox would love to see a return of BC football to Fenway Park in the near future,'' Sox president Sam Kennedy said. "We have extended the invitation for BC to return whenever it works for their schedule.''
But BC rejected the offer, the Globe reports, largely because they are already giving up a home game to play a special game in Dublin against Georgia Tech. Boston College football has just six home games scheduled this year, and officials were unwilling to go below that number.
"We have consistently stated that we will consider the possibility only if it is more beneficial for our team, students, and fans, and only during those years in which we still have at least six games in Alumni Stadium," BC athletic director Brad Bates told the Globe. "As a result, playing at Fenway Park during the 2016 season was never an option."
Boston College regularly plays home games at Alumni Stadium in Chestnut Hill, which seats 44,500 people. But home attendance is at its lowest point in the last 25 years, and has sharply fallen since 2008, the last year the team made the Atlantic Coast Conference championship game.
The decisions of Boston College's athletic leadership have faced increased scrutiny recently after its two highest-profile sports, basketball and football, went winless in conference play last year.
Correction: This article initially said attendance at BC home games has been dropping since 2005. In fact, attendance recently peaked in 2007 and 2008, and then fell after that.