Sports News
This Sharon native is betting big on ultimate Frisbee
Evan Lepler is one of ESPN's ultimate Frisbee broadcasters. And no, he doesn't work for 'the Ocho'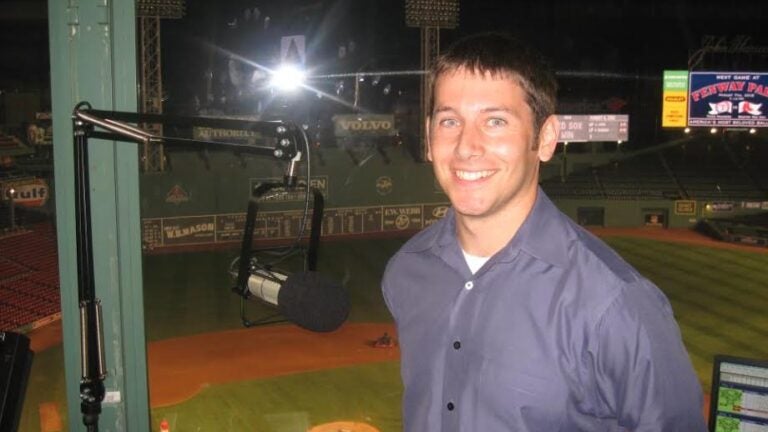 "I feel a little bit like Bob Ryan covering the NBA in the 1970's," says Evan Lepler, ESPN's first official ultimate Frisbee broadcaster.
Lepler was calling Salem Red Sox games when ESPN came calling with the Frisbee job, a job he didn't know even existed before he applied. Lepler knew the sport's rules. He'd been the captain of the club team when he was a student at Wake Forest University. Still, he hadn't been following ultimate since college, and he knew very little about the star players and teams.
"When [Ryan] would travel with the teams, he'd be out at the bar with the players and coaches after the game, have a beer or two," says Lepler. "That level of access just gave you such a level of perspective about everything."
It's been a crash course for the Sharon native, who went from covering the likes of Mookie Betts and Xander Bogaerts  in Salem– where the language of pop flies and ground outs is as familiar as a summer day — to gaining fluency with alternate descriptors like "poach," "hammer," "flick," and "blade."
Lepler's first ESPN job was covering ultimate's Division I college nationals in 2013, which USA Ultimate director of communications Andy Lee said, "raised the bar for ultimate broadcasting." For a few years, he juggled baseball and Frisbee during the summers. But in March 2015, Lepler was offered a year-round position with the American Ultimate Disc League, which was when he decided to leave the Salem Red Sox. The decision wasn't an easy one.
"When [Ryan] would travel with the teams, he'd be out at the bar with the players and coaches after the game, have a beer or two. That level of access just gave you such a level of perspective about everything."
"I was convinced that the league was in a really good place and I wanted to be a part of it to try and help make it flourish," Lepler said. "It was a very hard choice, since I never imagined that I would voluntarily walk away from being the 'Voice of the Salem Sox.' "
His job with the AUDL consumes his summers, but is not full-time, so he has continued to call college basketball and football games for American Sports Network and ESPN3. He's fresh off a basketball season, doing 50 games from November to March. Now that ultimate season is underway, he's flying around the country to cover games in Raleigh, San Jose, and San Francisco.
The AUDL currently features 26 teams. Four franchises have folded, three teams have been rebranded, and one team left for Major League Ultimate, the other competing pro Frisbee league.
According to ultimate's governing body, USA Ultimate, Frisbee is growing. From 2013, since ESPN began broadcasting the sport, USAU reports 46 percent growth in membership. Prior to ESPN broadcasts from 2010 to 2013, USAU grew 4.3 percent. Average attendance at AUDL games is around 500 people, though a few teams average over 1,000. Their live-streams have reached over 10,000 viewers.
The sport makes occasional appearances on ESPN SportsCenter's Top 10 plays, and has been a topic of discussion on SportsNation. Pro Frisbee players Brodie Smith and Kurt Gibson joined the CBS reality television show, The Amazing Race.
"You have to admire someone for taking such a huge life risk," said Mike Couzens, who called games with Lepler during his first tournament with ESPN and USAU. "The AUDL, or any other pro ultimate league, you don't know if it's a sure-thing for the next 30 days, and whether it's going to go under. So I think it's like somebody who takes their entire life savings, and pours it into trying to start a business."
Lepler was obsessed with Frisbee during his days at Wake Forest, and remembers waiting for stories to appear by constantly refreshing RSD, a now-defunct forum for ultimate news. Now, he's one of the sources for that news with his broadcasts, written coverage, and a podcast.
"The depth of information that people are often willing to share with me, about their background, the team's strategy, how a certain game went well or fell apart, is remarkable," Lepler said. "Whereas many athletes in other sports are taught to say the very simple and uninteresting thing, most ultimate players are particularly intelligent, well-spoken, and eager to expound."
Lepler admits he misses baseball. But he's tempted by the potential of the explosive sport of ultimate Frisbee. If ultimate is the next basketball and he can chronicle its ascent, that experience would make the risk worth it.
"In the ultimate community, there hasn't been a ton of media coverage, and most people haven't had to do a zillion interviews, so they're really excited to tell you their story, and tell you all sorts of details that you wouldn't learn in other sports."