Sports News
Breaking down New England's nightmare ski season
It was the warmest winter in U.S. history. And it hit the ski industry hard.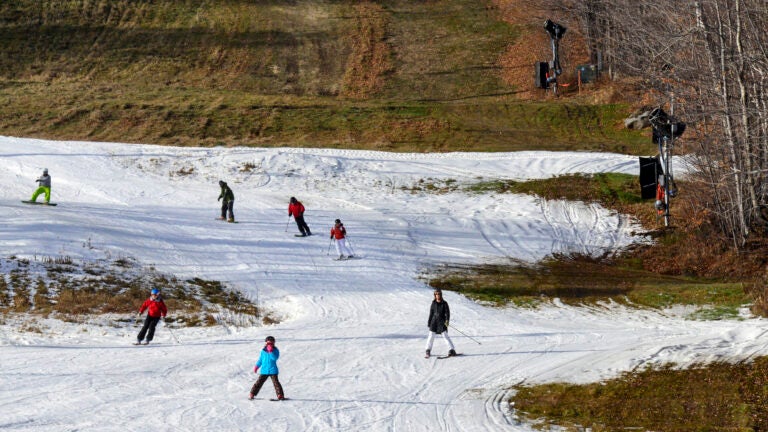 For skiers and snowboarders, the "winter" of 2015-2016 was one to forget.
Of course, turning the page will be difficult to do considering the historical ramifications of the warmest New England winter in recorded history.
Quantifying exactly how bad the season was for local ski areas inevitably reveals some mind-boggling statistics, showcasing how little natural snow actually fell. Yet the numbers also reveal just how forward thinking many New England resorts are when it comes to less snow. Despite an utter lack of cooperation from the weather (resulting in record snowfall shortfalls), the industry persevered, remaining open for a majority of the season.
First to worst
Whether it was attributable to El Niño, climate change or a combination of both, the net result in the winter of 2015-2016 was a record breaking lack of snowfall. Ironically, the weak season came only a year after many places in southern New England set records of the opposite variety during the blizzard-filled 2014-2015 season.
"The analogy I use is the Red Sox going from winning the World Series in 2013 to finishing dead last in 2014," said Tom Meyers, the director marketing at Wachusett Mountain Ski Area. And for the Massachusetts-based area, the feast-to-famine nature of the two winters was especially true.
In 2014-2015, Wachusett received a record snowfall of 143 inches.
In 2015-2016, the resort received only 28 inches during the ski season. Notably, Wachusett saw an additional 15 inches of snow, but this arrived after the mountain closed for the season in March.
Here are some totals for a few other prominent New England resorts, with average winter snowfalls in parentheses:
Killington: 81 inches (250)
Loon: 66 inches (160)
Mad River Glen: 120 inches (250)
Stratton: 59 inches (180)
Sunday River: 60 inches (167)
Several of those snowfall totals were record lows.
Stratton's season was the lowest total of any winter in the resort's recorded data (which goes back to 1991). This was also true of Sunday River.
Mad River Glen, famous for its unorthodox approach to the business (the ski area doesn't allow snowboarders, barely grooms and hardly utilizes snowmaking), experienced its worst winter in over three decades.
"Historically speaking, it was the worst year in 35 years, and one of the three or four worst years that we've had in nearly 70 years that we've been in business," said Mad River Glen marketing chief Eric Friedman.
Killington Mountain Resort, also based in Vermont, was perhaps the most striking in its lack of snowfall. Averaging 250 inches of snow a season, the mountain has never fallen below 100 inches in its official history.
It's total this season was a mere 81 inches, nearly half of the previous record low.
"It was a real struggle all year to get open and stay open," Killington communications manager Michael Joseph noted.
And in Maine, Sunday River, which normally sets one of the higher standards in New England for natural snow, saw the lowest figure the resort has ever seen since official records have been kept.
'It looked like a routine season'
An interesting footnote on the terrible ski season was that it actually began on a fairly optimistic note. Several resorts opened either right on schedule or even ahead of it.
"We opened on October 19 this season, which was one of our earliest openings ever," said Sunday River's Nick Lambert. It was a somewhat familiar pattern across New England.
Stratton opened on November 28, almost exactly on schedule. Killington, which perhaps prides itself on the duration of its season more than any other resort in the region, was open for business on October 18 (the first resort to open in North America).
Despite the seemingly innocuous start, it quickly became apparent that this wouldn't be a favorable winter.
Wachusett, which opened the day after Thanksgiving, was one of the more dramatically affected.
"It looked like a routine season," Meyers said of Wachusett's season at the beginning. But he explained how the month between Thanksgiving and Christmas was abnormally warm.
"In December, we had three and half inches of rain vs. two inches of snow," Meyers glumly explained. The average temperature from November 27 through December 26 was a whopping 48 degrees. This included Christmas Eve Day, when the temperature reached 65 degrees. The regional heatwave set a Boston record.
The rest of New England fared little better.
"As of Jan 1, we only had 11 inches of snow," Joseph noted of Killington's disappointing early season total. The enormous resort, which aims to be 100 percent open by New Year's Day, fell far short of its annual goal.
In Wachusett's case, bad luck also played an unfortunate role. Even when the winter finally did provide snow in February, bad luck derailed momentum before the Massachusetts ski area could take advantage. When a season-high 9 inches of new snow fell on February 4, the storm caused a motor vehicle accident next to the mountain, knocking out the power.
A car accident has left us without power this morning. We will reopen as soon as power is restored, crews are working now.

— Wachusett Mountain (@Wachusett) February 6, 2016
"[It] delayed opening on February 5 and caused the summit lift to be closed on February 7 on what should have been one of the busiest days of the winter," said Meyers.
Cities all around New England experienced warmer winters than have ever been seen. Even the cooling effect of higher elevations couldn't save many ski areas from prolonged thaws.
'Heavens, not the hoses'
If there was any good news to be found for New England resorts in the winter of 2015-2016, it was that the industry managed to cope with disaster fairly well. Ski areas like Wachusett, Stratton, Killington, Sunday River and Loon all managed to stay open for normal seasonal lengths. Killington, for example, remained open this past weekend:
First chair on Superstar Express loads at 9:00 a.m. tomorrow for day 184! https://t.co/aKFEGUqohk #beast365 pic.twitter.com/UDcjWpc1RC

— Killington Resort (@KillingtonMtn) May 19, 2016
The reason for the silver lining was attributed to prudent investments in snowmaking. Even amid unseasonably warm temperatures, there were still periods of weather cold enough to allow for artificial snow.
For Loon Mountain, it's been the result of foresight paying off.
"Since 2010, Loon has invested more than $3 million to more than double the resort's snowmaking capacity," noted communication manager Greg Kwasnik. The upgrades have increased efficiency by 75 percent.
"They really helped salvage the season," Kwasnik said of the snowmaking operation. Other resorts echoed similar sentiment.
"We did our typical snowmaking assault on Superstar in February," said Joseph of Killington's approach (Superstar is the trail Killington still has open). Piling a 20-30 foot base of snow in the short windows of cold weather insured the resort against tougher (warmer) times.
For Mad River Glen, however, the picture was somewhat different. Since the mountain prides itself on being almost entirely natural snow, it meant there was no compensating factor. Owning only three snow guns (compared with more than 1000 at Loon), there was no snow making bailout.
"We rely on the heavens, not the hoses," said Friedman.
The saving grace for New England's most unconventional ski area was that, despite being open for only 45 days, Mad River managed to cut minimize its losses.
As the only cooperatively-owned resort in America, its owners are also its best customers.
"This was only the fifth time in 20 years that we didn't finish in the black," Friedman said. "We have reserves. Yeah, we had a bad year, but financially speaking, we're in decent shape. We're going into our line of credit for the first time."
Friedman said that the response to an end-of-season letter sent to the Mad River community was strongly received.
And the sense of humor that management kept about the down winter was never more apparent than in a December "snow report" posted by Friedman, in which he joked about, among other things, avalanche danger:
Looking ahead to 2016-2017, the immediate reason for optimism is that there won't be a historically strong El Niño affecting the winter weather pattern. That alone should be enough to return the regional industry to a sense of normalcy. In fact, given the secondary phase of El Niño (better known as La Niña) is due to begin, that could result in a snowier winter next season.
Good news for skiers, bad news for Boston drivers.