Sports News
Jon Jones off UFC 200 card after apparent doping violation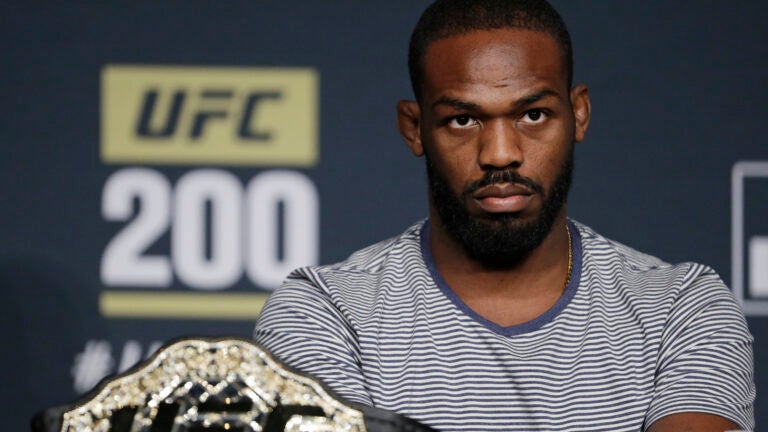 LAS VEGAS (AP) — UFC interim light heavyweight champion Jon Jones was notified of a potential doping violation Wednesday night, ruling him out of his bout with Daniel Cormier in the main event of UFC 200.
A grim-faced UFC President Dana White announced the dramatic change three days before the mixed martial arts promotion's landmark show.
''He's got the chance to prove himself innocent before being called guilty,'' White said. ''But if it's true, obviously super disappointing.''
Jones tested positive for an unspecified banned substance in an out-of-competition sample taken June 16 by USADA, which administers the promotion's anti-drug policy. While Jones is considered the top pound-for-pound fighter in MMA, he has apparently failed drug tests around two of his past three scheduled fights.
Brock Lesnar's heavyweight bout with Mark Hunt is UFC 200's new main event at T-Mobile Arena in Las Vegas. Lesnar's much-anticipated return from a 4 1/2-year MMA absence was previously the penultimate bout on the star-studded pay-per-view card assembled by the UFC for its biggest event of the summer.
White said he doesn't know what substance was detected in Jones' test, but acknowledged that this violation could lead to a multiyear suspension for one of the UFC's biggest stars.
After Jones beat Cormier by clear decision in their first meeting in January 2015, the UFC announced that Jones had tested positive for apparent cocaine use before the fight.
Jones' behavior outside the cage repeatedly has hampered his meteoric rise inside his sport. Shortly after his first positive drug test, he was hit with a suspension for several months in 2015 due to his involvement in a hit-and-run accident in Albuquerque, where the upstate New York native lives and trains.
Jones' UFC suspension was lifted in October 2015, and he returned to competition in April with a victory over Ovince Saint Preux. Jones was scheduled to meet Cormier in that bout, but Cormier pulled out with a foot injury.
White said he would attempt to book a last-minute replacement fight for Cormier, but isn't sure the UFC could find a reasonable opponent on such short notice. Cormier likely was due to make millions for his share of the revenue from the UFC 200 card, which is likely to be one of the biggest sellers in MMA history.
''When you have the biggest, baddest fight card ever assembled, it doesn't sting as bad when you lose a fight,'' White said. ''But it stings real bad for Daniel Cormier. It's devastating to him in every possible way.''