Sports News
2-trophy day for Serena Williams: She and Venus win doubles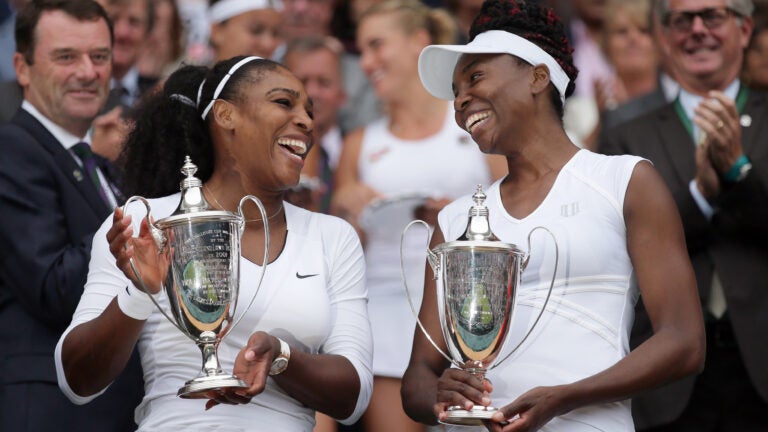 LONDON (AP) — Serena Williams is leaving Wimbledon with two trophies, teaming with her older sister Venus to win a women's doubles final that began a little more than 3 hours after the singles final ended Saturday.
The American siblings won their sixth doubles championship at the All England Club and 14th as a pair at all Grand Slam tournaments by beating fifth-seeded Timea Babos of Hungary and Yaroslava Shvedova of Kazakhstan 6-3, 6-4.
Earlier Saturday, also on Centre Court, Serena collected her 22nd Grand Slam singles title with a straight-set victory over Angelique Kerber in that final.
"I had just enough time to change and get my ankles re-taped," Serena said about going from one match to the other. "But there was so much adrenaline. I didn't want to cool down too much."
Venus sat in the guest box during the singles final.
"Watching Serena earlier was so amazing, and I was so into that. And then you have to re-set yourself and say, 'OK, we've got to play a match and we're going to have to try to win,'" Venus said during a joint interview with the BBC after the doubles. "So she brought the energy from Game 1 and that really brought me up, too."
The Williams sisters also won doubles titles at Wimbledon in 2000, 2002, 2008, 2009 and 2012. Each time, one or the other also won the singles championship, with Serena doing it in 2002, 2009 and 2012 in addition to this year.
They're now 14-0 in major doubles finals. But they were unseeded this time because they play doubles so infrequently, and their most recent Grand Slam title before Saturday had come four years ago at the All England Club. Until playing at the French Open in May, they hadn't even entered a doubles draw at any major tournament since 2014.
They're planning to compete in doubles, in addition to singles, at the Rio de Janeiro Olympics next month. They already have won three gold medals in doubles, at the 2000, 2008 and 2012 Summer Games.
When they were asked during the BBC interview which one is in charge of their doubles team, Serena immediately pointed toward Venus and said with a laugh, "She's definitely the boss."
And Venus said: "Well, I'm the older sister, so it kind of falls on me. But (there are) different times on the court that we both take over. So whatever the team needs, it kind of happens organically. That's the best kind of team."
Shvedova, who lost to Venus in the singles quarterfinals this week, was trying to win her third Grand Slam doubles title, after teaming with Vania King for trophies at Wimbledon and the U.S. Open in 2010. Babos has never won a major doubles trophy; she was the runner-up with Kristina Mladenovic at Wimbledon in 2014.
In men's doubles, Nicolas Mahut and Pierre-Hugues Herbert defeated Julien Benneteau and Edouard Roger-Vasselin 6-4, 7-6 (1), 6-3 to win their first Wimbledon title. It was the first all-French Grand Slam men's doubles final of the Open era.
The victory gives Mahut a happier memory from the grass-court tournament where he lost the longest match in tennis history, 70-68 in the fifth set against John Isner in the first round of singles in 2010.
"We talk a lot about this match already. I'm very proud of it," Mahut said, referring to the contest that lasted more than 11 hours, spread over three days. "But now it's something different. Now I can come in the press conference as a Wimbledon champion. It's great."
This is the second major title together for the top-seeded team of Mahut and Herbert, who won the U.S. Open last year.
They're only the second pair of Frenchmen to earn the doubles trophy at the All England Club in the Open era, which began in 1968. Arnaud Clement and Michael Llodra won Wimbledon in 2007.
Benneteau and Roger-Vasselin won the 2014 French Open doubles championship.
Mahut knows Benneteau and Roger-Vasselin rather well, having won ATP doubles titles with each of them in the past. Mahut and Benneteau even had success together as teens, collecting seven junior doubles titles in 1999.
___
Follow Howard Fendrich on Twitter at http://twitter.com/HowardFendrich