Sports News
The life and death of Boston's Olympic bid
Boston 2024 has a history as complicated as its legacy.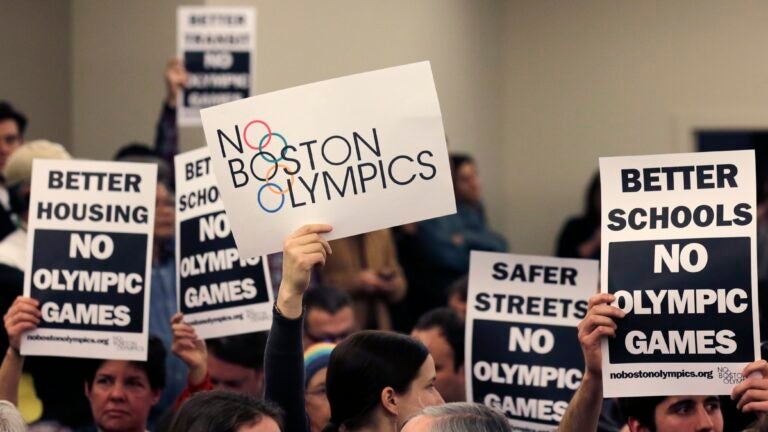 The Boston Olympic bid, though historically short, painted a fascinating civic picture.
Generating a polarizing debate that touched on far more than sports throughout its official lifespan, the bid's ultimate legacy remains contentious. Even explaining the exact reasons for its demise yields a diverse array of answers.
With that in mind, it's important to understand the bid's entire historical lifespan. The period of time most people think of regarding Boston 2024 — January through July of 2015 — was merely a small piece of its actual life. The genesis of the fierce debate was found in events begun years beforehand. And, as has been shown several times since its demise, the ramifications for the Olympic movement have been far-flung.
The following is an historical look back at Boston 2024, drawing on a number of first-hand sources, including several accounts that haven't been previously released.
Part I: A grassroots bid meets John Fish
While the prospect of a Boston Olympics had been broached during the 1990s, it never got very far in the eyes of the United States Olympic Committee. Had certain events gone differently, Boston 2024 might have ended up with the same nearly anonymous fate. The bid, started by two local residents, gained traction initially through a grassroots campaign of volunteers. Aided by Massachusetts Senator Eileen Donoghue, what was once merely a college project gained legitimate momentum. And most importantly, it caught the eye of powerful local business leaders, including construction magnate John Fish.
2006: Corey Dinopoulos, then a college student and future co-founder of Boston 2024 first imagines a local Olympic bid:
For my senior thesis, I wanted to create the look & feel for a proposed Boston Summer Olympics. The mark captures the energy and feeling of Boston and it's relationship with the harbor. It's double image depicts a clipper ship and the Olympic flame.
August 17, 2012: Dinopoulos, now working in the Boston area, writes to Mayor Menino, concluding with these words:
My goal is to score your support as I work with a small team to spread the world, gather thousands of supporters throughout our region and the Commonwealth, and bring that torch to our wonderful City of Boston. It could only benefit our city. Building and construction would revamp hotels and athletic facilities on campuses. Throughout Boston & Massachusetts, it would create jobs during times of economic turmoil. For a city so successful with tourism, why not bring it to another level.

Mr. Mayor, I ask for your support. It's time for our city to welcome the Olympic torch and live up to its nickname as the The Hub of the Universe in 2024!
September, 11, 2012: Dinopoulos gets a response from Mass. Senator Eileen Donoghue's office:
Senator Donoghue received your email and asked me to follow up.  We're still looking in to how we could be helpful in this, and I need to have a more in depth conversation with the Senator.  But if you could keep me in the loop as to any new developments I would greatly appreciate it.  And once I am able to speak with the Senator at greater length on this I'll touch base with you.
October 16, 2012: Eric Reddy, a future Boston 2024 co-founder, first reaches out to fellow co-founder Dinopoulos:
My name is Eric Reddy and I was passed along your information by Chris Cook in Mayor Menino's office. I understand you are looking at talking with the Mayor's team about a run at bidding on the 2024 Olympic games, something I too have been exploring with a small team of interesting people including past Olympians and local media-types.
December 3, 2012: Boston 2024 Twitter is born:
Support a bid for Boston & New England Region for a Summer 2024 Olympics! JOIN TODAY!

— Boston 2024 (@Boston2024) December 4, 2012
February 20, 2013: The United States Olympic Committee narrows its search for a possible city to bid for the 2024 Summer Olympics to 35. Boston is included:
Our objective in this process is to identify a partner city that can work with us to present a compelling bid to the IOC and that has the right alignment of political, business and community leadership.
March 4, 2013: "Ah! Here we go," Dinopoulos writes to Reddy before a meeting with Chris Cook, Director of Tourism Arts & Culture. From the presentation slide:
March 5, 2013: Boston Globe writer Callum Borchers's article "Group tries to bring Olympics to Boston in 2024" is the first to cover the forming Olympic bid, noting:
The faintest flicker of the Olympic flame has been lit over Boston.
Yet Mayor Menino, speaking on WBUR later in the day, is more skeptical:
I think it's far-fetched. I'd also be concerned about the cost of it and what it costs to taxpayers of the city of Boston. Just to apply, to be considered costs $6-8 million — not refundable either. So that's $6-8 million that was used of public funds to apply for consideration for the Olympics. At this time, I think it's a far-fetched idea, and just wish that I knew about it before it was in the paper.
That night, the Boston Olympic Exploratory Committee has its first meeting. The agenda points included:
The Olympics – today and tomorrow

Why Boston and why now?

Boston & New England's strengths vs. challenges

Our to-date accomplishments

What we hope to achieve in the next 18 months

Domestic vs. International bidding
March 6, 2013: Suffolk Construction CEO John Fish, reacting to the Olympic news, told Dave Wedge of the Boston Herald:
We're coming out of the greatest economic recession and I don't think our resources should be diluted by going after something so far out.

If someone wanted to pour $1 billion into our health care or education system or the life sciences industry, I'd be all for that discussion. Our perspective now has changed.
May 8, 2013: Future Boston 2024 hierarchy, including Dan O'Connell and John Fish, are first publicly tied to the bid in a hearing about conducting an Olympic feasibility study:
July 30, 2013: The Massachusetts Senate votes 38-1 to pass a bill creating an Olympic feasibility study, which is eventually signed by Governor Deval Patrick. This establishes an 11-person panel to conduct the study.
August 1, 2013: Robin Jacks, a future co-founder of No Boston 2024, first tweets about the bid:
NO OLYMPICS IN BOSTON. You've all read all the stats about how EVERY CITY who hosts them ends up in massive debt, right?

— Robin (@caulkthewagon) August 1, 2013
August 24, 2013: And Chris Dempsey, future co-chair of No Boston Olympics, makes a first tweet about Boston 2024:
@Boston2024 @ariherzog Olympics are white elephants. We should be focused on long-term economic growth, not one-time, wasteful pageantry.

— Chris Dempsey (@cdempc) August 24, 2013
November 10, 2013: After hosting a USOC delegation in Boston, John Fish's name first appears in support of a possible bid:
It has to be done thoughtfully. It has to be based on analytics. It has to be slow and deliberate. It has to be done with consensus. And we need to sit at the table and have this discussion constructively — or we'll never know.
November 21, 2013: Boston 2024 co-founder Corey Dinopoulos calls for unity among pro-Olympic groups:
In order for our city to be a serious contender, the three groups need to work seriously together. The last thing the U.S. (Olympic) committee wants to see is a disjointed city.
January 7, 2014: No Boston Olympics joins Twitter:
For Price of #Sochi, Mass. Could Pay For All Of State Government For A Year…And Still Have $20B Left Over http://t.co/4GWHTYxulE

— No Boston Olympics (@NoBosOlympics) January 7, 2014
February 14, 2014: Liam Kerr, co-chair of No Boston Olympics, and Boston 2024 co-founder Corey Dinopoulos engage on Twitter:
February 26, 2014: The 11-person Massachusetts Olympic feasibility study returns its report, concluding:
Therefore, it would be feasible to host the 2024 Summer Olympic Games.
Later in the day, No Boston Olympics releases its response, including an estimation of cost:
Local group @NoBosOlympics estimates that a @Boston2024 Olympics would cost $10-20 billion – cost of another Big Dig. http://t.co/POwU68LjDa

— BostonTweet (@BostonTweet) February 26, 2014
March 4, 2014: Liam Kerr makes the first TV appearance for No Boston Olympics:
Part II: The bid (and its opposition) get serious
Having secured powerful backing, the original grassroots version of Boston 2024 evolved during the course of 2014. Established early in the year as an official nonprofit, the actual Boston 2024 registration papers had names like Fish, O'Connell, Steve Pagliuca (future Boston 2024 chairman) and Robert Kraft on it instead of co-founders Dinopoulos and Reddy. This departure from its grassroots origins would have significant ramifications. Meanwhile, a growing opposition movement began perfecting its strategy, gaining media exposure anytime the bid itself made headlines.
June 13, 2014: The USOC narrows its "short list" of cities bidding for the 2024 Games to four, including Boston. The Boston Globe's Mark Arsenault notes:
Boston's improbable dream — to become host city for the 2024 Summer Olympics — is suddenly a bit more real.
John Fish, representing the bid:
Holding the Games in the Boston area would serve as a catalyst for growth in the region, supporting the kinds of major transportation and infrastructure improvements that are essential to our state's economic future.

[This will] begin a series of community meetings across the Commonwealth to gather information and solicit feedback, while working with urban planners, community activists, and financial experts to conduct a thorough due diligence process.
And Liam Kerr of No Boston Olympics:
It's great for Boston to be recognized as a world-class city, as the USOC did [Friday] by including Boston on the 2024 short list. But make no mistake — bidding on the Olympics is the wrong priority for Boston and our region. We have far more pressing challenges than throwing a three-week party for the global elite, one that comes with a $15 billion hangover.
July 6, 2014: Dan Shaughnessy pens "Just Say No to a Boston Olympics."
July 29, 2014: Boston Mayor Martin J. Walsh first publicly comments on favoring a 2024 Olympic bid:
I'm supportive of it. I'm supportive of advancing and moving forward. We still have a lot of work to do. We still have to talk to the public. We have to get feedback in. It's very early in this negotiation.
October 17, 2014: Boston 2024 releases its first video announcing the bid, also releasing initial details:
November 10, 2014: No Boston 2024 co-founder Jonathan Cohn first tweets about Boston 2024:
Should Boston host the Olympics in 2024? I have an easy answer: NO.

— Jonathan Cohn (@JonathanCohn) November 10, 2013
December 9, 2014: The Boston Globe hosts an Olympics debate between Chris Dempsey and Juliette Kayyem.
December 16, 2014: Led by Mayor Walsh, Boston 2024 makes its pitch to the USOC:
Boston Mayor @marty_walsh, @JohnFFish, Dr. J. Keith Motley, David Manfredi & @CABlauwet presenting #Boston2024 bid. pic.twitter.com/0zpOKtF3k2

— U.S. Olympic Team (@TeamUSA) December 16, 2014
Walsh explained to Janet Wu of WCVB a particular area of focus:
One of the areas that we talked about was the cost of the Olympics and making sure we don't have overruns here.
No Boston Olympics releases a statement:
The citizens and taxpayers of Massachusetts still do not have access to that bid, and were not invited to hear or respond to what promises Boston 2024 made to the USOC. [We oppose] our city submitting a bid in this auction, especially one conducted behind closed doors.
December 16, 2014: The USOC formally decides to bid for 2024 Summer Games.
December 23, 2014: Mike Ross and Chris Dempsey debate an Olympic bid on Greater Boston.
January 3, 2015: No Boston Olympics releases videos asking regular Bostonians what they think of the bid:
Part III: Honeymoon turns into a winter of discontent
The USOC declared its support for Boston as the sole bidder for the 2024 Olympics in January of 2015 with an announcement on Twitter. The following day, a sweeping press conference marked the first official action of the Boston 2024 bid's formal life. It was also the same day as Charlie Baker's gubernatorial inauguration (a coincidence that nonetheless carried significance). Also making its debut in January was a poll of Boston 2024's popularity. Measured at 51 percent, it would prove a high-water mark as the bid reacted to a series of missteps.
January 8, 2015: Boston is picked by the USOC via a Twitter announcement.
We're excited about our plans to submit a bid for the 2024 Games and feel we have an incredibly strong partner in Boston that will work with us to present a compelling bid.
One of the great things about the Boston bid was that the bid leadership and the political leadership were on the same page.
It is an exceptional honor for Boston to be chosen as the U.S.representative in the running for the 2024 Olympic and Paralympic Games. This selection is in recognition of our city's talent, diversity and global leadership. Our goal is to host an Olympic and Paralympic Games that are innovative, walkable and hospitable to all. Boston hopes to welcome the world's greatest athletes to one of the world's great cities.
The boosters behind Boston 2024 won today — but our commonwealth is poorer for it.
January 9, 2015: Boston 2024 holds an opening press conference at the Boston Convention & Exhibition Center.
Mayor Walsh:
I promise that this will be the most open, the most transparent, and the most inclusive process in Olympic history.
On the question of a statewide Boston 2024 vote, Walsh responds with a simple answer:
No referendum.
USOC chairman Larry Probst:
We think the concept here is very cost-effective, we think it harmonizes with the long-term vision of the city.
Boston 2024 chairman and Suffolk Construction CEO John Fish, on the possible role of Suffolk Construction:
I think it's extremely important now that I say publicly that I will recuse Suffolk Construction from getting involved in any Olympic construction. I don't want the appearance of a conflict.
January 14, 2015: No Boston Olympics holds its public meeting. Andrew Zimbalist, an economist and Smith College professor, speaks to a packed crowd:
No Boston Olympics supporter Dan Boag offers a prophetic thought:
I ran for office as a Tea Party Republican. Let me tell you, this is an issue that will unite left and right.
January 20, 2015: WBUR releases its first poll (conducted by MassINC Polling Group) to measure support in the Boston area:
Support: 51 percent
Oppose: 33 percent
January 21, 2015: Boston 2024 presents its plan to the media, releasing more details, including renderings and maps of planned venue sites.
On the same day, the Boston Globe's Michael Levenson published a piece on the city "gag order":
Documents obtained by the Globe through a public records request to City Hall show Mayor Martin J. Walsh has signed a formal agreement with the United States Olympic Committee that bans city employees from criticizing Boston's bid for the 2024 Summer Games.
Mayor Walsh:
It was in the agreement, and we had to get the agreement signed.
USOC spokesperson Patrick Sandusky:
In terms of the non-disparagement language in the agreement, that is boilerplate language that is typical of contracts between parties.
January 30, 2015: Speaking on public radio, Mayor Walsh backtracks on his initial support of the so-called gag order:
We're fixing some of that agreement. We're revising the language. We're going to have different language in there.
February 6, 2015: After two snowstorm delays, Boston 2024 holds its first public meeting at Suffolk Law School.
Mayor Walsh, speaking at the meeting:
My top priority is to represent the taxpayers and residents of the city of Boston.
In what would become a habitual pattern, opposition groups live-tweet the event:
No evidence that hosting Games increases participation in sports — youth or general population. #boston2024

— No Boston Olympics (@NoBosOlympics) February 6, 2015
If you are having an event in Madison Square Garden, this Olympics won't be walkable. #NoBoston2024

— Jonathan Cohn (@JonathanCohn) February 6, 2015
February 19, 2015: WBUR releases its second Boston 2024 poll:
Support: 44 percent
Oppose: 46 percent
February, 2015: Throughout the month, historic snowfall triggers a wave of Olympic-related tweets:
Snow stops our public transportation when it's not snowing. They think they can support the Olympics? #NoBoston2024 http://t.co/c9LOE9wI32

— Nick Pizzolato (@nickpizz) February 3, 2015
Kid at Mayor's meeting in Southie tonight: Lots of $ for Olympics, how much for schools, environment, snow removal? pic.twitter.com/N0qOP05ZDf

— Boston 2024 News (@Boston2024News) February 25, 2015
@BostonGlobeMark He can't even have snow removed efficiently, let alone run Olympics!!

— Karen Burke (@rightwingkb) February 23, 2015
March 7, 2015: The Boston Globe reports former Massachusetts Governor Deval Patrick has agreed to help pitch Boston 2024, noting:
The former governor will be paid, but aides would not reveal information about his salary.
March 9, 2015: Boston 2024 releases the salaries of its employees after Mayor Walsh answers public criticism, noting the release is "a testament to the transparency and openness of this process."
Chris Dempsey of No Boston Olympics:
It's good that this information is out there. People can see that there's a lot of focus on the politics. We don't see a lot of lines on their salary sheet for economists or public policy experts or for people that are really going to analyze whether this issue is the right thing to do.
That night, Doug Rubin (of Boston 2024's executive committee) debated economist Andrew Zimbalist on Greater Boston:
March 20, 2015: WBUR releases its latest poll of the Boston area's support of the bid:
Support: 36 percent
Oppose: 52 percent
Boston 2024 CEO Rich Davey reacts to the plummeting support:
I'd love to see a six in front of the number. I think that's a comfortable margin for us. The IOC will want to see at least a majority of citizens in Massachusetts and/or the city to be favorable, because at the end of the day, they want a city that wants to welcome athletes.
Mayor Walsh calls for former Governor Deval Patrick to work for free for Boston 2024:
I think that governors should be ambassadors for Massachusetts. I don't think they should be getting paid at all.
Several hours later, Patrick announces he would not take any pay from the bid:
Because I think the Olympics could be good for the Commonwealth, I will continue to help as and when I can, but not for a fee.
March 23, 2015: Boston City Councilor Josh Zakim and Evan Falchuk call for a Boston 2024 referendum.
March 24, 2015: Boston 2024 reverses its previous stance, as chairman John Fish announces his intention to set up a public referendum on whether to bid for the Olympics.
Mayor Walsh:
Putting it in a referendum is a good thing. One thing I constantly heard out in the street was people wanting to have a voice in this. You can't deny the people their right to have a voice.
March 31, 2015: Local opposition gets #pullthebid trending on Boston Twitter:
#pullthebid is still Boston's top trending topic. pic.twitter.com/vYftnjr1tq

— Robin (@caulkthewagon) March 31, 2015
Part IV:

"

I didn't see every single word in the book"
After launching its formal candidacy amid great fanfare, Boston 2024 stumbled through the winter. Whether because of historic snowfall (and its effect on city infrastructure) or the string of unpopular decisions made by Boston 2024, the result was indisputable by April: tumbling support. The knock-on effect of this began to show itself with the onset of spring,  as political opposition grew. That, plus a new wave of scandals, would prove to be the fatal blow to the dream of a Boston Olympics.
April 1, 2015: John Fish questions the patriotism of those who oppose Boston 2024:
Governor Baker disagrees:
I think the big issue that the people in Boston and Massachusetts face is that they don't have a concrete proposal to chew on.
And Olympic opposition groups quickly seize on Fish's miscalculation:
We agree w/ @CharlieBakerMA that support/oppo to #Boston2024 has zero to do with a patriotism: http://t.co/dBcrby9GeF #pullthebid #mapoli

— No Boston Olympics (@NoBosOlympics) April 2, 2015
April 16, 2015: WBUR releases its latest Boston area poll of bid support:
Support: 40 percent
Oppose: 50 percent
May 8, 2015: The USOC denies a report that it's readying Los Angeles as a backup to Boston's bid. USOC CEO Scott Blackmun:
Since we selected Boston in January, the USOC has not had any discussions with any other city about hosting the 2024 Olympic Games.
May 14, 2015: Governor Baker calls for a detailed plan to be presented:
If you need time to vet it with all of the various interested parties, which I think is appropriate, then that backs you up to probably late May or early June to have something that people can chew on.
May 19, 2015: Boston 2024 officials and USOC representatives meet with Boston City Council:
Angela Ruggiero, IOC and USOC member:
Right now the USOC is going through a similar vetting process to make sure Boston is the right city. So there's no guarantee Boston will be the city in September.
Mayor Walsh responds:
When I heard [Ruggiero's comments] it perked me up a little bit, but I asked some questions today and I was given the assurance that the USOC is committed to Boston.
That night, No Boston Olympics holds its second meeting, attended by Boston City Councilor Ayanna Pressley:
This has never been about can Boston host? The question continues to be should we?
Great shot of @AyannaPressley, who accepted our invite to speak last night. She's asking tough Q's of #Boston2024. pic.twitter.com/EV4LDAl8O4

— No Boston Olympics (@NoBosOlympics) May 19, 2015
May 21, 2015: Boston 2024 chairman John Fish steps down. Bain Capital co-chairman Steve Pagliuca steps in.
May 27, 2015: Unredacted sections of the Boston 2024 bid book are published by Boston Magazine's Kyle Clauss and the Boston Business Journal.
Boston 2024 responds:
As stated previously, there is a limited amount of proprietary information that the USOC has asked Boston 2024 not to release because they believe it will put Boston and the United States at a competitive disadvantage.
June 9, 2015: Mayor Walsh admits on public radio that he never read the whole Boston 2024 bid before pitching it to the USOC in December:
No, I had my attorney…it was many, many pages. Our legal council looked at it. And again in the bid it didn't say public money. What it said in there was you could use tax financing. You could use bonding. It didn't say the City of Boston was going allocate money from the general fund to buy these things.
June 10, 2015: Walsh responds to criticism that he didn't read the whole bid:
People are getting kinda silly with what's happening with the Olympic conversation.
June 18, 2015: Aly Raisman releases a pro-Boston 2024 video:
June 29, 2015: Boston 2024 releases bid 2.0, an updated version of its plan.
Boston 2024 chairman Steve Pagliuca:
This could be the biggest economic development opportunity of our lifetimes.
Mayor Walsh:
I like where we're going with the plan. I'm confident in where we are going … But I just want to make [sure] that the taxpayers of Boston ultimately and the people of Boston are comfortable.
No Boston Olympics co-chair Chris Dempsey:
It is clear to us there is still substantial risk to the public.
July 10, 2015: WBUR releases its latest poll of the Boston area's support of the bid:
Support: 40
Oppose: 53
July 14, 2015: David Ortiz's pro-Boston 2024 video:
July 20, 2015: After Cambridge City Councilor Nadeem Mazen threatened a subpoena the day before, Boston City Councilor Tito Jackson announced the same intent over the missing chapters from Boston 2024's original bid book:
July 22, 2015: Boston 2024 announces its intention to release full bid book that was previously redacted:
Boston 2024 chairman Steve Pagluica:
Mayor Walsh and I spoke, and I agreed with him, that we should release the full version of the preliminary bid package (Bid 1.0) to the public in order to continue to maintain this high standard of transparency.
Mayor Walsh:
It's important that we continue our focus on building a concrete and sound plan that is shaped by community input and brings long-term benefits to the City of Boston and its residents. As a result, I asked Boston 2024 to provide the original bid, in its entirety, for public review.
July 23, 2015: Boston 2024 and its opposition square off in a locally televised debate.
No Boston Olympics co-chair Chris Dempsey's closing statement:
July 25, 2015: Boston 2024 releases the full bid book from its December pitch to the USOC.
Part V: The bid evaporates, leaving a mixed legacy
Midway through July, it became increasingly clear that Boston 2024 faced an untenable position as public support failed to climb to sufficient levels. And with the threat of City Hall subpoenas only compounding an existing transparency problem, events came to a head on the morning of July 27. Boston Mayor Marty Walsh, despite having previously agreed to sign a taxpayer guarantee, declared that he wouldn't sign a Host City Contract. This only accelerated the inevitable, as the USOC was already seriously considering pulling the bid. That afternoon, Boston 2024 formally ended. In the aftermath, the failed bid still managed to generate a few headlines.
July 27, 2015 10:00 a.m.: In a hastily assembled press conference, Mayor Walsh declares that he couldn't sign the USOC-required Host City Contract, ending his address by saying:
If committing to signing a guarantee today is what is required to move forward then the City of Boston is no longer pursuing the 2024 Olympic and Paralympic Games.
Walsh also addresses the opposition:
I think the opposition, for the most part, are about 10 people on Twitter and a couple of people out there who are constantly beating the drumbeat.
On social media, the Boston 2024 opposition promptly get #10peopleontwitter trending locally:
Guess those ten people just got #10peopleontwitter trending, huh, @marty_walsh? #GetOutUSOC #pullthebid

— NoBoston2024 (@no_boston2024) July 27, 2015
By the early afternoon, the Boston bid to host the 2024 Olympics formally ends, with USOC CEO Scott Blackmun saying:
We have not been able to get a majority of the citizens of Boston to support hosting the 2024 Olympic and Paralympic Games. Therefore, the USOC does not think that the level of support enjoyed by Boston's bid would allow it to prevail over great bids from Paris, Rome, Hamburg, Budapest or Toronto.
No Boston Olympics offers a victory statement:
Boston is a world-class city.  We are a city with an important past and a bright future. We got that way by thinking big, but also thinking smart. We need to move forward as a city, and today's decision allows us to do that on our own terms, not the terms of the USOC or the IOC. We're better off for having passed on Boston 2024.
July 28, 2015: A day after the bid's collapse, Boston 2024 co-founder Corey Dinopoulos writes an open letter to Mayor Walsh, including a challenge:
I would like to present a challenge: to ensure that all of the wonderful ideas from the Olympic conversation are implemented with a plan for completion by 2024.
July 29, 2015: International Olympic Committee president Thomas Bach criticizes Mayor Walsh:
What we could see in a nutshell, what happened there is that Boston did not deliver on promises they made to the USOC when they were selected. Therefore we can understand the decision by the USOC and we are looking forward to an American bid with another city.
Walsh responds:
In Boston and I'm pretty sure probably in the rest of America, we don't get forced into putting taxpayers' money at risk. And if that's confusing to the IOC president, than it shows exactly why the IOC is in the position they are, in not having multiple countries bid for the Olympics.
August 7, 2015: In post-bid interview, No Boston Olympics co-chair Liam Kerr offers his take:
It was never a test of being a "world class city." It was a test of our civic infrastructure. I think it's fascinating that something like MassINC Polling Group does not exist in a lot of places. All of these media outlets either don't exist or just don't have really talented reporters in a lot of other places.
We have a civic infrastructure that's unparalleled. We have a public radio station with enough money to do a tracking poll on this thing. We have a pipeline of journalists working at outlets that are all different from each other, that have different audiences, have a ton of talent and are fighting with each other to break stuff and aren't afraid to break things.
August 18, 2015: Despite being officially disbanded, Boston 2024 responds to a private study of the bid by the Brattle Group:
Boston 2024 appreciates the work of the Brattle Group, however we respectfully disagree with some of their assumptions and analyses and have identified several misrepresentations and/or errors within the report. Unfortunately, the Brattle Group never fact-checked many of their findings, which would have prevented these errors.
September 1, 2015: USOC chooses to endorse Los Angeles as its choice to bid for the 2024 Summer Olympics.
The Los Angeles Times:
The decision capped an unexpected chain of events in which USOC board members initially selected Boston last January, then watched that city's campaign succumb to local opposition.
September 11, 2015: The Boston Globe reports that Boston 2024 ended millions in debt:
When the bid collapsed this summer, the nonprofit bid committee was confronting more than $4 million in outstanding payroll obligations and unpaid invoices — with just $571,000 in cash on hand, according to the internal committee documents.
September 30, 2015: Boston 2024 reportedly settles its debts, per former 2024 Executive Committee member Doug Rubin:
Every outstanding obligation that we know of has been resolved.
March 28, 2016: Boston 2024 chairman Steve Pagliuca offers his retrospective take on why the bid failed:
I think we got defeated by Mother Nature. I think when that snowstorm hit, it put a malaise on us. People couldn't get to work, and they said, 'How are we going to have an Olympics if we can't even get to work?'