Sports News
Boston College goaltender selected first overall by Boston Pride is also a Red Sox ball girl
Her fellow multi-sport college teammate was also selected by the Pride.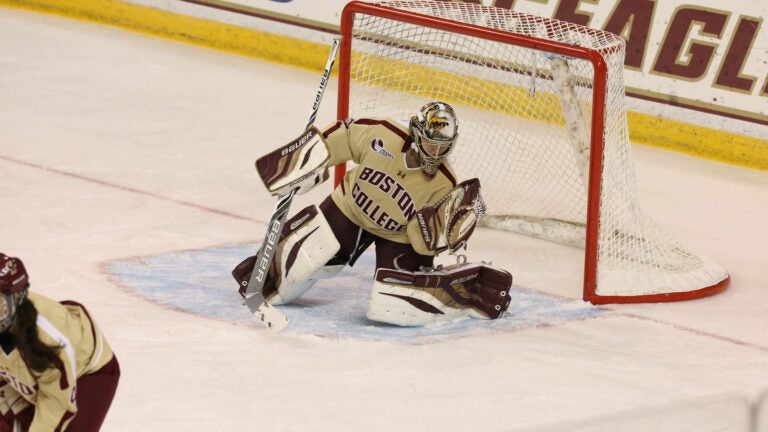 Katie Burt will be part of yet another Boston sports team in the not too distant future, having been selected first overall by the Boston Pride of the National Women's Hockey League. It will be a short move for Burt, who has been playing for Boston College the past three seasons. And it's undoubtedly a dream come true.
What interesting is that Boston College and the Pride aren't the only local teams that Burt has been affiliated with. Through the 2017 season, one of the best goaltenders in the nation has also been a Red Sox ball girl. And her current employer made note of her impressive NWHL achievement:
Congrats to our own ball girl, Katie Burt, on being selected first overall in the NWHL draft by the Boston Pride! ? pic.twitter.com/NyanWf7l8N

— Red Sox (@RedSox) August 20, 2017
Prior to becoming a fixture in net for Boston College, Burt played baseball through age 16. She was a home run derby champion in her little league, and was an All-Star. When the USA Women's team was at Fenway earlier in 2017 following the team's win at the World Championships, Burt was there as they threw out the first pitch:
The gold medal-winning @usahockey team threw out the first pitch at @fenwaypark today. But look closer at the ball girl: Katie Burt! pic.twitter.com/10Sd3qM0c6

— BC Women's Hockey (@BC_WHockey) April 17, 2017
And Burt wasn't the only Boston College player taken by the Pride in the first round. Fellow Eagle Kenzie Kent was selected by Boston with the fourth pick. Kent, interestingly, is also a multi-sport athlete, having helped Boston College lacrosse to its first ever National Championship Game appearance earlier in 2017.