Sports News
A Boston University neurologist is at odds with his own school's conclusions about youth football and CTE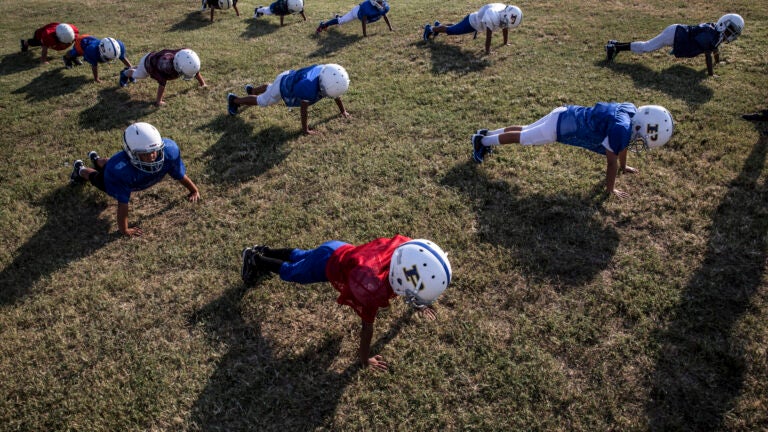 Dr. Peter Cummings picked a conspicuous day to explain why he lets his 11-year-old son play tackle football.
In an essay Tuesday for Yahoo Sports, the Boston University professor and neuropathologist said he is unconvinced by the evidence that football is unsafe for children  — the same day that his school's Chronic Traumatic Encephalopathy (CTE) Center released a study linking early-age football to neurological problems later in life.
According to the study, playing youth football before the of age 12 doubled one's risk of behavioral problems and tripled their risk of clinical depression. It's hardly the first time football has been linked with cognitive problems later in life.
Cummings said he initially tried to shield his son from football, amid such worries.
"People are coming away from the constant media barrage with the belief that concussions are the sole and direct cause of CTE, most or all football players have CTE, and CTE has led football players to become violent, commit suicide or develop dementia," he wrote.
But when his son discovered — and "fell in love with the sport" — Cummings said he was forced to do some "serious soul searching," as well as some research. Ultimately, he says he concluded the "media narrative was lacking."
Cummings most specifically takes issue with what he says is "sampling bias" in the former players included in the studies linking CTE, a neurodegenerative brain disease, and football and referred to a recent study by Boston researchers that found the degenerative disease in 87 percent of 202 brains donated by former football players who showed symptoms of the disease. CTE was found in 110 of the 111 brains donated by former NFL players.
But as the CTE Center itself has acknowledged, the study was limited in its selection: "Families of players with symptoms of CTE are far more likely to donate brains to research than those without signs of the disease."
Cummings says this is important:
The study population in the most recent CTE paper represents a biased sample, as stated by the authors themselves. This means only the brains of self-selecting people who displayed neurological symptoms while living were studied. This is important because this sample was not a reflection of the general football population. The study was based on 202 brains out of the millions of people who've played football – 111 of which are former NFL players.

So, when you hear "99 percent of football players had CTE," that doesn't mean that almost every football player will get CTE, and it doesn't mean your child has a 99-percent chance of developing CTE if he or she plays football. It means 99 percent of a specifically selected study sample had some degree of CTE; not 99 percent of the general football population. This is an important distinction.
Without a random sample, Cummings says it is impossible to determine the prevalence of the disease in football players or whether it has a cause-and-effect relationship with the sport.
"In other words, we do not have a complete picture of what causes CTE, how common CTE is, or what the chance of getting CTE may be for anyone, or even what symptoms, if any, CTE causes," he wrote.
Nonetheless, researchers say the study's limits don't make it irrelevant and point out that, considering its findings, its unlikely CTE is a rarity among those who play football.
"The fact that we were able to gather so many instances of a disease that was previously considered quite rare, in eight years, speaks volumes," Dr. Ann McKee, a professor of neurology and pathology and director of the CTE Center, said in a statement upon the study's release.
"There's just no way that would be possible if this disease were truly rare," McKee said.
In his article, Cummings also cited a Vanderbilt study, which failed to replicate the finding by several previous studies that playing tackle football at a younger age was associated with long-term cognitive impairment, as well as multiple studies of individuals who played football in the 1940s and 1950s.
"People may argue that football was different in the 40s and 50s and that today's players are stronger, faster and hit harder," he wrote. "But one also has to consider that football was more violent back then, with little attention to safety."
Cummings also noted that other youth sports have concussion risks (though not at the same rate as tackle football).
While he says he "whole-heartedly" supports the ongoing CTE research and has directed other athletes to those studies, Cummings said he decided to let his son play football.
"I am a forensic pathologist, a neuropathologist, and a dad, and I let my son play football," he said. "That should speak volumes."
In the study released Tuesday, BU's CTE Center examined 214 former football players and compared those who began playing football before the age of 12 with those who began playing at 12 or later. The increased rates of behavior problems and depression for those who began earlier existed independent of how long the individual played or the number of concussions they reported.
The findings build on a previous study by the center that found former NFL players who started tackle football before the age of 12 had worse memory and mental flexibility.
"I'm at a point where I feel comfortable saying that, based on logic and common sense and the growing totality of the research, I don't think kids should be playing tackle football," Dr. Robert Stern, a BU neurology professor and one of the study's authors, told The Boston Globe earlier this week.
Reached for comment Thursday, BU School of Medicine Assistant Dean of Communications Maria Pantages Ober simply said Cummings made the decision in his capacity as a parent to allow his son to play football.
Ober declined to respond to any of the specific points Cummings raised in his article about the limits of CTE studies.
"The Center responds with peer-reviewed scientific publications," she said.