Sports News
These are the Boston sports moments that captivated us in 2017
Comebacks, protests and milestones were among the many moments from Boston's year in sports.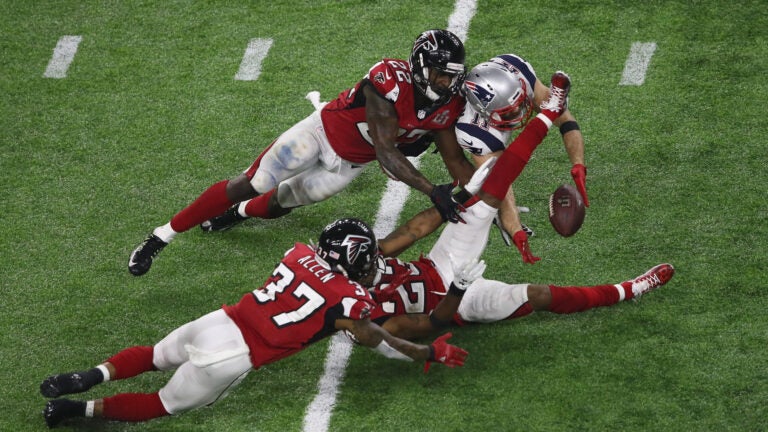 Even by the monumental standards of New England sports, 2017 was a momentous year. A Super Bowl miracle, a franchise-altering offseason, and the return of a truly dominant ace were just a few of the major storylines.
Added to that were stories of protest, expressed through the medium of sports. As has been the case in the past, the world of sports became a setting for a larger societal conversation.
Here's a look back at the truly unique year of 2017, and the most important Boston sports moments from it:
Feb. 5: Dont'a Hightower's sack causes a pivotal turnover in Super Bowl LI
Matt Ryan is SACKED.
And FUMBLES!@Patriots ball! #SB51 #Patriots https://t.co/o1lgQktgrI

— NFL (@NFL) February 6, 2017
Feb. 5: Julian Edelman's miraculous catch helps keep a game-tying drive going
OH MY GOD, JULIAN EDELMAN! #SB51 #Patriots https://t.co/YtvHwsaCbT

— NFL (@NFL) February 6, 2017
Feb. 5: In the first overtime in Super Bowl history, James White's touchdown completes the Patriots' record comeback to win a fifth title
IT'S OVER! IT'S OVER!

JAMES WHITE WINS IT FOR THE @PATRIOTS!

WHAT A GAME! #SB51 #PATRIOTS https://t.co/nZzQJGWRmC

— NFL (@NFL) February 6, 2017
Feb. 5: In the handshake that Patriots fans were waiting for, Roger Goodell congratulates Tom Brady on his Super Bowl win in a season Brady began suspended over the Deflategate controversy
The moment we've all been waiting for, Commissioner Goodell shaking Tom Brady's hand after winning the #SuperBowl. #Patriots pic.twitter.com/oyE2zSM1xD

— Bovada Official (@BovadaLV) February 6, 2017
Feb. 14: For the first time since 1993, the Harvard men's hockey team wins the Beanpot
April 3: Red Sox fans give Chris Sale a warm reception in introductions before the season opener
April 16: After the death of his sister the day before, Isaiah Thomas broke down prior to Game 1 of the Celtics' playoff run. Teammate Avery Bradley offers encouragement
An emotional scene in Boston as Isaiah Thomas will try to play in Game 1 vs. the Bulls pic.twitter.com/SwGSsYZjvN

— The Crossover (@TheCrossover) April 16, 2017
April 16: During Game 1 against the Bulls, Thomas nails an early three-pointer, and TD Garden erupted in support
Isaiah Thomas connects from deep on @NBAonTNT!#NBAPlayoffs pic.twitter.com/XJpK0YkDsd

— NBA (@NBA) April 16, 2017
April 17: After winning her debut Boston Marathon, 37-year-0ld Edna Kiplagat is greeted by her children at the finish line
WOMEN'S WINNER!#Kenya Edna Kiplagat is the #BostonMarathon women's winner finishing in 2:21:52 @KiplagatEdna #wbz pic.twitter.com/ZA2m0qnPff

— Scott Sullivan (@SullyBunz) April 17, 2017
April 17: And in his final Boston Marathon as a professional, Meb Keflezghi shares a moment with the family of 2013 bombing victim Martin Richard
At Finish Line 2014 @bostonmarthon Champ @Runmeb shakes hands with the Richard Family @TeamMR8 pic.twitter.com/7OqmJC7yQb

— Jessi Miller Bradley (@JessiWBZ) April 17, 2017
April 23: In the midst of a Red Sox-Orioles feud, Dustin Pedroia tries to explain to Manny Machado that he wasn't responsible for the perceived intentional inside pitch that went behind Machado's head
Fascinating exchange captured by MASN between Machado and Pedroia. Dustin clearly saying "It wasn't me. I know that and you know that." pic.twitter.com/oqdt827ER9

— Maryland is a basket….lacrosse school (@TestudoDave) April 23, 2017
May 15: In a contentious series between two teams in a budding rivalry, things boil over in Game 3 when Wizards forward Kelly Oubre was ejected for shoving Kelly Olynyk
Kelly Oubre shoves Kelly Olynyk to the ground, Wizards and Celtics scrap pic.twitter.com/DDzCOrTB4W

— Sports Illustrated (@SInow) May 5, 2017
May 21: Avery Bradley's three-pointer rattles home to give the Celtics a last-second Game 3 win in the Eastern Conference Finals
May 25: Trailing by more than 30 points in the closing stage of the Eastern Conference Finals, Celtics fans nonetheless send their team out with rousing support
Let's go Celtics chants from what's left of the Garden crowd. pic.twitter.com/LArkttYTDK

— Brian Robb (@BrianTRobb) May 26, 2017
June 23: The Red Sox retire David Ortiz's number at Fenway Park
It's all for you, @DavidOrtiz.

Soak it in. pic.twitter.com/Suvd8qr7ta

— MLB (@MLB) June 23, 2017
July 16: Jackie Bradley Jr. robs Aaron Judge of a home run
Aug. 1: Capping one of the games of the season, Christian Vasquez's walk-off three-run home run gives the Red Sox a 12-10 win over the Indians
Aug. 13: Rookie Rafael Devers connects on Aroldis Chapman's 102.8 mph fastball to tie a Red Sox-Yankees showdown in the ninth inning. The Red Sox won, 3-2.
Sept. 13: During a Red Sox game, protestors hang a banner from the Green Monster that reads "Racism is as American as baseball"
Sept. 19: Hanley Ramirez's walk-off in the 19th inning gives the Red Sox a 3-2 win
19 innings was ENOUGH.@HanleyRamirez sends @RedSox home victorious! #Walkoff pic.twitter.com/DO91G2UGiG

— MLB (@MLB) September 6, 2017
Sept. 21: Chris Sale records his 300th strikeout of the 2017 season, becoming the first American League pitcher to reach the milestone since Pedro Martinez in 1999
Sept. 24: In response to comments made by President Trump, 17 Patriots players (as well as many others around the NFL) protest by kneeling during the national anthem
Sept. 24: With less than 30 seconds remaining against the Texans, Tom Brady finds Brandin Cooks in the corner of the end zone for a winning touchdown
TOM BRADY. BRANDIN COOKS.

WOWWWWWWWW. pic.twitter.com/mYeno62uY4

— NFL (@NFL) September 24, 2017
Oct. 5: Bruins rookie Jake DeBrusk scores his first career goal, and his father sheds a tear
.@JDebrusk's first NHL goal ?? pic.twitter.com/46rpY3rJbc

— Boston Bruins (@NHLBruins) October 6, 2017
.@LouDeBrusk @JDeBrusk ?? pic.twitter.com/4KyA3RfYUN

— Boston Bruins (@NHLBruins) October 6, 2017
Oct. 17: Gordon Hayward suffers a fractured ankle minutes into his Celtics' debut
Nov. 5: Becoming the first American woman to win the New York City Marathon since 1977, Marblehead's Shalane Flanagan lets the emotion pour out as she celebrated
The American comes out on top. pic.twitter.com/lkFOrhAmS7

— SportsCenter (@SportsCenter) November 5, 2017
Dec. 3: Rob Gronkowski loses his cool and hits Bills cornerback Tre'Davious White after the play, earning a one-game suspension
What the hell are you doing, Gronk? pic.twitter.com/mZTgJA62eU

— Pete Blackburn (@PeteBlackburn) December 3, 2017
Dec. 9: Boston College upsets No. 1 ranked Duke, and fans rush the court at Conte Forum
DOWN GOES DUKE!!! pic.twitter.com/m95pxa2sGE

— SportsCenter (@SportsCenter) December 9, 2017
Dec. 17: In the culmination to a wild end of a Patriots win against the Steelers, Ben Roethlisberger's fake spike turns into a Duron Harmon game-ending interception
https://twitter.com/NFL/status/942549852595949568