Sports News
What the Supreme Court ruling on sports betting means for Massachusetts
Sports gambling is now free to come to Massachusetts, but lawmakers have to "create a framework" first.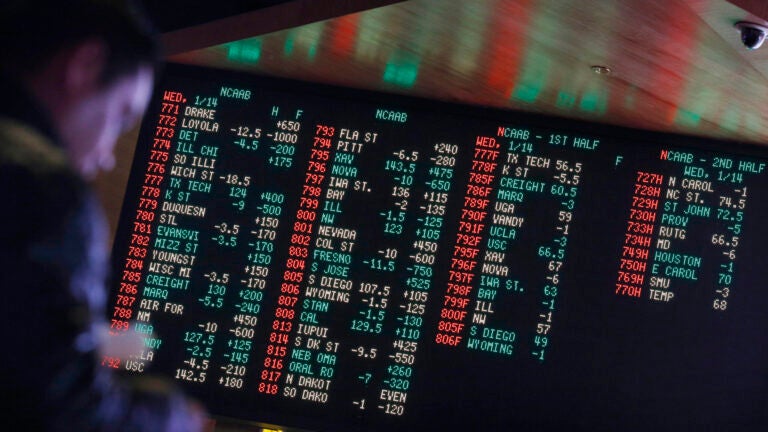 On Monday morning, the Supreme Court ruled that a federal ban on sports betting outside of Nevada is unconstitutional and that states can move to legalize it. Massachusetts residents may now be wondering what it means for them.
While states like New Jersey (which challenged the Professional and Amateur Sports Protection Act of 1992 in court) will potentially offer sports betting in "a matter of weeks," the path of other states remains less clear.
At the moment, Massachusetts has no determined path on the issue. While there is legislation under consideration that would explore legalized sports betting, the early reaction has been to move deliberately.
Mass. Senate President Chandler on SCOTUS knockdown of sports betting ban: "We are reviewing the SCOTUS decision to determine its full impact on Massachusetts. Clearly, this decision opens the doors for states to bring sports betting out from under the table and into the light."

— Gintautas Dumcius (@gintautasd) May 14, 2018
Regarding Sports Betting @SpeakerDeLeo says "at this time when we're always looking for new revenues, this could be that source." Still need to weigh integrity vs. revenue. May come up this session. May not. #mapoli

— Steve Brown (@WBURSteve) May 14, 2018
"Obviously, this is something that we'll be talking to our colleagues in the state legislature about, probably starting today," said Governor Charlie Baker. "You have to create a framework, and that's what we want to talk to the legislature about."
Adding that he needs to read the decision in full, and consider the possibilities, Baker noted that it's "certainly something we should look at."
The office of the Massachusetts Attorney General Maura Healey noted that it will review the court's decision and will continue to focus on consumer protection in regards to sports betting should the legislature take up the issue.
Private industry representatives that have vested interests in sports gambling echoed Baker's sentiment in letting Massachusetts lawmakers lead the way.
"While our industry supports legalized and regulated sports betting, the ultimate decision now rests with Massachusetts legislators and the Massachusetts Gaming Commission," said Robert DeSalvio, president of the future Everett casino. "Encore Boston Harbor looks forward to what we expect will be a thorough and thoughtful process."
Daily fantasy sports company DraftKings reacted quickly to the court's ruling, announcing that it will move into the sports betting market:
#DraftKings Moves to Offer Sports Betting After U.S. Supreme Court Overturns Outdated Ban https://t.co/ItFB60kRqX

— DraftKingsNews (@DraftKingsNews) May 14, 2018
Based in Boston, DraftKings CEO Jason Robins noted that the company has been in discussion with local legislators, and looks forward to increased urgency with the path to legalized betting cleared.
"We've certainly had some discussions with lawmakers in Massachusetts," Robins said in a conference call. "I know that there's an ongoing effort to take a look at the issue there and that's something that we're obviously trying to stay very close to. I think the prevailing thought was to wait and see what the Supreme Court doe before deciding on any course of action. So now that there's a decision that's been issued, we'll expect to see some sort of ramp-up in that discussion in Massachusetts."
Looking ahead to when Massachusetts sports fans can potentially place bets, Robins was less sure.
"Very hard obviously for us to predict what lawmakers are going to do," Robins explained. "We're hopeful that now that the Supreme Court's ruling has been issued, Massachusetts is a state that's still in session, so they do have an opportunity that other states out of session do not, which is to make a decision on whether they'd like to move forward this year. So we're hopeful that that will happen, but we'll have to wait and see."
Sports law expert Daniel Wallach said he believes the ruling will up the tempo on local legislation.
"Today's decision will likely spur expedited activity in state legislatures across the country that are trying to beat the clock on their legislative sessions. Massachusetts isn't operating under an immediate time constraint, but I would expect the state legislature to move fairly rapidly to at least put this on the drawing board for discussion."
In regards to the fortunes of the locally-based DraftKings, Wallach was bullish.
"DraftKings is positioned to become one of the most dominant players in the sports betting landscape with its sizable user base."
Robins, asked about the company's preexisting plan to hire more in Boston, said that the ruling "should accelerate that."
"I mean that was in a world where we didn't know if we were going to be able to expand into this product vertical and while certainly there still needs to be law and regulation, and hopefully that will occur in the coming months and years, this should end up creating a lot more hiring opportunity for us. We'll need it, because we'll have a lot more customers and a bigger business to deal with."