Sports News
'It's not tolerable': How offensive tweets are spurring an evolution in sports
"Whether or not at the time you realized you were making a mistake, it's not tolerable."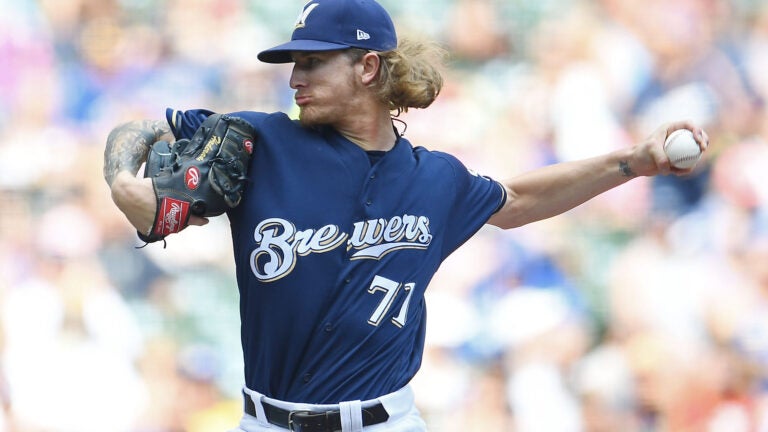 Social media platforms like Facebook and Twitter are over a decade old. That seems like a reasonable amount of time to have identified the potential pitfalls of each.
Yet as a recent rash of sports scandals has shown, age has been a multiplier of problems in some ways, rather than the opposite.
Younger athletes who are only just coming to prominence in 2018 are part of the first generation to fully grow up on social media. And while many athletes leverage it as a means to advance their careers, build brands or connect with fans, early missteps taken before they were professionals in the limelight have also become magnified.
One of the notable recent examples was that of Josh Hader, a 24-year-old relief pitcher for the Milwaukee Brewers. Shortly before making his debut in the Major League Baseball All-Star Game on July 17, a plethora of racist, homophobic, and generally offensive tweets began circulating the internet, all from Hader's high school days.
Hader has been far from the only one in 2018. Other MLB players like Sonny Gray, Trea Turner and Sean Newcomb joined an ongoing list that includes basketball player Donte DiVincenzo and NFL first-round pick Josh Allen, all of whom tweeted hateful remarks in their past.
Responses from those outside the clubhouses and locker rooms have been mixed. While Hader received a standing ovation from Brewers fans in his first appearance after the tweets were revealed – a move which itself generated debate – others have condemned the tweets, even retrospectively.
"I don't have a tolerance for it," ESPN baseball commentator Jessica Mendoza said of the recent scandals. "Having two boys, I'm just really huge that regardless of who you are now, and what you meant then, I don't think the messaging can be that it's okay because you were young or you didn't know."
Athletes, such as Allen, have uniformly responded by disavowing the old tweets as not representative of who they now are.
"I'm not the type of person I was at 14 and 15 that tweeted so recklessly," Allen told ESPN. Despite the tweets surfacing before the NFL Draft, the Buffalo Bills selected Allen seventh overall, and received criticism for his past decision making.
"You don't have to be an adult to learn right from wrong," wrote columnist Rochelle Riley. "Children do it every day. Millions of high school students are on Twitter and don't post the garbage Josh Allen did."
What these scandals also reveal is an entire system still grappling with – and reacting to – social media. This type of story isn't exactly unique to just this year, after all.
Hader was reflexively put into various programs by the league. Yet the disturbingly long lifespan of those tweets – over six years in some cases – reveals a lack of due diligence on the part of multiple professional organizations, on top of Hader's poor initial decision making.
MLB will not suspend Josh Hader but says: "The Office of the Commissioner will require sensitivity training for Mr. Hader and participation in MLB's diversity and inclusion initiatives."

— Tom (@Haudricourt) July 18, 2018
Drafted (and signed) by the Orioles in 2012, Hader was then traded first to the Astros and then the Brewers. Before making his MLB debut in 2017, he played for nine different minor league teams. None of those teams in that span ever investigated Hader's social media. Nor did his agent. Had anyone in that period of time done so, his offensive posts would have been easily discovered.
This is exactly what Kevin DeShazo, founder of Fieldhouse Media, does for a living. DeShazo's company works primarily with high school and college teams to show both the advantages and challenges of social media. Part of his presentation occasionally includes a display of just how quickly an athlete's old tweets can get land them in trouble.
"I'll find the most inappropriate tweets from whatever school I'll be at and say, 'I don't know you, I don't follow you, I didn't get a list of your Twitter handles from the administration. I found these in five minutes for free," DeShazo explains. "Now imagine you're a pro athlete. That can be game over."
Even before that stage, young players can find themselves out of the running for scholarships or other opportunities. As a 2016 tweet from an assistant coach at the University of Arkansas showed, some colleges are watching.
Came across an awful Twitter account today. Shame the kid was a really good player…On to the next one…get a clue!

— Coach Justin Stepp (@coachjstepp) January 8, 2016
Boston College's athletic department engages with student athletes about their social media, though it varies from team to team. The common thread is that the school does monitor its athletes and what they say on places such as Twitter. Finally, teams are beginning to adapt to retroactive Twitter activity.
One proactive solution for teams and athletes is what DeShazo calls a "social media audit." A simple search, taking only a few minutes, can reveal potentially ruinous past activity. This has taken on more urgency, and player agents have recently begun in-depth searches of their clients' old tweets. These methods, after all, was how Twitter users found the tweets sent by players like Hader.
The Red Sox recently sat down with players from across the entire organization, telling them to audit their social media, according to Nick Cafardo of the Boston Globe.
But even a scrupulous review of old tweets isn't enough sometimes, as Allen discovered. The Bills quarterback said he deleted offensive tweets months before the draft, yet they resurfaced hours beforehand.
"Somebody knew what they were doing," Allen told USA Today about the tweets. "It's out there, it's my fault. I can't blame anyone else for my own mistakes."
Patriots rookies, as might be expected on a team coached by Bill Belichick, are aware of the situation.
"You have to be professional about that now," said rookie cornerback J.C. Jackson about his online activity. "Everybody's watching." And Jackson's circumstances (he was undrafted) are indicative of an evolving NFL.
The league now offers an annual Rookie Transition Program, which educates all first year players – drafted or not – about how to become professional. This includes a section on social media. Previously, the Rookie Symposium (the Transition Program's predecessor) only included high round draft picks.
The NFL Players Association also offers a program called Pipeline to the Pros, where it proactively reaches out to college athletes who might go to the NFL, educating them on basic aspects of being professional.
Of course, not every athlete's journey to becoming professional is the same. For Major League Soccer players, their career can launch far sooner than counterparts in the NFL (due to age requirements in football).
Diego Fagundez of the New England Revolution debuted as a professional in 2011 at the age of 16, yet has sailed a smooth course on social media.
"When I was in high school, it would be one of those things where I knew what I could say and what I couldn't say," Fagundez explained, noting that being in a professional environment helped. "I learned from everybody else. I definitely had a couple of role models like Shalrie Joseph and Matt Reis and others who would always be there."
As the example of Fagundez illustrates, the more direct view of a solution to ongoing social media scandals comes from simply showing more maturity at a younger age, and being held accountable.
"There needs to be a message that this language, that using things to bash gay people, people of color, women, it's not okay," said Mendoza. "I would say that to my 8-year-old, and guess what? He would be punished. Whether or not at the time you realized you were making a mistake, it's not tolerable, knowing that gosh I wasn't perfect either in high school, but I would have hoped I would have faced consequences for offending other people in a very hurtful way, which is what those tweets did."