Sports News
Here's a crash course in Crashed Ice — the latest sport to come to Fenway Park
It calls itself "the fastest sport on skates."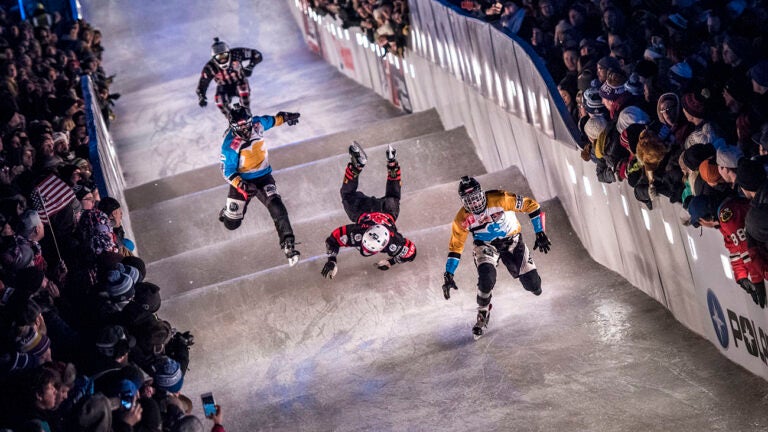 It's speedskating on steroids. Slalom after a few too many cold ones. Roller derby on ice. It's hectic, exhilarating, and over in the blink of the eye.
It's Red Bull Crashed Ice, and it's coming to Boston.
Come again, you ask?
Red Bull Crashed Ice is the premier event for ice cross downhill skaters, a sport in which four participants race down a massive ice track filled with drops, hairpin turns, chicanes, jumps, and rollers. The skaters race shoulder-to-shoulder and reach speeds of over 50 miles per hour.
On Feb. 8-9 of next year, the competition will be held at Fenway Park as part of the Ice Cross Downhill World Championship.
Here's everything you need to know about this odd but electric event:
Rules
Wait, this sport has rules?
Only a few.
The track at Fenway Park will span 2,000 feet (all courses differ from one another), weaving its way from right field across the entire diamond, rounding the infield bases and finishing at home plate. The four participants per race are required to wear shoulder and shin protection, elbow and knee pads, a helmet, and gloves.
A few moves are deemed off-limits and result in automatic disqualification. Interference by means of holding, pushing, hitting, or purposeful hindrance resulting in a competitor slowing down will get you booted. Additionally, drifting or falling off course results in a DQ. Unavoidable casual contact is allowed.
The top two finishers in each race advance to the ensuing round until the field is whittled to four.
World Championship points are up for grabs in each race, with the skater who has accumulated the most points at the end of the season crowned champion.
Skaters
It calls itself "the fastest sport on skates.'' So who are the skaters? Athletes from 25 countries and six continents currently make up the Red Bull Crashed Ice field. Many former ice hockey players participate, as strong skating skills are paramount. Ice cross downhill skating also takes a mix of strength, quickness, toughness, and endurance.
Currently atop the standings in the women's division is Amanda Trunzo, whose 3,000 mark places her 750 points ahead of defending champion Jacqueline Legere, who is in second place. Trunzo is a former hockey star from Andover, Minn., who played for Dartmouth and was named to the USA Under-22 national team in 2010.
Leading the men's division is Scott Croxall of Ontario with a 2,745 tally. Trailing Croxall at 2,600 is Cameron Naasz, the two-time defending champion and the only American (Burnsville, Minn.) to win multiple world championships in the sport.
History and events
Founded by Red Bull, the first race was held in 2001. For the first nine years, Red Bull Crashed Ice held stand-alone events in cities across the globe. Since 2010, the sport has transitioned into a more organized enterprise, with a world champion being crowned at the end of each season.
The two-night event will feature race action in men's and women's divisions, a junior competition, and a high-flying freestyle trick competition.
Participants wear hockey skates, and though they feature longer, flatter blades to improve speed and balance, the going can be mighty tough. Injuries occur regularly and crashes are received with hoots and hollers.