Sports News
Morning sports update: Marcus Smart discussed balancing work and family after mother's death
Also: Julian Edelman isn't the only player returning from suspension, Gordon Hayward's block, and the ironman of Patriots fans.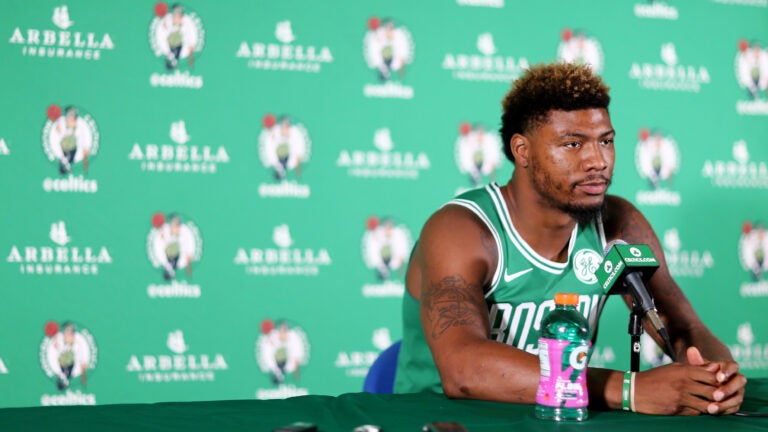 The Patriots and Red Sox each won decisively on Sunday, while the Celtics defeated the Hornets in a preseason game, 115-112.
Here's a look at a few other stories.
Marcus Smart talked about his return to the Celtics: After his mother, Camellia Smart, died in September, Marcus Smart knew he would miss some time during Celtics preseason. Still, he showed up for the start of the team's training camp after receiving support from his family.
"My family emphasized and encouraged me to get back (to Boston)," Smart told NBC Sports Boston's A. Sherrod Blakely. "Especially with my mom; that's what she would have wanted." [NBC Sports Boston]
The latest from Boston.com:
The ironman of Patriots fans: Charlie Underhill has owned Patriots season tickets since 1966, and has officially been to 600 games. He only has one rule. [Boston Globe]
Patriots linebacker Kyle Van Noy weighed in after the win:
All is right in New England now right??? Haha I'm playing y'all! Just for today it's right tho and feels good to win! All love to #patsnation today. On to the next…. #beatcolts

— Kyle Van Noy (@KVN_03) September 30, 2018
Julian Edelman isn't the only NFL player returning from suspension in Week 5:
Among the players returning from 4-game suspension this week:
— #Saints RB Mark Ingram
— #Bengals LB Vontaze Burfict
— #Cowboys DT David Irving
— #Chargers DT Corey Liuget
— #Colts RB Robert Turbin
— #Raiders CB Daryl Worley
— #Patriots WR Julian Edelman
— #Ravens CB Jimmy Smith

— Ian Rapoport (@RapSheet) October 1, 2018
Daily highlight: Gordon Hayward showed he's progressing through preseason with a block during Sunday's game against the Hornets.
https://twitter.com/celtics/status/1046543406468497409