Sports News
5 things to know about the $100 million upgrade to TD Garden
New options, more space, and a "front door" highlight the changes coming to the home of the Bruins and Celtics.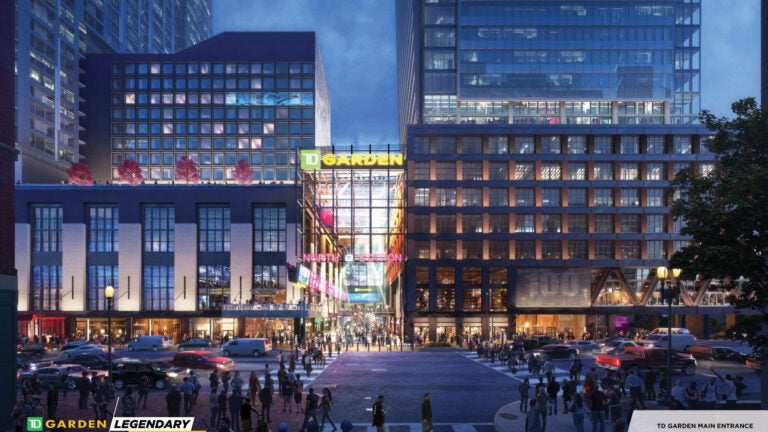 Changes are coming to TD Garden over the next two years, the result of a newly announced $100 million investment that will add 50,000 square feet, new amenities, and a capacity increase of approximately 400.
Delaware North, which owns and operates TD Garden, revealed its plans — the biggest expansion to the venue since it opened in 1995 — in conjunction with the development of a new "front door" for the home of the Bruins and Celtics.
Hub on Causeway, the 1.5 million-square-foot project that Delaware North has been building with Boston Properties, will sit on the site of the old Boston Garden, which is directly in front of the current TD Garden. Through Hub on Causeway's center will be an atrium entrance walkway with elevators and escalators at its end to convey fans onto the Garden's second level. The opening is set for Dec. 1.
According to Delaware North, that's just the first phase of the project. In total, all of the upgrades will take two years to complete, though certain features will come into use before the end of 2018.
TD Garden president Amy Latimer offered some background on the project's history during a Friday afternoon press conference.
"I think it's always been the desire of the Jacobs family to develop the space where the old Garden is," Latimer said. "A few years ago when those plans were coming around, Mr. Jacobs actually said if we have the opportunity to expand the building, we should do it. We should make sure that anything that we need to upgrade or fix from when we built the building, let's do it."
Latimer also offered a glimpse into how long the project has been in the works.
"This has probably been two and a half years just on the expansion work," she said.
Aside from the new entrance, here's a look at some of the new things coming to TD Garden, along with a few renderings of what the finished product is expected to look like:
More space and options for loge and balcony-going fans
The loge and balcony, located on levels four and seven, will expand in space by 20 and 30 percent, respectively. In total, that means 15,000 additional square footage. The plan calls for a "rotating calendar" of new pop-up food options that include a ramen bar, crepes, dumplings, and gyros. Functional upgrades, including more restrooms, will also be added.
Membership-based luxury experiences
The Garden's club area will be redesigned and renamed. The "Premium Club" will become "Boston Garden Society." The membership-based fan model, which is slated to start next season, will cater to a luxury experience, giving access to redone club levels on the fifth and six floors. Members will also be able to bypass turnstiles on their way in, and have access to upgraded bars and dining options.
Redesigned spaces and new bars
Beginning next season, fans in the balcony will be able to enjoy a new experience. The "Back Row Bar" will provide 50 seats (as well as standing space) behind the last row of the balcony. It will have a "vintage design," according to Delaware North.
New options such as the "The Rafters" on level nine will provide a "party deck," and the two-level "1928 Club" will give membership-based club fans new spaces to experience concerts and games in a more open setting.
Locker rooms upgrades
Aside from the fan experience, both the Bruins' and Celtics' locker rooms on level three will be redesigned and expanded. Each will be ready for next season.
Away team locker rooms will receive upgrades in 2020.
Increased space and ease of access for commuters
The North Station Garage beneath TD Garden has already been given an additional 500 parking spaces as part of the Hub on Causeway development. More elevators have also been added.
Train commuters will have access to a new tunnel walkway connecting North Station's MBTA stop and Commuter Rail. The tunnel is scheduled to open in December.