Sports News
Morning sports update: What Jae Crowder thinks the Celtics are missing
Also: Taking stock of the AFC, Patriots getting their MBA, and Steve Pearce's "Terminator" tweet.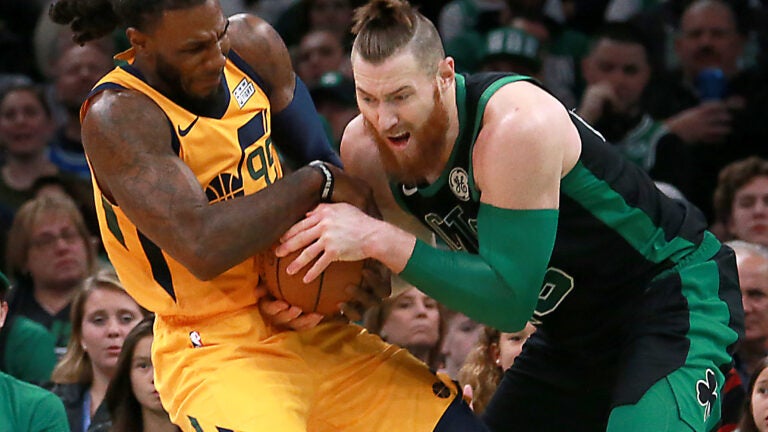 Patriots fans enjoyed (or endured) a Sunday off during the team's bye week, with New England returning to action next weekend against the Jets at MetLife Stadium.
Elsewhere, the Celtics head to Charlotte to face the Hornets tonight at 7 p.m., while the Bruins get ready for a Wednesday night clash in Detroit against the Red Wings.
Former Celtic Jae Crowder thinks he knows what the Celtics have been missing: Speaking after his current team (the Utah Jazz) defeated the Celtics on Saturday, Jae Crowder elaborated on what he thinks his former team has lacked during its early season inconsistency.
"Obviously they have a lot of offensive players that can really score the ball," Crowder said of the Celtics to Steve Bulpett of The Boston Herald. "But you have to have guys that do their dirty work. Marcus can't do it all by himself. You've all got to buy into it, I feel like. And that's one of the problems they're going through right now." [The Boston Herald]
Taking stock of the AFC standings: A Patriots bye week offers a clear vantage point to examine the conference as a whole, and New England's current place in it. Despite a Week 10 loss, the Patriots remain in a strong if uncertain position. [The Boston Globe]
The Patriots who are pursuing their MBA: A trio of Patriots are getting their master of business administration degree in an online program. Practical as it is for players looking at their longterm futures beyond football, it's also a natural pursuit for athletes craving a familiar feeling off the field that they harness on it: a challenge. [ESPN]
After agreeing to re-sign with the Red Sox, World Series MVP Steve Pearce tweeted this:
— Steve Pearce (@WayneTwentyOcho) November 17, 2018
Marking the anniversary of an eventful non-event:
20 Years Ago Today: Patriots announce they are leaving Massachusetts for a stadium in downtown Hartford to move in in, imagine this, 2001. Deal goes bust five months later, Pats come back. pic.twitter.com/aXMd2HufSh

— Darren Rovell (@darrenrovell) November 19, 2018
Marking an eventful anniversary part II:
OTD in 2000, the @Mariners signed Ichiro.

That worked out pretty well. pic.twitter.com/quZTm9gwvH

— MLB (@MLB) November 19, 2018
Daily highlight: Amid a 51-point performance on Sunday, LeBron James made several impressive dunks look routine:
https://twitter.com/NBA/status/1064309649392979968