Sports News
Morning sports update: Jets rookie Sam Darnold got stuck in the snow with other New Jersey drivers
"We got about five miles in two and a half hours."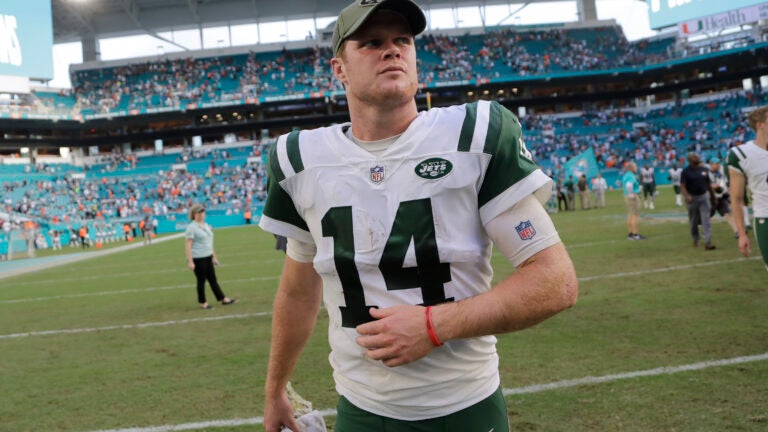 The Celtics lost in Charlotte to the Hornets on Monday, 117-112. Kemba Walker led the way with 43 points, helping the home team erase Boston's 10-point fourth quarter lead.
The loss continued a worrying Celtics trend:
Hornets 117, Celtics 112. Final.
Cs have won just 1 of their last 9 games in regulation, at home vs. the Bulls.

— Adam Himmelsbach (@AdamHimmelsbach) November 20, 2018
The Celtics and Bruins are both in action on Wednesday night at 7:30 p.m. The Celtics play the Knicks at TD Garden while the Bruins head to Detroit to face the Red Wings.
Sam Darnold was among those stuck in enormous snowstorm traffic jam: Winter Storm Avery left thousands of commuters in New Jersey and New York stuck in their cars for hours last Thursday. Among those was the Patriots' possible Sunday opponent, Jets rookie quarterback Sam Darnold.
"We left on Thursday," Darnold said of his bye week plans to head into New York City from MetLife Stadium. "We tried to get out at 4 (p.m.) and that didn't go so well. We got about five miles in two and a half hours."
"We ended up catching a train, which took about two hours and is what we should've done in the first place," he concluded.
Darnold, who is battling back from a foot injury, is still uncertain if he'll play against the Patriots on Sunday. Still, he offered a comment on what it would be like to play in his first Jets-Patriots game.
"I think the idea of going up against [Tom Brady] and the Patriots and those guys, it's a cool thing, especially with me growing up in the era where they've really controlled the whole NFL for the most part," Darnold said. "So it'd be really cool to have a chance to go up against them if I get the opportunity this weekend."
Sam Darnold experienced snow in the Northeast for the first time.

It'll take some getting used to. ? pic.twitter.com/NDv3ec3oYQ

— New York Jets (@nyjets) November 19, 2018
Terry Rozier's ambiguous tweet:
Let's do us ALL a favor

— Terry Rozier (@T_Rozzay3) November 20, 2018
A Bills beat writer weighed in during the Chiefs-Rams Monday night game:
That's 13 touchdowns tonight. The Bills have scored 13 touchdowns this season.

— Mike Rodak (@mikerodak) November 20, 2018
Notably, the game ended with 14 touchdowns.
Mookie Betts and Michael Jordan got a picture together. Mookie labelled it with a simple caption:
— Mookie Betts (@mookiebetts) November 20, 2018
Daily highlight: The highlights blurred together in a record-setting Monday Night Football clash of the Chiefs and Rams. Here's game recap featuring all of the touchdowns from Los Angeles' 54-51 win.
https://twitter.com/NFL/status/1064760465274789889