Sports News
Morning sports update: Paul Pierce described what bothered him most about Ray Allen's 2012 Celtics exit
Also: Jason McCourty's Super Bowl tickets anecdote, Chad Johnson's Friday wakeup, and more.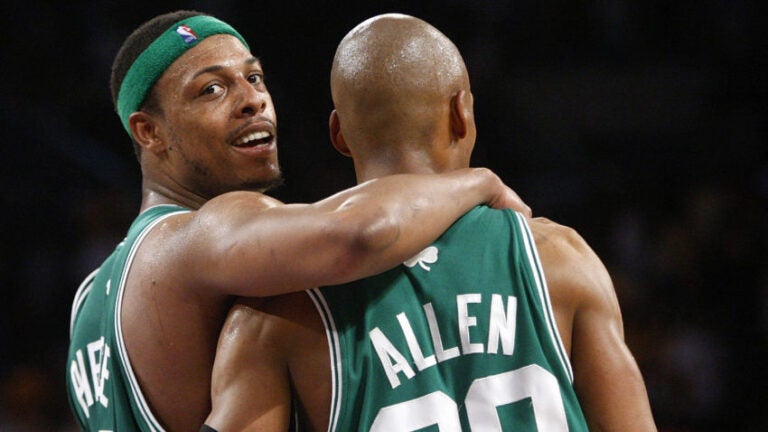 The Celtics are preparing to face the Warriors at TD Garden on Saturday night (8:30 p.m.), while the Patriots continue preparations for Super Bowl LIII.
The Bruins resume action next Tuesday, hosting the Jets (7 p.m.)
Paul Pierce described what he disliked about Ray Allen's Celtics exit: Speaking in a WEEI interview on Thursday, Paul Pierce offered some more insight into his mindset when then-teammate Ray Allen left the Celtics in free agency to join the Miami Heat.
"I called his phone, I texted him, he wouldn't answer. The next thing I know we learned there was a problem with his contract," said Pierce. "I was like 'Dude, just talk to me, maybe I can resolve this.' And he just never returned calls. Next thing you know, he ends up in Miami. For me, it was about my call. Have the respect from a guy who you've been to some war with, who we talked every day. Let's see if we can work this out again and that was the whole deal with me, personally."
Ultimately, Pierce says the feud between the two members of the 2008 Celtics championship team is "over," and that the two have "matured and moved on."
Pierce also believes that fellow teammates Kevin Garnett and Rajon Rondo – who have conspicuously not forgiven Allen – will follow suit.
"Now Kevin and Rondo they have their own little personal issues they had with Ray and that's something they have to iron out one day and I'm sure it is," said Pierce, "but I believe it will blow over and that's my issue with it."
More from Boston.com:
When making the Super Bowl sunk in for Jason McCourty:
Patriots CB Jason McCourty, with a lighthearted touch, on when advancing to the Super Bowl hit him: "It sunk in when those texts started coming through and everybody was asking for a ticket. They don't think that you have to pay for them."

— Mike Reiss (@MikeReiss) January 25, 2019
The Maine Red Claws game was postponed on Thursday, and P.J. Dozier was not impressed:
Chad Johnson is apparently a neighbor of Roger Stone:
FBI arrested my neighbor Roger before my morning jog, I've only seen shit like that in movies, crazy to start to my Friday

— Chad Johnson (@ochocinco) January 25, 2019
On this day: In 1958, Wildcat Mountain opened the first ski area gondola in the United States.
Happy Friday and Happy 61st Birthday to us! We're starting the day with 21 trails, 135 acres, and 8.7 miles of open terrain. Tickets are just $49 at the window and we have 4 lifts spinning from 9am to 3:30pm. Read all about it at pic.twitter.com/GRXXRT5ULJ

— Wildcat Mountain (@skiwildcat) January 25, 2019
In 1987, Bill Belichick – then a defensive coordinator for the Giants – won his first Super Bowl, as New York defeated the Denver Broncos, 39-20. Phil Simms won MVP, completing 22 of 25 passes ("with two dropped passes," as Bill Parcells would later note).
And in 1995, Manchester United forward Eric Cantona launched an infamous flying kick at a fan in the stands after being sent off with a red card in game at Selhurst Park against Crystal Palace. Radio commentator Jonathan Pearce's dramatic call of the incident would pass into legend.
Cantona was banned by the Football Association until September, and was initially sentenced to 14 days in prison. After winning an appeal to have the prison time reduced to 120 hours of community service, Cantona offered a historically bizarre press conference quote.
"When the seagulls follow the trawler, it is because they think sardines will be thrown into the sea."
Daily highlight: Not exactly a highlight, but Rajon Rondo received a technical foul for throwing his towel just before a free throw.
https://twitter.com/ESPNNBA/status/1088678392659148800