Sports News
Who is Boston's biggest sports villain?
Make way for the bad guys and choose from a field of 64.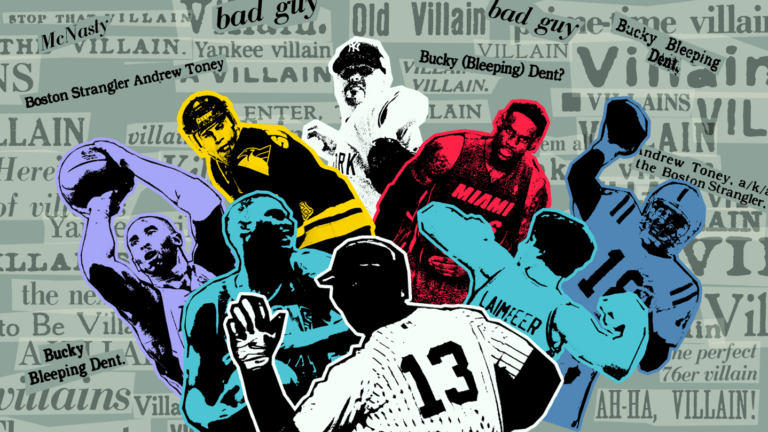 Over the decades, Boston sports — more than the city's championships or championship droughts — have been defined by drama. A walk-off home run, a buzzer-beater shot, or an overtime winner are moments that New England fans know well, for better and worse. And while this has produced more than its share of local heroes, there has always been an equal and opposite villain looming on the other side.
Sports villains, like movie villains, are often the subject of fascination. Safely removed from the real world of actual villainy, sports' version of "the bad guys" inspire some of the same obsession as their counterparts. Fans are forced to grudgingly acknowledge that the opponent not only played well, but was in fact critical in bringing out the best in their heroes. One cannot exist without the other.
This year, Boston.com is exploring the topic of sports villains by asking readers to vote for who they think has been Boston's biggest opponent. Who, in other words, is the ultimate villain to New England's long list of sports heroes?
The sports definition of a villain is subjective. Many of the inclusions in this bracket are loathed by Boston fans purely for the success they achieved against the local teams. Others warrant a place for more traditional reasons (see: Matt Cooke). Some were fierce opponents for more than a decade, while others are forever infamous in New England for just a single play.
We leave it to you, our readers, to decide.
Instead of filling out your bracket all at once, voting will happen in successive rounds that mirror the NCAA Tournament, culminating with a championship matchup between April 3-8.
Update: Voting has ended in the bracket. NFL commissioner Roger Goodell was chosen as Boston's biggest sports villain.
Bracket may take a moment to load
The bracket: