Sports News
Conor McGregor will march in the South Boston St. Patrick's Day Parade
The Irish fighter will appear in the 118th edition of the parade, which kicks off at 1 p.m.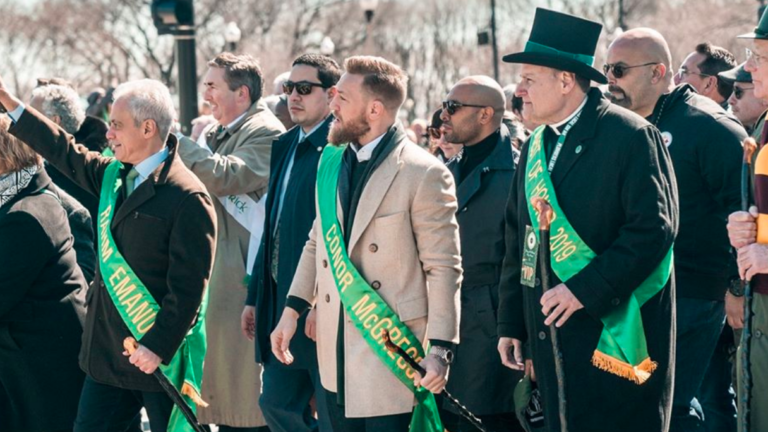 After Conor McGregor delivered a rousing pregame speech in the Boston Bruins' locker room, Brad Marchand scored the winning goal in overtime and celebrated by breaking into the MMA star's signature strut.
It remains to be seen whether Boston Mayor Marty Walsh will test out a similar trot alongside McGregor at the South Boston St. Patrick Day Parade on Sunday. Boston.com has confirmed the Irish fighter is scheduled to appear in the 118th edition of the parade, which kicks off on West Broadway at 1 p.m.
The Southie spectacle will mark McGregor's second parade of the weekend. On Saturday, he marched with Chicago Mayor Rahm Emanuel along that city's route before flying to Boston to drop the ceremonial first puck at the Bruins game.
McGregor joined the Bruins before the action got underway, leading the team in a "Boston Strong" chant and exhorting them to "fight until victory." Marchand and Co. did just that in their 2-1 win over Columbus. After the game, the Bruins forward described McGregor as an "incredible guy."
"Very energetic, but he was humble," Marchand said. "He was very happy to be here, he expressed that, he was very engaged with everyone, he was a great person. It was an honor to meet him, it was great to have him here. The whole city enjoyed it, we enjoyed it, it's something we will remember."
The 3.6-mile parade is expected to last about 4 hours and 30 minutes. Here's what you need to know if you plan to watch or attend.