Sports News
Morning sports update: Jon Lester reacts to Red Sox admitting they 'blew' 2014 contract negotiations
"It's nice when anybody admits they screwed up, whether you want to hear it or not."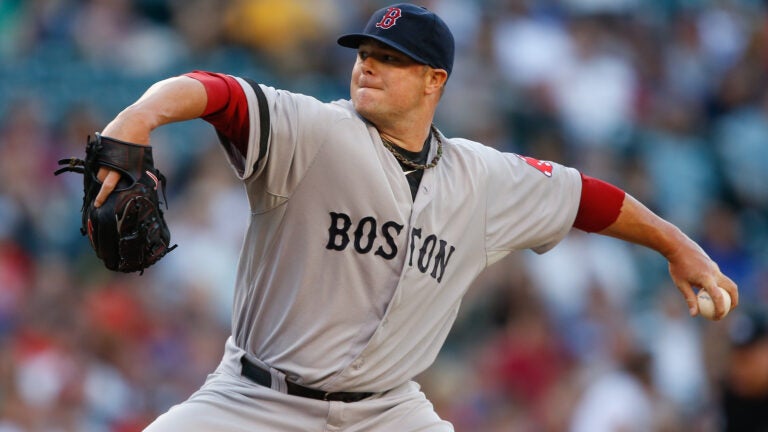 The Bruins defeated the Rangers on Wednesday night, 6-3 thanks to a "special" effort from David Pastrnak. The TD Garden crowd, with one eye on another dominant Bruins performance and the other on the start of baseball season, began a "Yankees suck" chant during the game.
And today is officially the start of the Red Sox 2019 season. The defending World Series champions open in Seattle with a 7:08 p.m. EST start against the Mariners.
Let's do this (again). #OpeningDay pic.twitter.com/V6AFE10MWi

— Boston Red Sox (@RedSox) March 28, 2019
Jon Lester reflected on the failed Red Sox negotiations: In February, as the Red Sox were in the middle of negotiating a contract extension with Chris Sale, principal owner John Henry made a blunt admission about the team's recent history. Comparing Sale's status with that of former Boston ace Jon Lester in 2014, Henry acknowledged the team had made a mistake.
"I think we blew the Jon Lester [negotiations]. We blew the signing in spring training," Henry told reporters. Lester was traded mid-season, and then signed with the Chicago Cubs in the following offseason as a free agent. Flashing forward to 2019, this was possibly one of the main justifications that team leadership used when they decided to sign Sale to a lucrative five-year extension earlier in March.
Recently, Lester commented on Henry's analysis.
"I don't know if it necessarily makes me feel good," Lester said to Bob Nightengale of USA Today Sports, "but it's nice when anybody admits they screwed up, whether you want to hear it or not. It's kind of a nice gesture."
Lester, who was drafted by Boston in 2002 and helped the team win two World Series, still cherishes his time with the Red Sox. Still, he's happy with how things turned out.
"I'm grateful for everything the Red Sox did for me," Lester told Nightengale. "I grew up there, went through a lot of things there, and they were unbelievable to me and my family. I would have liked that negotiation to go a little bit differently, but I love the outcome. I wouldn't have changed that."
Since leaving the Red Sox, Lester helped the Cubs win the World Series in 2016, the team's first in 108 years.
Trivia: Two Red Sox pitchers have not only started for Boston on Opening Day, but also recorded 40 or more saves in a season during their Major League careers. Name those two pitchers. (Answer at the bottom).
Hint: One earned all but one of his saves not with the Red Sox, and the other was on the losing end of the 2004 American League Championship Series.
More on Boston.com:
Xander and free agency: Red Sox shortstop Xander Bogaerts is set to become a free agent after the 2019 season, but that isn't his stated focus right now. In fact, as Bogaerts pointed out to the Boston Globe's Pete Abraham, he isn't even thinking about it.
"Out of respect to my teammates and the team, I should focus on the task at hand," Bogaerts told Abraham. "What we have going on here is special. I should keep my focus on the field and helping us to be successful again. I'm looking forward to that challenge. I want to have a louder voice in that, too."
Giannis cited Kevin Garnett in explaining why he isn't close with other NBA stars:
" … Was Kevin Garnett ever close with the guys he played against or Jordan?

Giannis tells @wojespn why he has no interest in being friendly with his competitors. pic.twitter.com/YPjyzuoYRW

— ESPN (@espn) March 28, 2019
Gritty caused some mayhem:
We interrupt your Wednesday night for some important Gritty content ? pic.twitter.com/EOgHpwJfCI

— NBC Sports Philadelphia (@NBCSPhilly) March 28, 2019
On this day: In 1950, something happened in college basketball that will likely never reoccur. City College of New York won the men's NCAA Tournament – a feat which in itself seems remarkable, given the college's Division III status in 2019. But after a thrilling 71-68 win over Bradley in the tournament, CCNY reigned as college basketball's only "grand slam" champion with wins in both the NCAA and NIT competitions.
It was a crowning achievement for a school that catered to the masses ("the Harvard of the proletariat," as the New York Times deemed it). Unfortunately, it was a short-lived golden age. In February 1951, three of the team's starting five were arrested in the middle of Penn Station on charges of conspiring to fix games. One of the greatest point shaving scandals in college sports history erupted to the surface, eventually implicating seven schools and 32 players who had allegedly fixed 86 games in 17 states.
The aftermath was devastating for the New York-New Jersey college basketball scene. CCNY was eventually forced to a lower division, while other schools like Long Island University were penalized for years.
Also on this day, in 1992, Duke's Christian Laettner made his famous (or infamous) shot at the buzzer to down Kentucky in the Elite Eight:
Daily highlight: After a slicing pass from David Krejci, David Pastrnak found Jake DeBrusk for a well worked goal.
Uh oh, @Toucherandrich…@ZoandBertrand might be coming for you. pic.twitter.com/p6Fa7wxsyU

— Boston Bruins (@NHLBruins) March 28, 2019
And with the start of the 2019 Red Sox season, here's one last look at how 2018 ended:
One last time before the new season:

The moment the Boston @RedSox won their 4th World Series since 2004, and 9th in franchise history.

Who's next? pic.twitter.com/RaHv1pNyab

— FOX Sports: MLB (@MLBONFOX) March 28, 2019
Trivia answer: Dennis Eckersley and Tom Gordon