Sports News
Examining Derek Jeter's fate as a Boston sports villain
Jeter was not a villain. Not in the end.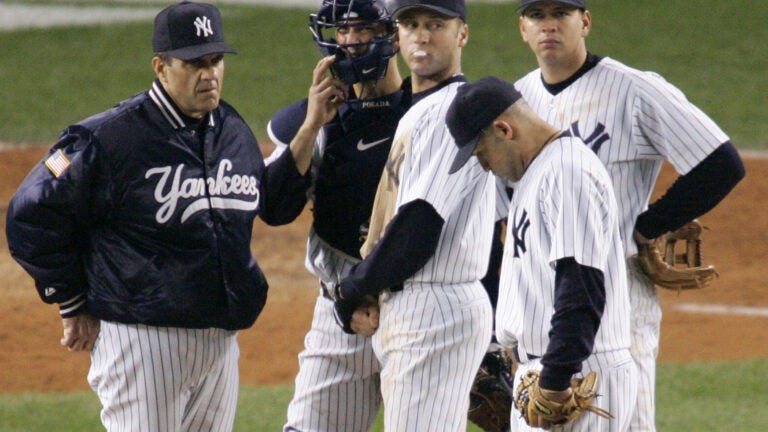 In the spirit of March Madness brackets, Boston.com launched its own: Voting to decide who is Boston's biggest sports villain. The Boston sports villain bracket continues with round-by-round voting, so head over and let your voice be heard.
COMMENTARY
I was initially annoyed when I looked at the Final Four of our Boston.com Boston sports villains bracket and realized Derek Jeter got bounced in the latest round.
That didn't seem right. Did all of you miscalculate? Had you somehow forgotten, in this generation of multiple Red Sox World Championships, that Jeter was the smug, smirking face of the Yankees for two decades, back when they always seemed to prevail in the end?
But then I realized: Eliminating Jeter was a sly move. He was many things: Annoying, rangeless, extremely fortunate, a beneficiary and exaggerated cause of extraordinary circumstances, clutch (I'll give him that), an expert at hitting hard singles to right, and did I mention smug and smirking? I did? Well, it's worth reiterating. Also: Nomah was bettah (in the late '90s, anyway).
Jeter was not a villain, though. Not in the end. How can the captain of a Yankees team that blew a 3-0 lead in the 2004 American League Championship Series, the captain of the Yankees team that folded in historic fashion, the Yankees team that finally and at last was conquered by the Red Sox, be a villain?
Nah, Jeter's no villain. He's just another exorcised ghost.
Besides, he lost to Alex Rodriguez in this thing. It's pretty cool to see A-Rod actually beat him in something.
What's amusing looking at those that did make the Final Four is that a sizeable number of voters are still bitter about another aggravating Yankees shortstop of yesteryear.
Bucky Dent – his middle name escapes me right now — is the lowest remaining seed in the bracket, coming from the No. 21 spot to face seemingly unbeatable No. 1 overall seed Roger Goodell in one semifinal. Goodell is probably unbeatable in this thing: In the first round, he beat former Wizard and brief nuisance Kelly Oubre, 2,645-40.
In the other semi, No. 2-seeded A-Rod, who thumped Jeter by more than 1,400 votes in the round of eight, takes on No. 6 seed Ulf Samuelsson, the scumbag defenseman who was my choice on our hypothetical tournament selection show to win the whole thing.
(The current Red Sox starting rotation might have made a run in this thing had we launched it now.)
In Dent's I-guess-it's-not-so-improbable run to the Final Four, he beat No. 44 Johnny Damon, No. 12 Matt Cooke, No. 5 LeBron James, and No. 29 Eli Manning, who eliminated his brother, No. 5 seed Peyton, in the round of 16. Cooper Manning did not make the tournament.
It's probably time to give up the Dent ghost, too. These 21st century Red Sox have avenged everything that came before. Did I mention Jeter won one World Series in his final 14 seasons? Best Yankee captain ever.
Voting for the Final Four ends Wednesday at 10 a.m. Voting for the championship round runs from Wednesday, April 3 to Monday, April 8 at noon.