Sports News
The National Women's Hockey League is expanding into Canada after its Canadian counterpart folded
The NHL reportedly became one of the NWHL's top financial backers Tuesday.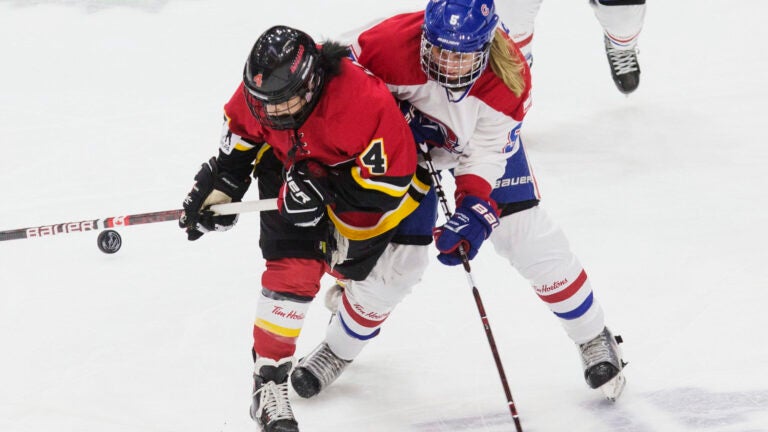 Since Sunday, when the Canadian Women's Hockey League announced it will cease operations, many have pondered how to elevate women's professional hockey.
The Board of Directors of the Canadian Women's Hockey League (CWHL) has made the decision to discontinue operations effective May 1, 2019. Please refer to press release at the https://t.co/iy7b1CjE0v for more information. pic.twitter.com/SxzctlWusB

— CWHL (@TheCWHL) March 31, 2019
Some answers came Tuesday, as the NHL became one of the largest financial backers of the National Women's Hockey League — the only remaining pro option for women in the United States and Canada — according to both leagues. And the NWHL announced it would expand into Canada.
The NWHL is moving quickly to ensure those teams have a place to play this fall. This does NOT preclude us from looking into expansion in other markets in Canada and the U.S.

— NWHL (@NWHL) April 2, 2019
Neither Dani Rylan, commissioner and founder of the NWHL, nor a spokesperson for the NHL would disclose the length and terms of the deal. The NHL noted that it previously sponsored both women's leagues, and has now increased its contribution to the NWHL.
Can confirm the numbers reported earlier that the NHL is contributing $100,000 to the NWHL. They previously donated $50,000 to both leagues.

— Marisa Ingemi (@Marisa_Ingemi) April 2, 2019
A sturdy future partnership between the NHL and NWHL could dramatically increase exposure for women's hockey. But former CWHL players and members of the Canadian and U.S. national teams are waiting to see if the NWHL remains the best option this fall or if another opportunity materializes.
To boost its appeal, the NWHL, which launched in 2015, also announced Tuesday its intention to add teams next season in Montreal and Toronto. Those two cities formerly hosted CWHL franchises. The measure, which was approved by the NWHL board, would increase the NWHL's reach to seven clubs across North America.
Rylan said that it is "incredibly important" for the NWHL to include stars from the CWHL teams in Montreal and Toronto — like Olympians Marie-Philip Poulin and Hilary Knight.
"We want to put the best product on the ice," said Rylan, who met with NHL Commissioner Gary Bettman on Monday. "We knew it was so important to have a presence there so those top players have a place to play this fall."
Knight, a star forward last season on Les Canadiennes de Montréal of the CWHL (and who left the NWHL after the 2016-17 season), declined to comment on Tuesday's news, as she prepared to defend a world championship with the U.S. women's national team in Finland this week.
Rylan acknowledged that logistics like travel to Canada must still be figured out. The NWHL also is looking at increasing its schedule to 24 games, up from 17 this past season.
Until those issues and others are sorted out, Liz Knox, co-chair of the CWHL Players' Association, said her constituents are willing to stay in a holding pattern, even if that means not playing come October.
"It seems like a strategic move for the NWHL," Knox said. "It seems a little knee jerk to me because our league just folded two days ago. We're dealing with a very heavy loss. if you lose a family pet you've had for 12 years, you don't go out and buy a new pet two days later."
Knox has been in contact with Anya Battaglino, director of the NWHL Players' Association, to discuss the best steps for women's hockey. Soon after the U.S. women's team landed in Finland on Monday, it held a meeting with players from the Canadian national team. Since the two countries met in the 2018 Olympic final, both sides noted the need to work together to advance their sport.
"There will have to be changes in the NWHL model to make our players happy," Knox said, referring to athletes from both leagues. In Nov. 2016, the NWHL drastically slashed salaries."
As of now, the NHL's involvement won't resemble the NBA's backing of the WNBA: It does not include ice time, or major assistance in marketing, promotion or other business-related aid that would help the NWHL.
The NWHL 's major sponsor over its first four years of existence was Dunkin' Donuts. That deal recently ended, but Rylan said the two sides are in the process of renewal and that she expects their partnership to continue.
The NHL's cachet, of course, could open much bigger doors than the coffee and doughnut chain, including a larger network of international business partners, as well as possible new avenues for broadcasting and streaming options. More revenue from those outlets could also lead to an increase in NWHL salaries, which last season ranged from $3,000 to $10,000.
Battaglino, who said she was extremely proud of the NWHL's growth, prioritized better pay as an issue the league should address as it now prepares to extend its reach farther than any women's pro hockey league before, with a co-sign from the largest hockey influencer in the world.
"Women's hockey players deserve a livable wage," Battaglino said. "Women's hockey players deserve the respect to be able to say, I am a professional athlete, proudly. Currently our athletes say, 'I am a blank and on the nights and weekends I get to play professional hockey.'"