Sports News
'We went through this portal from boys to men': Boston skaters on life after the Miracle on Ice
"No member of our team would ever be the same because of the Olympics."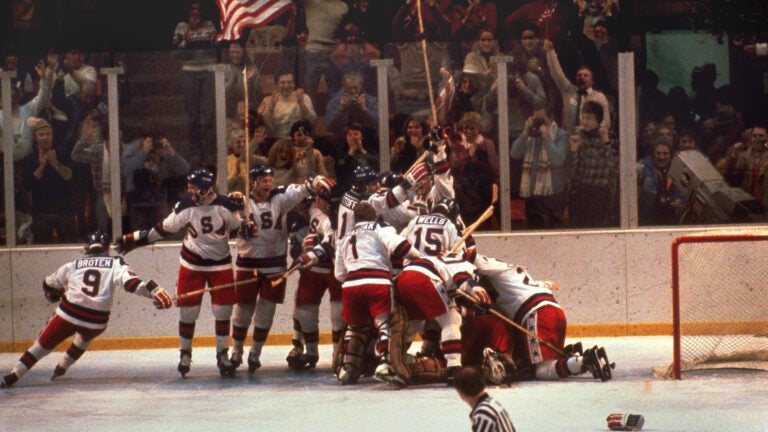 Saturday will mark 40 years since a group of college kids from the United States defeated the Soviet Union's hockey dynasty, 4-3, in the "Miracle On Ice", forever inserting themselves into history on their way to a gold medal at the 1980 Winter Olympics in Lake Placid.
Captain Mike Eruzione scored the winning goal. Jim Craig played every minute possible between the pipes. Dave Silk and Jack O'Callahan helped, too, to make the miracle happen. Four boys from Boston, affectionately dubbed "Boston's Boys of Winter" by The Athletic's Steve Buckley, had their lives forever changed on Feb. 22, 1980.
Here's what they told The Athletic about the past four decades.
Mike Eruzione
Eruzione grew up in Winthrop, and that's where he brought his gold medal when he returned from Lake Placid at the age of 25. As one of just five players on the team not drafted to the NHL, he retired from competition after the Olympics, going on to broadcasting and coaching at his alma mater, Boston University. He married his high school sweetheart and raised three children.
"I bought a house two doors from the house that I grew up in," Eruzione said. "My mother-in-law lives around the corner, my cousin Tony lives next door. My brother lives down the street.
"The only difference is that I live in a bigger house than if we didn't win the gold medal."
Eruzione balances his job as the director of special outreach at BU with personal appearances. His memoir, "The Making of a Miracle: The Untold Story of the Captain of the 1980 Gold Medal-Winning U.S. Olympic Hockey Team" was published in January.
Jack O'Callahan
The only member of the team from Boston proper, O'Callahan grew up in Charlestown and graduated from Boston Latin School before a four-year career at Boston University. He injured his knee in exhibition play at Lake Placid, and returned for the instant classic medal-round game.
A Blackhawks draft pick, he played in the AHL before making his NHL debut in 1982, eventually retiring in 1989.
None of this went according to plan. O'Callahan, who was 22 at the Olympics, never wanted to leave Boston, and wanted to enroll in business school to start a career in real estate. After a chance meeting, Walter Payton helped O'Callahan get started in the field in Chicago.
"That was a Saturday night, and he took my number," O'Callahan said. "And he called me the next day and said, 'You have a meeting with this guy, he's a board member of the Chicago Mercantile Exchange.' And he said, 'Call me back and let me know how it went.' I mean, Walter Payton's asking me to call him back. That's like Tom Brady asking you to call him if you're a kid in Boston."
He worked for the Chicago Mercantile Exchange before starting his own company, Beanpot Financial Services, with 1980 teammate Jack Hughes. He now works for Ziegler Capital Management and has relocated to Jacksonville, Fla.
"I had a plan," O'Callahan said. "I knew what I wanted to do, and in a way, the Olympics got in the way of that. And then life kind of got in the way of that, and that's how you end up doing things you didn't plan on doing."
Dave Silk
After Lake Placid, Silk, from Scituate, spent seven years in the NHL, including parts of two seasons with his hometown Bruins. With his 1980 teammates, he took part in the 2002 Olympic torch-lighting ceremony, where he interacted with world leaders, astronaut John Glenn, and singer LeAnn Rimes – all because he had played hockey. He now works in management with Aberdeen Standard Investments.
"You do have to move on," said the BU alum, who was 22 at the Olympics. "I remember thinking, 'Well, I'm really grateful that I was part of this and fortunate to have been there.' But I also had the next 50 or 60 years of my life to fill. And at some point, I was going to have to buckle down and figure out what I was going to do, and being on that team was a nice calling card.
"When you're introduced to people, and Eruzione says this a lot, it's one of the few times in history where people remember where they were when something good happened. So it's a blessing. It's a blessing for sure."
Jim Craig
The Easton native made his NHL debut with the Atlanta Flames at age 22, stopping 24 of 25 shots faced against Colorado – just six days after the Olympics. It was the only ending that made sense for what had been a whirlwind year – capping a full season for BU with 48 games as a member of the Olympic team.
"Within a week I was on the cover of Sports Illustrated," Craig said. "And then I join the Flames, not knowing anybody on the team. I didn't even know what end to skate out to."
Now, Craig works out of Florida for his company Gold Medal Strategies, offering sales training and leadership development.
"No member of our team would ever be the same because of the Olympics," Craig said.
You can read the full article from The Athletic here.