Sports News
Former Globe sportswriter Chris Snow opened up about his battle with ALS
"Someone has to be the first person to live with ALS rather than die from it."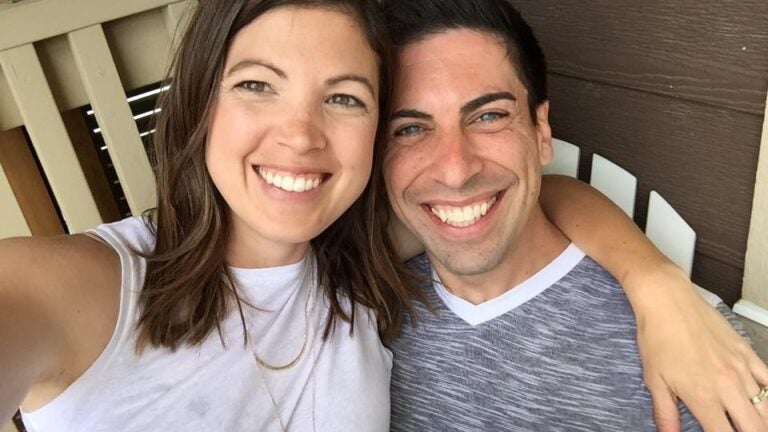 Calgary Flames assistant general manager Chris Snow, who worked for the Minnesota Wild and previously covered the Red Sox for The Boston Globe, was diagnosed with ALS last summer.
Through his wife, Kelsie, he is fighting the battle openly and publicly – and still hitting the ice. The Snows first announced Chris's illness through an open letter published on NHL.com, and recently detailed his progress in Sports Illustrated.
In town Tuesday as the Flames beat the Bruins, Snow joined NESN during intermission to talk about his battle so far.
Flames' Assistant GM and Massachusetts native Chris Snow joined us during intermission to discuss his battle with ALS…

…Can also confirm he immediately left the studio afterwards to find the fans with the sign. @DaleEArnold | @AndrewRaycroft | @BJaffe | @NHLFlames pic.twitter.com/759jbhvUWo

— NESN (@NESN) February 26, 2020
The Melrose, Mass. native was also honored with a sign made by Bruins Foundation volunteers.
Chris has lost both of his parents, so when he goes back to Boston (where he grew up) his prevailing emotion is often sadness. Thank you for making him feel loved and at home tonight.

Also I knew he'd go find them and say thank you. That's Chris. ♥️ #SnowyStrong #EndALS pic.twitter.com/EwNt60hiSb

— Kelsie Snow (@kelsieswrites) February 26, 2020
"This is the kind of response that overwhelms us, and it makes us realize that this is way bigger than me," Chris Snow said. "That's why we went public with this – to raise awareness, create community, give hope to people who maybe didn't have hope, and just start to change the face of this disease."
Snow's ALS is familial, stemming from a mutated gene that is passed down and has killed two uncles, a 28-year-old cousin, and most recently, his father. The average life expectancy for ALS is three to five years, but the aggressive form affecting Snow has a prognosis of six to 18 months.
Snow immediately enrolled in a Phase 3 clinical trial, and has since flown to Toronto once a month.
"I'm eight months in. They gave me 12 months to live," Chris Snow said on NESN. "I am the same. My right hand doesn't work, but that didn't work before I started treatment."
While the Snows don't know if Chris receives the actual drug or a placebo, Kelsie Snow said his disease has not progressed since the initial diagnosis. In a post on her blog, she said he has regained movement in his wrist.
"Eight months from diagnosis, Chris should have lost so much," Kelsie Snow wrote. "Things like his ability to walk, feed himself, fill his lungs with air, project with his voice, swallow without risk of choking.
"But this last week, instead of coming home to tell me about a loss of function, he walked in the door after a normal workday (another thing he should not have at this point) and told me he regained a small bit of movement in his wrist."
We focus each day on staying the same. But today we celebrate IMPROVEMENT. @ChrisSnowCGY can lift his right hand at his wrist, something he couldn't do a week ago. It's small & we don't know what this means long term but today we are beyond thrilled. #WalkingMiracle #SnowyStrong pic.twitter.com/ypGVN14SVu

— Kelsie Snow (@kelsieswrites) February 4, 2020
"It's powerful to give other people hope," Chris Snow told The Athletic. "That's probably a good reason to do it. It reassures people around us, including my children, that I'm doing well.
"Either you lean into this all the way or you don't. And we're in it. We're leaning in. So if you're leaning in, why not lean in hard?"
The Flames organized the Snowy Strong for ALS campaign, raising more than $130,000 in donations to the Calgary Flames Foundation and University of Miami's Miller School of medicine to fund ALS research and treatments.
"We're trying to reach people and say that there's hope for this disease," Chris Snow said on NESN. "I want to honor my dad and my uncles and my cousin and give people like myself and their families a chance they wouldn't otherwise have."
"Someone has to be the first person to live with ALS rather than die from it," Kelsie Snow wrote. "And one thing I've always known about Chris is that he finds a way. No matter the obstacle, no matter how unprecedented the situation may be – he always, always finds a way."