Sports News
Morning sports update: Aly Raisman says USA Gymnastics' handling of Larry Nassar scandal is 'devastating'
"It shows they don't care."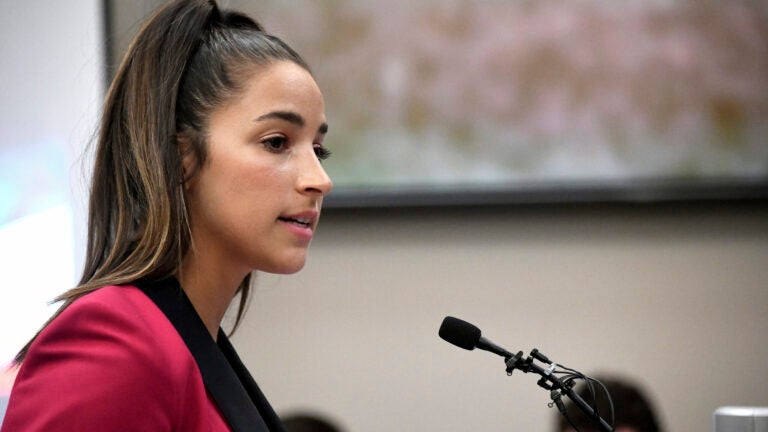 The Celtics lost in overtime, 111-110, to Houston on Saturday, while the Bruins beat the Islanders 4-0 on the same day. Both teams are back in action tomorrow at 7:30 p.m. – the Celtics host the Nets, and the Bruins are in Tampa.
The New England Revolution opened their season Saturday in Montreal, where they fell 2-1. They host Chicago on Saturday.
The Red Sox went 1-2 over the weekend, falling to the Twins on Friday and Yankees on Saturday before defeating the Braves on Sunday. They take on the Tigers today at 1:05 p.m.
Aly Raisman speaks out about USA Gymnastics' handling of the sexual abuse scandal
The $215 million settlement proposed by USA Gymnastics that would compensate victims of former doctor Larry Nassar's sexual abuse is "offensive" to three-time gold medalist and Needham native Aly Raisman and the rest of the athletes involved.
Raisman's criticism came in an appearance on the "Today Show" on Monday.
"It's honestly, it's offensive. … They're just trying to push it under the rug and hoping people will forget about it when they watch the Olympics this summer," @aly_raisman says to @stephgosk about gymnastics' officials handling of sexual abuse scandal pic.twitter.com/nP61Ak9k38

— TODAY (@TODAYshow) March 2, 2020
"It's devastating," Raisman said. "It's incredibly draining. USA Gymnastics, United States Olympic Committee, they refused to take any accountability to address the issue, to figure out what went wrong.
"It shows they don't care. They're just trying to push it under the rug and hoping people will forget about it when they watch the Olympics this summer."
Raisman's appearance came days after she publicly voiced her displeasure on Twitter, along with her former Olympic teammate Simone Biles. The pair continued to push for an independent investigation, instead of this "massive cover up."
The problem is USAG & USOC don't want anyone to know. This is a massive cover up. The only way for anyone to know what really happened is if someone forces them to release ALL documents & data to investigate. HOW CAN WE MAKE THIS HAPPEN? https://t.co/y1kP5BX5iB

— Alexandra Raisman (@Aly_Raisman) February 29, 2020
According to the Washington Post, the settlement proposes a "four-tiered compensation system based on victims' level of gymnastics achievement and the setting where the abuse occurred" with financial awards ranging from $82,550 to $1.25 million.
John C. Manly, who represents around 200 of more than 500 claimants, said in January that USAG's offer "showed complete disregard for the athletes" by also failing to release documents that would detail the abuse, according to the Post.
"We did the best that we could, and we won gold medals for Team USA," Raisman said. "We're asking them now to work really hard and to do the right thing by us. And we don't feel that same effort from them."
Trivia: On Saturday, the Bemidji State women's hockey team upset No. 9 Minnesota Duluth in the fourth-longest NCAA women's hockey game, earning the 2-1 win in the fourth overtime period in game that lasted 128 minutes, 43 seconds.
What local Division III teams played the longest game in NCAA women's hockey history?
(Answer at the bottom).
Hint: You don't have to think too far back for this one — the record was set Feb. 22.
More from Boston.com
Tacko Fall is learning to swim.
Swimming lesson No. 3 for Tacko Fall. "It's a good workout," he says. pic.twitter.com/pYUxHnONm8

— Nicole Yang (@nicolecyang) March 1, 2020
Nate Eovaldi is having a spring – he fanned four on 40 pitches in three innings against Tampa Bay.
Red Sox pitcher Nathan Eovaldi has been flawless to start Spring Training. The hard throwing right hander reacts to his strong start. #RedSox | https://t.co/CRukEiNRjn pic.twitter.com/Qz200XQAuO

— NESN (@NESN) March 2, 2020
Julian Edelman is on the campaign trail – to keep Tom Brady.
A QUARTERBACK YOU CAN TRUST 🐐 Julian Edelman is selling these shirts as speculation grows about Brady's next steps. While Edelman thinks he will stay, former Patriots player Matt Light spoke with us and he thinks the opposite. What do you think? https://t.co/WuwhivD4UF #boston25 pic.twitter.com/jktaEp7CdT

— Boston 25 News (@boston25) March 2, 2020
On this day: In 1969, Bruins center Phil Esposito became the first NHL player to record 100 points in a single season, tallying two third-period goals in Boston's 4-0 shutout of the Pittsburgh Penguins.
"I never ever set out to set records," Esposito said post-game. "I can't believe it."
Two other players scored 100 points in the 1968-69 season: Chicago's Bobby Hull (107) and Detroit's Gordie Howe (103).
"I never ever set out to set records. I can't believe it." – Phil Esposito, the NHL's first 100-point man. #NHL100 https://t.co/JkENuVFULf pic.twitter.com/6BvCo3eb8d

— NHL (@NHL) March 2, 2017
Daily highlight: Carlos Vela set an MLS record with 34 goals last season, and he picked up where he left off in LAFC's 1-0 win over Inter Miami Sunday, his 31st birthday.
Vela's 44th-minute chip was all coach Bob Bradley wanted to talk about postgame.
VELA VELA VELAAAAAA 🔥🔥🔥 pic.twitter.com/Ovoqs5PaP9

— Major League Soccer (@MLS) March 1, 2020
"When you come to see football and the game is determined on a play like that, which was a combination of determination, the people around them, strength, and holding guys off, and still with an idea of how he could get away, the position of the goalkeeper, and to finish it off with that delicate chip-in, that was just incredible," Bradley said.
Trivia answer: Saint Anselm and Franklin Pierce (144:32)
HERE IT IS! @SaintAnselm junior Madison Sprague's net-front tip ended the LONGEST women's ice hockey game in @NCAAIceHockey history! @STAWomensHockey moves on to the @NEWHAonline Championship game! #HawksSoarHigher @Buccigross @ESPNAssignDesk #SCTop10 pic.twitter.com/HVK5AeAgkv

— Saint Anselm Hawks (@STAHawks) February 23, 2020