Sports News
BU's Sammy Davis was picked 1st overall in the NWHL Draft by the Boston Pride
Davis, a Pembroke native, is one of six Hockey East stars to be selected on the first night of the draft.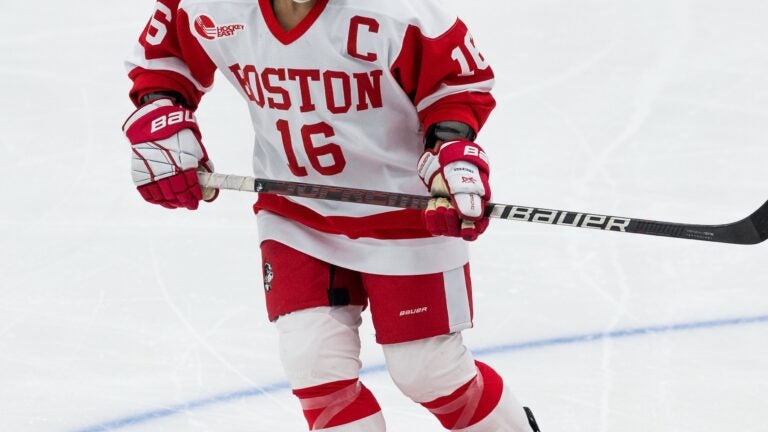 Boston University captain Sammy Davis planned to stick around after she finishes her master's degree in special education – to join Massachusetts General Hospital's doctorate program for occupational therapy.
Now, she'll be playing professional hockey, too.
Davis, a Pembroke native, was the first overall pick in the 2020 NWHL Draft on Tuesday night, after the Boston Pride traded up from the sixth pick to select her.
With the first overall pick, the Boston Pride select Sammy Davis from Boston University.#NWHLDraft | #ThePack 🦁 pic.twitter.com/d6RzZOnaDG

— Boston Pride (@TheBostonPride) April 28, 2020
"I'm so grateful I get to play in my favorite city for another year, and have the support of my family and friends," Davis said. "I have to thank all my coaches that have helped me along the way. I can't wait to get started."
After losing her junior year (2017-18) to recover from double-hip surgery to repair labrum tears, Davis returned to add a career-best 25 goals and 27 assists in 2018-19, earning Beanpot MVP honors and a Hockey East second team nod. She led the Terriers (24-8-4) with 17 goals and 24 assists last season, good for a conference first-team selection.
The 23-year-old, a four-time Hockey East All-Academic team honoree, won the 2020 Sarah Devens Award, a $10,000 postgraduate scholarship presented to an ECAC Hockey or Hockey East player who "demonstrates leadership and commitment both on and off the ice."
Boston, you're Sammy's home.

Congrats to Sammy Davis on being selected by @TheBostonPride with the first overall pick in the @NWHL draft! pic.twitter.com/UcE7vhbh5L

— BU Women's Hockey (@TerrierWHockey) April 28, 2020
"Sammy could not be more deserving of the first overall draft pick," said Pride general manager Karilyn Pilch, who also played at BU. "Her work ethic, coupled with her talent, has positioned her as one of the top players in this year's NCAA graduating class.
"As talented as she is on the ice, her selflessness and leadership in both our local and global communities makes her a perfect fit for our culture."
Davis, the sixth BU player to be drafted to the NWHL, will join fellow Terriers Kaleigh Fratkin (2014), Jordan Juron (2016), Victoria Hanson (2017), and Mary Parker (2017) on the Pride, who reached the Isobel Cup final before it was canceled due to the coronavirus pandemic.
"Being selected first overall is a great reminder of how hard Sammy has worked, and the talent that she brings to the game," said BU head coach Brian Durocher. "I know that the Pride will be getting a person of character and ability who will embrace the challenge of professional hockey."
Several other Hockey East stars were selected on the opening night of the draft: Maine goalie Carly Jackson (3rd overall, Buffalo Beauts), New Hampshire defender Victoria Howan (7th, Connecticut Whale), Northeastern defender Codie Cross (9th overall, Buffalo), Boston College forward Delaney Belinskas (10th, Metropolitan Riveters), and Maine forward Tereza Vanisova (12th, Boston).
Night #1 of the 2020 #NWHLDraft is in the books 📚

Full recap 👉 https://t.co/IkNu22iXzc pic.twitter.com/Q5FtHnzFQZ

— NWHL (@NWHL) April 29, 2020
The NWHL Draft continues with rounds three to five Wednesday, beginning at 7 p.m. Boston will select last in the third and fourth rounds, and first in the fifth, as a result of the trade with expansion franchise Toronto.