Sports News
Aly Raisman spoke about how PTSD has motivated her to help raise mental health awareness
"I just want to talk about mental health because I don't want people to feel alone. And healing isn't one-size-fits-all."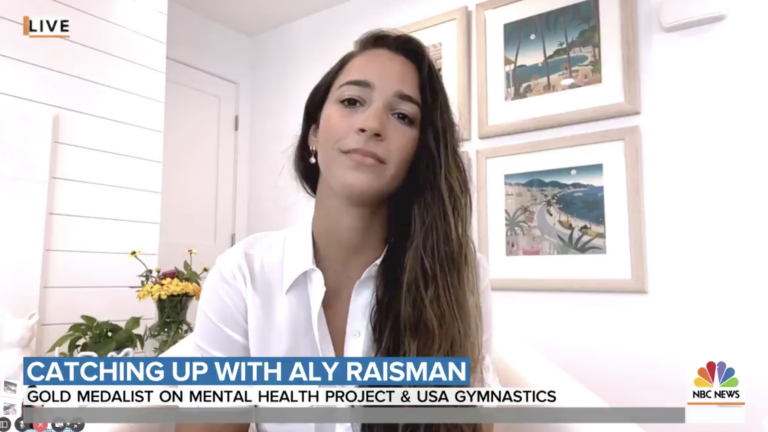 Aly Raisman, one of the most decorated U.S. gymnasts in history, was back on the national stage Tuesday for an interview on the Today show in which she discussed her ongoing mental health struggles, and how she's trying to use her own story to help others.
The Needham native spoke with Today co-anchor Hoda Kotb about the sexual abuse that she and more than 250 other gymnasts sustained at the hands of former USA Gymnastics team doctor Larry Nassar.
"It's hard to put into words how much it's impacted me, the trauma and the PTSD of it, where it's really translated into different parts of my life," said Raisman.
Watch @hodakotb's full interview with @Aly_Raisman about the delayed Tokyo Olympics and her new project emphasizing exercises for mental health. pic.twitter.com/GqpzAWR4MH

— TODAY (@TODAYshow) September 8, 2020
Now 26, Raisman was abused by Nassar starting at age 15. In 2017, she came forward to talk about the abuse by Nassar, furthering allegations that publicly began against him in 2016. Nassar was sentenced to a minimum of 275 years in prison in three separate court rulings between 2017-2018.
"One of the things that I've struggled with the most in coming to terms with the sexual abuse is struggling to really trust my gut, and believing myself when I feel like something is wrong," Raisman told Kotb. "I feel like I almost need to ask somebody else, like, 'Hey, I feel like this is a little weird, is this right?' So I'm really working on that in therapy to trust myself.
"But I feel like the abuse kind of took away that trust in myself which I'm really struggling to get back," Raisman continued. "I'm working on it, and I've learned that the best thing to do is just to really ask for help and to communicate with people because then people can help me."
As part of her new partnership with digital mental healthcare provider Sanvello, Raisman is trying to raise awareness of confronting mental health problems.
"I know so many other people are struggling right now," Raisman explained. "There are so many people who are so triggered right now for so many reasons, so I just want to talk about mental health because I don't want people to feel alone. And healing isn't one-size-fits-all."
Raisman was a two-time Olympian, winning six medals (including three gold medals). Yet after finishing with the 2016 Rio Games, she admitted that she's also found mental struggles regarding fitness in her post-Olympic life.
"It's been really interesting for me because I've really struggled with finding the joy of working out," Raisman admitted. "I've done it obviously my whole life from a very, very young age, and it was so intense, the training, that I really struggled a lot with PTSD in the last couple of years. And I think it's kind of like I associate that with working out. So I think it's been kind of a struggle for me. So [I've been] prioritizing my mental health and practicing self-compassion."
"But it's really hard for me to go from training some days seven hours a day and being in the best shape of my life to not being able to go for a 10-minute run," admitted Raisman. "I was so exhausted and I couldn't do it. So it's been a big adjustment for me."
Get Boston.com's browser alerts:
Enable breaking news notifications straight to your internet browser.