Sports News
'Kids are really suffering right now.' Mass. football players, coaches cope with absence of games
"If we can play in any capacity, we'll all be pretty happy."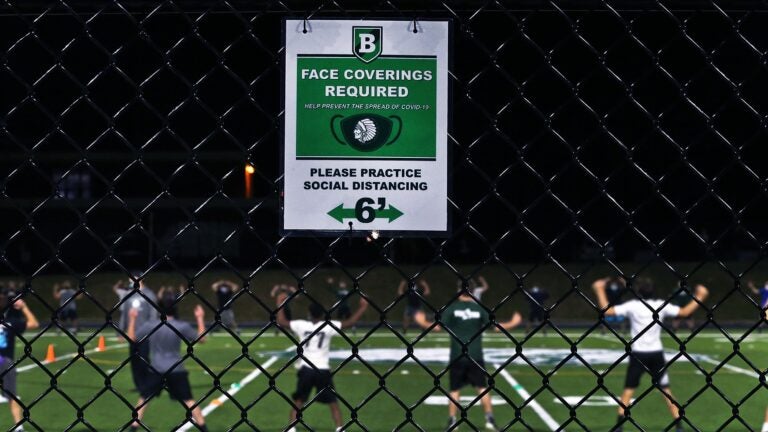 In a typical year, when Thanksgiving football is omnipresent around the state, St. John's Prep head coach Brian St. Pierre revolves his whole holiday around the school's matchup with rival Xaverian.
Football in the morning sets the mood, then family and food in the afternoon complete the trifecta.
This year, which is anything but typical – and high school athletics are certainly no exception – St. Pierre expects there to be a void when he wakes up to celebrate.
"We might be a little empty this year," said St. Pierre, who played for Boston College and in the NFL. "I have no idea what it's going to be like. It's not going to be good, I know that. But you've to make the best out of it."
That sentiment seems to be the theme for high school football coaches and players around Massachusetts – not just on Thanksgiving, but also throughout the entire fall. While the situation has been bleaker than they ever could have imagined, they haven't had a choice but to adapt.
Many programs, including perennial contenders St. John's Prep, Mansfield, Scituate, and Duxbury, have held practices and workout sessions to try and sharpen their skills while also preparing for a potential Fall II season that would start in late February and end in late April.
It's no secret that the work they're doing lacks the luster associated with playing in front of a raucous crowd on Friday nights, but the consensus among those involved is that it's been a joy to train with one another despite the unusual circumstances.
"Sports allow much more interaction than what they're getting in school," said Mike Redding, Mansfield's head coach and athletic director. "Kids are communicating. They're wearing masks, but at least they're playing together as a group. It's a sense of normalcy when the teams are back together, and it definitely boosts morale."
Redding provided some perspective, noting that the Hornets have been lucky in that they were able to start training together back in July. They put roughly 15 kids in the weight room at a time to work out in shifts, and players prioritized running and conditioning on their own.
Once the Hockomock League approved out-of-season coaching, which started in early November and wrapped up Friday, Mansfield was able to complete several sessions as a group. Those included skill workouts without pads, teaching basic routes, plays, and coverages, and organically building team chemistry.
Scituate has followed a similar trajectory on a slightly different timeline, running practice twice a week for a limited time while also trying to maximize a small yet crucial window to get better. Athletic Director Pete Umbrianna said the loss of football was challenging from a mental health standpoint when the news first surfaced back in August. He's noticed, however, that there's been a noticeable jump in overall happiness ever since practices have entered the picture.
"I do think it's helped significantly as far as mental health is concerned," Umbrianna said. "But the kids miss it. That's for sure."
Umbrianna said one unique perk of the situation has been that Scituate football players have tried sports such as golf and cross-country, and some soccer players are planning on giving football a shot if it happens this spring. For those who elected to stick with football, though, it's been agonizing not getting on the field.
Waiting has been particularly difficult for Duxbury senior captain Tim O'Neil, who tore his ACL and both his lateral and medial meniscus in the first series of the season last fall. O'Neil, a college-caliber player who hasn't played in a full game in just about two calendar years, is eager to compete against other teams.
"Having missed all of last year and now not being able to play this fall is definitely tough," O'Neil said. "I really miss being out there on the field with all the guys playing on a Friday night."
The Dragons were able to hold a combine at Duxbury High School where players got to prove themselves in the 40-yard dash, pro agility drill, long jump, positional drills, flexibility tests, and 1-on-1 battles.
Everything is now on film, which helps them as they look for college opportunities that were inherently more difficult to pursue this fall. Head coach Dave Maimaron said the combine was a wonderful perk for him too, as it seemed normal in many ways and provided a welcome distraction.
"That was the first night where it really felt like you were coaching and doing stuff to help these kids," Maimaron said. "It was an awesome feeling. All the coaches showed up to help out, and it was just great to be out on the field, practicing under the lights. Then when you left, it was a little sad. I just hope these kids get a shot in February. Everyone's keeping their fingers crossed."
As of now, the overall vibe is that the Fall II season has at least a legitimate chance of happening. Nothing is official, and many hurdles have to be cleared before February, but it currently seems more likely than not that a season will happen in some capacity.
Redding said it's "gone really well" for the 36 states that have played football, and everything he's seen has shown that the transmission between competing athletes is minimal – particularly outdoors. It's been reassuring, Redding said, to hear that football in other states hasn't led to clusters or the overwhelming spread of the virus.
If and when it's announced that the season is officially happening, St. Pierre knows that will be a glorious day both at SJP and around the state.
"There's no doubt we've got to get our hands on this thing, because kids are really suffering right now," said St. Pierre, whose team would love to cement a Super Bowl three-peat if given the chance. "It's really tough to watch."
What the sport will look like, and whether a Thanksgiving or Gillette Stadium Super Bowl-like experience will emerge, remains to be seen. For now, their focus is on getting ready so that if a season does come, they'll be fully prepared.
St. John's Prep, Mansfield, Scituate, and Duxbury are accustomed to competing for Super Bowls most seasons, but currently, they'd be thrilled to have any sort of season.
"If we can play in any capacity, we'll all be pretty happy," St. John's Prep senior captain Collin Taylor said. "We're definitely optimistic about it. Everyone is really hungry and excited to get their chance."
Get Boston.com's browser alerts:
Enable breaking news notifications straight to your internet browser.