Sports News
Sarah Fuller, kicker, is first woman to play in Power Five football game
Fuller wore No. 32 — the same number she wears on her soccer jersey — and a helmet with the phrase "Play Like a Girl."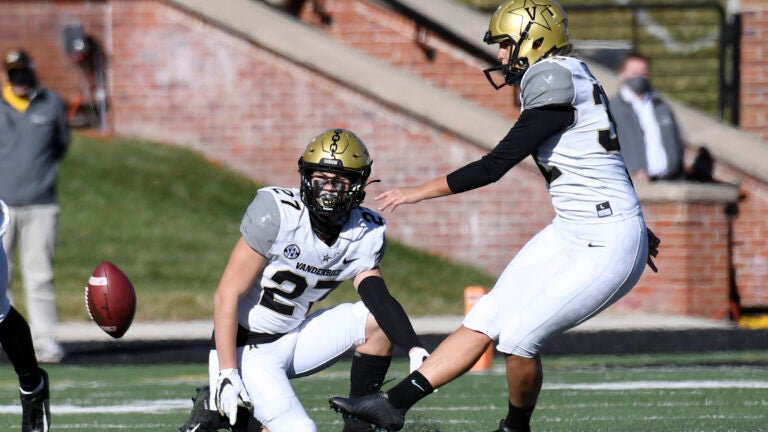 Sarah Fuller became the first woman to play during a regular-season game in one of college football's Power Five conferences by booting a kickoff Saturday for Vanderbilt to start the second half against Missouri.
Fuller, a senior and the starting goalkeeper for Vanderbilt's women's soccer team, was tapped to play football after every member of the Commodores' kicking squad was forced to stop practicing when at least one of them came into contact with someone who tested positive for the coronavirus.
Fuller wore No. 32 — the same number she wears on her soccer jersey — and a helmet with the phrase "Play Like a Girl."
"It's just so exciting that I can represent the little girls out there who wanted to do this or thought about playing football or any sport, really," she said after the game.
Fuller helped Vanderbilt clinch its first Southeastern Conference women's soccer title since 1994 with a 3-1 victory over Arkansas last Sunday. She was planning to head home to Wylie, Texas, for the Thanksgiving holiday when her soccer coach called her with the opportunity to kick this weekend, she told reporters after the game. "I'll be there within the hour," she recalled saying to Ken Masuhr, the team's associate head coach.
Fuller gave the team a pep talk during halftime, when Missouri led 21-0, and said she wanted to see more energy on the sidelines. But she added that she had to keep herself calm to avoid getting too pumped up.
"Football is a lot slower; there's a lot of lull time," she said of the difference between the two sports. "In soccer, it's just one after the other; you're constantly engaged."
"I was just really calm," she added about making the kick. "The SEC championship was more stressful."
With her parents watching from the stands while wearing handmade "Play Like a Girl" masks provided by one of Fuller's friends, Fuller opened the second half with a low kick that bounced to the 35, where Missouri pounced on it for no return. The play was by design, Vanderbilt football coach Derek Mason said.
Mason said he was impressed with Fuller's willingness to try something new, especially when so many of the team's players had either gone home for the holidays or been forced to quarantine. "She could have easily said no, but instead she prepared all week and did what she was supposed to do," he said. "She was as prepared as anyone for this game."
Fuller is not the first woman to play college football in the top tier of Division I, the Football Bowl Subdivision: Katie Hnida was the first woman to score in an FBS game as a placekicker for New Mexico in August 2003, and April Goss scored while playing for Kent State in 2015. Ashley Martin is credited as the first woman to score in any NCAA Division I football game for Jacksonville State University, which is in the Football Championship Subdivision. And Becca Longo became the first woman to receive an NCAA football scholarship to a Division II school when she signed to Adams State as a kicker in 2017 (she never kicked for the school because of injury, transferring to the Gila River Hawks of the Hohokam Junior College Athletic Conference in 2019).
Vanderbilt was blown out by Missouri, 41-0, and Fuller did not have an opportunity to attempt a field goal. Vanderbilt is 0-8 this season.
Fuller's hasty addition to the team was one example of many of the virus's impact on college football this season. The Commodores were originally supposed to play the University of Tennessee, but that game was postponed to accommodate for several postponements elsewhere in the SEC as teams struggle to contain the virus. Other conferences, like the Big Ten and Mountain West, have simply canceled games amid outbreaks, while the Ivy League halted fall and winter sports this year altogether.
"Contact tracing continues to be the biggest contributing factor to game interruptions," SEC Commissioner Greg Sankey said in a news release about the schedule Monday. "We will continue to manage the remaining weeks of the football schedule to allow for as many games to be played as possible."
The virus has surged across the country in the past few weeks. In Tennessee, where Vanderbilt is located, hospital leaders published an open letter to residents Wednesday urging them to limit gatherings and wear masks. The letter, signed by Dr. Wright Pinson, chief health system officer at Vanderbilt University Medical Center in Nashville, said that over the past month, hospitals in Middle Tennessee have had a 72% increase in COVID-19 patients and that they expected only more increases in weeks to come.
"If this trend continues, our hospital systems could soon be overwhelmed, and that would compromise the ability to serve all patients, not just those with COVID-19," the doctors said in the letter.
Football players and female athletes alike offered Fuller words of encouragement posted to social media, among them Billie Jean King, Dak Prescott and Nick Folk, an NFL kicker. "Be as confident as you can, don't worry about anything," Folk said in a video posted to Twitter by the New England Patriots.
When asked after the game if the team would have Fuller kick against Georgia next week, Mason said: "If she wants to kick and she's available, we'd love to have her."
Fuller seemed up to the challenge. "I would love to get out there and score a field goal," she said.
Get Boston.com's browser alerts:
Enable breaking news notifications straight to your internet browser.